Unplugged
| Acoustic Ales Brewing Experiment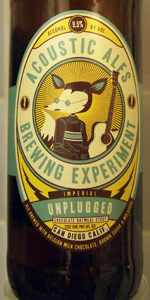 BEER INFO
Brewed by:
Acoustic Ales Brewing Experiment
California
,
United States
acousticales.com
Style:
Oatmeal Stout
Alcohol by volume (ABV):
9.50%
Availability:
Rotating
Notes / Commercial Description:
Oatmeal Belgian Milk Chocolate Stout
Added by mactrail on 04-09-2013
Reviews: 8 | Ratings: 23
4.1
/5
rDev
+9.9%
look: 4 | smell: 4 | taste: 4.25 | feel: 4 | overall: 4
Brown sugar and molasses dominate on the nose of this syrupy jet black beer. The flavor is bittersweet very dark chocolate, maple syrup, dark fruits. Very rich but not as thick as I would of liked in an oatmeal stout. A tad watery but that adds to the drinkablity which could get one in trouble. Not a roasted malt bomb as the additives mask any chared malt characteristics, so if you like a nice bittersweet stout you will like this.
434 characters

3.43
/5
rDev
-8%
look: 4.25 | smell: 3.75 | taste: 3.25 | feel: 3.25 | overall: 3.25
Bottle poured into a tulip glass. Pours an opaque black with 2 fingers of tan low density head that left some lacing. Nose is dominated by the molasses with faint hints of chocolate. Taste was inverted, heavy on the chocolate with tiny sweet hints of the molasses. Body was thin, carbonation a bit low, the finish was a little dry with a slight alcohol burn. Won't be buying again.
386 characters

4.06
/5
rDev
+8.8%
look: 3 | smell: 4.5 | taste: 4 | feel: 4 | overall: 4
Pours a thin head on a black body.
The aroma is rich and complex chocolate with spices. Really nice.
The taste is milky and chocolate start to middle, then a dark chocolate bitter note to finish it off.
The texture is smooth with a little fizz at the end.
A superb beer.
270 characters
2.87
/5
rDev
-23.1%
look: 3.5 | smell: 3.25 | taste: 2.5 | feel: 3.75 | overall: 2.5
Bottled on 8/26/15.
Pours an opaque black with a foamy dark khaki head that settles to a partial film on top of the beer. Thin streaks of lace form around the glass on the drink down. Smell is of dark roasted malt, cocoa powder, molasses, earth, char, and slight funk aromas. Taste is much the same with tart cocoa powder, dark chocolate, molasses, char, and dirt flavors on the finish. There is a medium amount of roast bitterness on the palate with each sip. This beer has a lower level of carbonation with a slightly crisp mouthfeel. Overall, this is a pretty poor beer with an infection that isn't too bad in the smell, but it comes across more prominently in the taste and makes this one hard to drink more than a few sips of.
Serving type: bottle.
756 characters

3.79
/5
rDev
+1.6%
look: 3.75 | smell: 4 | taste: 3.75 | feel: 3.5 | overall: 3.75
That deep dark chocolate brown that borders on black until you hold it to the light. Minimal head reminds me that this is almost 10%. What little there is though skitters across the cap and leaves its sticky sweetness on the glass.
Nose is sweet milky chocolate. Maybe some roasty malts, but the chocolate (unsurprisingly) stands front and centre.
Less chocolate and more roast on the tongue. Chalky/bakers chocolate/dry but never quite ashy. I do wish that the molasses had shown through a little more as I adore molasses. Might be what gives it a soft bulge around the middle, but never really puts itself out there. Likewise the brown sugar. The finish turns pleasantly bitter and retains the dry bakers chocolate themes from earlier.
Medium+ body with those fine pinprickly carbonation bubbles that accent but I wouldn't really notice were I not scanning that quadrant.
It grows on me as it warms.
Thanks Mica!
918 characters
4.01
/5
rDev
+7.5%
look: 4.5 | smell: 4 | taste: 4 | feel: 3.75 | overall: 4
not great, but not bad. full flavor but a little "amateurish" in the taste. maybe it's the high abv which factors into the taste, in which case, if I were judging according to abv, this is done very well. for 9.5%, this is a great flavor; I think I was expecting more in the taste.... but a very good, very stable brew in its own right.
336 characters

3.84
/5
rDev
+2.9%
look: 4 | smell: 3.75 | taste: 3.75 | feel: 4 | overall: 4
Sampled at the Acoustic Ales Tasting Room last week. Reviewed from notes.
A- Pitch black body with small light brown head poured from the taps into a small pint glass. Decent head retention and the creamy cap falls to a small ring leaving a ton of lace.
S and T- Good spicy raisins and Belgian yeast below roasty bitter chocolate powder. Huge intense roast malts, caramel sweets, toasted nuts and some coffee hints.
MF- Thick and chewy body with a creamy overall texture. Finishes with a roast burnt bitterness and some slight warming from the alcohol.
Nice mix of deeply roasted malts and Belgian yeast, which doesn't get out of hand considering the 9%+ ABV.
663 characters

3.65
/5
rDev
-2.1%
look: 3.5 | smell: 3.5 | taste: 3.75 | feel: 3.5 | overall: 3.75
Handsome black brew in the small nonic. Beige head disappears all too soon. On tap at Public House in La Jolla.
The chocolate is not so evident at first sip. A chalky taste with a hoppy middle, followed finally by a splash of bitter chocolate. A winey character. Sweet to start off. Lots of hoppy bitterness that intensifies toward the end. A little rough and more grainy. One could wish for more of the supposed milk chocolate and less of the bitter.
If there is any Belgian influence it is not detectable to me. It all sounds good in the lengthy name, though. Blind tasted I think this would be rated as an above average stout, whatever its DNA and ingredients.
669 characters
Unplugged from Acoustic Ales Brewing Experiment
3.73
out of
5
based on
23
ratings.