Virginia Dark Ale
| Brothers Craft Brewing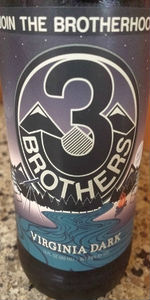 BEER INFO
Brewed by:
Brothers Craft Brewing
Virginia
,
United States
brotherscraftbrewing.com
Style:
American Black Ale
Alcohol by volume (ABV):
7.90%
Availability:
Rotating
Notes / Commercial Description:
No notes at this time.
Added by lillitnn92 on 12-18-2013
Reviews: 6 | Ratings: 42
4.3
/5
rDev
+18.1%
Appearance: pours black, some mahogany around the edges. a half finger or so of a tannish head with an extremely strong retention and a solid sticky lacing around the edges. completely opaque due to the depth of color. 4.5/5
Smell: slight roasted malt, hinting at espresso, strong pine and slight citrus hop. strong dark caramel sweetness. 4.25/5
Taste: opens with a strong sweet base. full of deep caramel, hinting at dark fruits, such as plums. roasted malts are low key in the taste with just a hint at espresso. backend becomes bitter with piney hops and hints of citrus. 4.25/5
Mouthfeel: light to medium body. some residual bitterness. 4/5
Overall: I have a hard time rating this one since I am not the biggest fan of the style, but I gotta say this is easily one of my favorites for a hoppy black ale. definitely not one to miss when trying three brothers or black ipas. great caramel sweetness hinting at the darker side that is just overbalanced by the piney almost sappy hops
989 characters
3.2
/5
rDev
-12.1%
look: 4 | smell: 3.25 | taste: 2.75 | feel: 3.75 | overall: 3.5
A - Dark dark dark. Best I can tell, it's a quiet brew. Aggressive pour produces a half inch head. with terrific lacing.
S - some roasted smells. But otherwise, I pick up very little
T - Gentile malts up front, then a burst of roasted malt that disappears rapidly into a smooth finish. Some sweetness, almost as if there some finishing to be done to the fermenting. Almost a porter light.
M - some creaminess, above average carbonation
Not enough to get excited over. Needs more backbone and more finish. Nothing offending, but nothing amazing. middle of the road for whatever style this is
595 characters
3.77
/5
rDev
+3.6%
look: 4 | smell: 3.75 | taste: 3.75 | feel: 3.75 | overall: 3.75
Poured from a bomber into a shaker pint, the beer is a dark, brownish-black coloring with a halo of off-white head. Nose of old-world fruits (plum and raisin), hints of booze, roasted notes, and subtle bitterness. Flavors are tangy and rich old-world fruit forward, with roasted and bitter undertones, subtle grapefruit highlights, chocolate notes, and roasted characteristics. Smooth and mid-bodied, with a citrus and bitter blended aftertaste, and a smooth, bitter, and dry finish. Tasty brew.
495 characters

3.58
/5
rDev
-1.6%
look: 3.75 | smell: 3.75 | taste: 3.5 | feel: 3.5 | overall: 3.5
Single bottle poured into glass even appears bigger than anticipated for a black IPA. Tan head on top of darkest brown body. More smoke and chocolate malt with only a hint of hop brightness in the aroma. First sip reveals more flavors than the aroma indicates. Sweet on the tip of the tongue, and then dry, bitter dark chocolate mingling with juicy fruit and cereal grain. Butterscotch in the finish, that also remains dry and bitter. Seems fuller bodied for the style and for being brewed in the summer. I'd try this again, but no earlier than late fall.
555 characters
3.53
/5
rDev
-3%
look: 4 | smell: 3.5 | taste: 3.5 | feel: 3.5 | overall: 3.5
Poured from a brown 12 oz. bottle. Has a black color with a 1/2 inch head. Smell is of roasted malts, a bit of hops. Taste is roasted malts, some coffee, light hops, smooth and easy drinking. feels medium bodied in the mouth and overall is a little light on the hops, but a pretty good beer nonetheless.
303 characters
3.09
/5
rDev
-15.1%
look: 4 | smell: 2.5 | taste: 3 | feel: 4.5 | overall: 3
Received as an extra in a trade and poured into my Duvel tulip. Bottled 05/14/14, so roughly a month old.
A - Poured a nice dark dark brown nearly black hue with a thin one finger mocha head that faded very quickly to leave light wispy head and a thin halo.
S - Aromas of darker malts, light coffee, light roast and chocolate. Not much alcohol...I get ZERO hops though. Cmon now...
T - Taste is similar to the nose. Darker malts, roast, faint coffee, nice creamy chocolate. Faint, faint, faint bitterness on the finish. Its just, this drinks more like a barely hoppy porter than a black ale. The finish has some faint pine bitterness but like the nose I'm again left asking "Where are the hops?".
M - Mouthfeel is nice, brightly carbonated. Alcohol hidden well this is very drinkable.
O - Overall I was quite let down by this beer. Everything I've had from Three Brothers so far was a home run but this really really fell flat. The black aspect of this beer is great, nice chocolate and roast notes, but when it comes to the hops they're almost a non factor. A black IPA is usually nice and hop assertive with a great balance of roast dark malts and pine/citrus notes and bitterness. This beer, however, is more like a faintly hoppy porter which in the realm of black ales is not a good thing.
1,301 characters
Virginia Dark Ale from Brothers Craft Brewing
3.64
out of
5
based on
42
ratings.