Bootblack's Extra Stout
| The Tap Brewing Company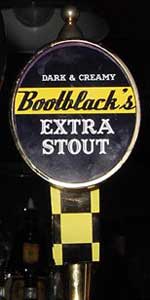 BEER INFO
Brewed by:
The Tap Brewing Company
Massachusetts
,
United States
tapbrewingcompany.com
Style:
Foreign / Export Stout
Alcohol by volume (ABV):
6.90%
Availability:
Limited (brewed once)
Notes / Commercial Description:
No notes at this time.
Added by Todd on 06-13-2004
This beer is retired; no longer brewed.
Ratings: 7 | Reviews: 7
Reviews by goz:
4.68
/5
rDev
+4.5%
look: 5 | smell: 4.5 | taste: 4.5 | feel: 5 | overall: 5
Pour is pitch black with a large dense brown head which lasts pretty much forever, only receding enough to leave rings of lace as you drink. Aroma is roasted malt, bitter chocolate, and strong coffee, with a bit of leather. Flavor is smooth deep dark chocolate (like cold hot cocoa), roasted coffee beans, and a slight hint of leather. Full bodied, creamy and smooth. At 6.9% this is a dangerously drinkable top notch brew.
423 characters
More User Reviews:
4.73
/5
rDev
+5.6%
look: 4.5 | smell: 4 | taste: 5 | feel: 5 | overall: 5
On tap @ The Tap.
Foreign Export Stouts are one of my all time favorite styles, so when I heard that Dann Paquette at The Tap had just made one ... I had to check it out.
Pitch black. Thick, creamy, coffee colored head. Loads of stick created on the glass as the head settled with an ample lace and great retention. Loads of appealing eye-candy to set your palate up for a good time.
Smells of cold coffee with some malted goodness, touch of tangy molasses and plenty of roasty characters.
Smooth, creamy and fluffy on the palate. Full bodied. Tangy molasses that finish with some rhubarb. Chips Ahoy! chocolate chip cookies / cookie dough? Oh yeah. More malted goodness. Light steel. Day old cold coffee. Slight citric bitterness pulls through after the molasses. Dark ripe fruits. Chocolate (cake-like). Chicory. Dry, roasty, leathery finish. Delicious!
This is a serious stout, spot on for the style and the best American brewed version of the style that I've had to date. Freagin' amazing.
1,008 characters

4.63
/5
rDev
+3.3%
look: 5 | smell: 4.5 | taste: 4.5 | feel: 4.5 | overall: 5
The tumbler had trouble containing this beer, served with what looked like a scoop of tan ice cream riding on top of the pitch black. Rediculous retention left a head sitting on the last drop of liquid. Smells of burnt caramel and hints of English yeast dirtiness. Flavor hits very smooth, silky roasty chocolate mocha, coffee, perfect amount of alcohol, and that damn leather thing that everyone mentions. Spicy piney hop flavor keeps the sweetness away. A bit of higher alcohols in there. Long lingering finish with the complex roasted flavors seals this beer's greatness. Perfectly balanced. A tad thinner body than I would like, but certainly not thin on flavor. Dangerously drinkable, this is one evil concoction.
718 characters
4
/5
rDev
-10.7%
look: 4 | smell: 4 | taste: 4 | feel: 4 | overall: 4
Had on tap at Redbones, and what a different experience from having it at the Tap. It was the same beer, but it was wasn't. I thought at 'Bones, it seemed that it actually softened some of the 'rough' edges of this one (Note, I am not the world's biggest Stout fan, so my rough edgs would be David's awesome taste, ect). Pour was very dark, almost opaque, but I could pick out some ruby highlights when held to the light. The coffee-colored head kept me company all the way through. I thought the aroma was very chocolately, but I picked up some alcohol trying to sneak in. Mouthfeel was medium->full. Flavor was all about roasted and chocolate notes (note, sips at the Tap I found to be tannic and leathery, in a good stout way, but certainely noticeable).
760 characters

4.63
/5
rDev
+3.3%
look: 5 | smell: 4.5 | taste: 4.5 | feel: 4.5 | overall: 5
Sampled on tap at The Tap.
This beautiful stout poured an opaque, jet-black color with huge, light brown foam that persisted quite some time. The smell was strong and robust: coffee, darkly roasted malt, and a touch of acidity. The taste was rich and full of dark roasted flavors together with a hint of cocoa, a touch of licorice, a wee bit of fruitiness, and some hoppiness poking through at the finish. There was a slight sweetness together with a balancing touch of sourness throughout. Very nice. The mouthfeel was smooth and creamy with medium-full body and low carbonation feel. It was fairly dry overall. The strong flavors lingered enticingly on the tongue. This was a very nice stout, and it was dangerously easy to drink for a 6.9% ABV beer.
755 characters

4.25
/5
rDev
-5.1%
look: 4 | smell: 4 | taste: 4.5 | feel: 3.5 | overall: 4.5
Counted off ten paces with this one on 7/15/2004 at Anam Cara.
Poured in a 16-ounce shaker glass. Thin skein of head present to start, bumps here and there, mocha cream look to the whole thing. Hue was dark, black, with all light consumed. Not a very strong bouquet (echoes of Leather lips here), with a quite understated roasted character, and some molasses thrown in there, for S & Gs. At first taste, cola jumpiness, followed in close order by a pile-driver of roastiness, which is perhaps where my impression of carbonated cola stems from. Woody smoke flavors linger afterwards. The active carbonation on the tongue is a little distracting. A bit lighter in body than others in category, and yet a fine offering that ends with a need to try more, particularly at AC as they have introduced peanuts in the shell at the bar, and all shells must be discarded on the floor, lest you be the object of derision.
912 characters
4.42
/5
rDev
-1.3%
look: 4 | smell: 4.5 | taste: 4.5 | feel: 4 | overall: 4.5
Pours a deep murky black with a chocolatey head about a half inch high. Initial aromas are of chocolate, a slight coffee, some sweetness, and a little smoke. The flavor profile of this beer starts off smokey with a nice roasted malt kick to it. Following a nice chocolate flavor and coffee takes over with some carob notes and some sweetness. This beer finishes with a nice hop bitterness and a great maltness to it. Overall this beer had a great body to it and was supersmooth all around. The only thing I can mark this beer down for was that initially this beer had some astringency to it upon my intial taste of it, but this quickly mellowed out.
649 characters
Bootblack's Extra Stout from The Tap Brewing Company
4.48
out of
5
based on
7
ratings.