Cold Smolder
| The Tap Brewing Company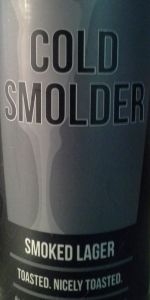 BEER INFO
Brewed by:
The Tap Brewing Company
Massachusetts
,
United States
tapbrewingcompany.com
Style:
Smoked Beer
Alcohol by volume (ABV):
5.40%
Availability:
Rotating
Notes / Commercial Description:
No notes at this time.
Added by Duff27 on 03-20-2013
Ratings: 10 | Reviews: 5
Reviews by VelvetExtract:

3.22
/5
rDev
+12.2%
look: 3.75 | smell: 3 | taste: 3.25 | feel: 3.75 | overall: 3
A-Mostly clear bright straw with a small head. Little lacing.
S-I don't normally love smoked beers; too much smoke is not appealing to me. This isn't very smoky at all, which I don't mind but the other aromas are faint. Almost smells like a lightly smoked Macro.
T-More going on here. Smoke is at a pleasant level. Less Macro-esque. Hoppier and yeastier.
M-Light and bubbly.
O/D-I don't think its a coincidence that after Jack's Abby's success with Lagers, Haverhill their luck with such styles. This is their Fire in the Ham. Eagle Five is their take on JA's Cascadian Schwarzbier. Just thought I'd point out the blatant imitation.
637 characters
More User Reviews:

3.34
/5
rDev
+16.4%
look: 3 | smell: 3.25 | taste: 3.5 | feel: 3.25 | overall: 3.25
From the 22 fl. oz. bottled version. Sampled on March 22, 2013.
It pours golden yellow with a lingering white fizzy head and good clarity. It looks like a pilsener or an American Pale Ale actually.
Subtle aromas where I had hoped to get smoke. Basic grainy malts, sugar, and clean hops. Little to no smoke can be found.
Light to medium body.
The taste has all the grainy and crisp hoppy characters of a German pilsener but the smoke is just as absent on the flavor as it was on the nose. It was rather a disappointment for what it was intended to be. On the bright side, this would be easy to drink on a hot summer day.
623 characters

2.37
/5
rDev
-17.4%
look: 1.5 | smell: 2 | taste: 2.75 | feel: 2.5 | overall: 2.25
Sampled a few of these Tap beers during a Craft tasting a few months ago. This is the first bomber I have purchased and have not tried this kind yet.
A: Bad pour on this one, but I dont think it would make much difference if it was a good one. Looks just like a budweiser, only a little darker and no head at all, just a few bubbles.
S: I cant get much of anything except for an adjunct lager/pilsner smell. Maybe some malt and a tiny hint of caramel.
T: Ok, what this beer lacks in appearance and aroma, it makes up for a little bit in the flavor. I do get that smokey flavor and a tiny hint of bacon, has a slightly dry and bitter finish.
M: Just smokey and bitter, not a very good combination.
O: Pretty disappointed with this beer in what I thought it would deliver. No look, no smell and very one dimensional in taste and flavor. Every time I try a smoked beer, I have to compare it to Samuel Adams Bonfire Rauchbeir(which I believe is the best) and this one falls way short!
986 characters
2.48
/5
rDev
-13.6%
look: 3.25 | smell: 2.75 | taste: 2 | feel: 3.25 | overall: 2.5
22oz bottle purchased as a single from somewhere localish.
Poured into an imperial pint glass, formed a 1/4" off-white head over the slightly cloudy golden brew. Head promptly skims and retreats to the rim unevenly, with lasting lace. Aroma is sedate and balanced, and I think I am imagining any smoke that I smell here.
Taste starts lightly sweet, an almost adjuncty clunk in the middle, and closes generically bitter. Mouthfeel is somewhat smooth over the tongue, and drinkability is ok. No smoke that I sense here, and this one is reminiscent to me of a generic malt liquor. I'll pass on this one next time.
614 characters

2.72
/5
rDev
-5.2%
look: 2.5 | smell: 3 | taste: 2.75 | feel: 2.5 | overall: 2.5
Fast disappearing white head leaves a collar. Body is a golden yellow.
Has an adjunct/pilsner smell.
Noble hops overpower any smokey aspect. Almost a Czech pils but with the "smoke".
Carbonation is low for the style. Medium-thin mouthfeel.
Very strange. I can see how someone would enjoy this one but it towed the line too closely to BMC for me.
357 characters

Cold Smolder from The Tap Brewing Company
2.87
out of
5
based on
10
ratings.