Beck's Blue
| Brauerei Beck & Co.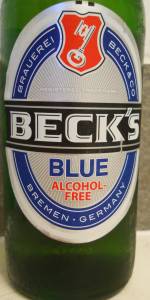 BEER INFO
Brewed by:
Brauerei Beck & Co.
Germany
becksbeer.com
Style:
Low Alcohol Beer
Alcohol by volume (ABV):
0.05%
Availability:
Rotating
Notes / Commercial Description:
No notes at this time.
Added by TheBrewo on 08-18-2012
Reviews: 2 | Ratings: 19

2.5
/5
rDev
-10.4%
A 275ml green glass bottle with a BB of Nov 2014. Purchased a while back from a supermarket. I'd like to know why they called it blue....
A: Poured into a stemmed pilsner glass. A clear pale-gold colour with medium carbonation. Forms a large head of white foam that lasts for a minute or two before collapsing to a patchy surface layer.
S: Aroma of cooked grain with hints of husk, vague biscuits and stewed leaves. A twinge of sweetness.
T: Tastes of overcooked grain with a harsh character and a crisp bitter finish. Notes of husks, overdone veg and stewed leaves/herbs. An acrid hint of cardboard in the background, followed by a moderate bitterness upon swallowing.
M: Mouthfeel is light, tingly and dry, with prickly carbonation and a thin, watery body. Slightly astringent, accompanied by an aftertaste of mushy, overdone grain and harsh stewed leaves/herbs.
O: Blech - not particularly nice. Looks alright, however the aroma and flavour are an unpleasant blend of cooked grain and stewed leaves. The hop bitterness stands out due to the light malt character, but is rather astringent as a result. Watery body. Decidedly mediocre - if you were looking to avoid booze why would you choose this? Not recommended; give it a miss.
1,237 characters
3.18
/5
rDev
+14%
look: 3 | smell: 2.5 | taste: 3.5 | feel: 3 | overall: 3.5
We pour an entirely translucent pale yellow beer. It holds a half finger tall head, composed of thin white bubbles. A single thick sheet of lacing is left around the glass as it goes relatively quickly. Carbonation appears active, and no haze or sediment is noted. The aroma opens with hearty grain. This appears as oats, whole grain bread, and corn, with a bit of a toast. There is little else to go off, but it does have that souring, puckering, adjuncty bite that is so characteristic of many of the nonalcoholic varietals. Our first impression is that the flavoring is much better than the smell. The flavoring opens with salt and toasted grain. The latter is certainly adjuncty with flour and metallics, but comparatively smooth. The flavoring remains light until the middle, where black pepper and dried grassy grain take off. These pucker the drinker, distracting from the initial adjuncty punch. The finish is with a surprisingly robust hop quality. These are in grassy form tonight, and add to the puckering, bittering bite from the center. The end is nicely balanced, with the grain not entirely pushed aside by the hops, but rather complemented by them. The aftertaste breathes of that souring aromatic quality, adjuncts, flour, faint grassy hops, and a faint molasses, for some sweetness for the first time in the tasting. The body is lighter, and the carbonation is on the higher side, as it stings your lips with each sip. Froth, cream, and slurp are all average. The mouth is left more wet than dried, and puckered from the sour qualities. The abv is nonexistent, and the beer drinks easily.
Overall, what we enjoyed most about this brew was the surprising hop quality. This really helped balance the drink, which is tough for a lot of these nonalcoholic beers. The flavoring also stayed true to Beck's with their characteristic bitterness and metallic yeastiness. This is the best of the style we have had to date, when comparing strictly on flavor.
1,970 characters
Beck's Blue from Brauerei Beck & Co.
2.79
out of
5
based on
19
ratings.