Portneuf Valley Brewing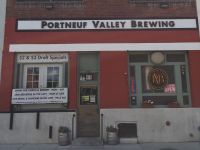 PLACE INFO
Type:
Brewery, Bar, Eatery
615 S 1st Ave
Pocatello
,
Idaho
, 83201-6557
United States
(208) 232-1644 |
map
portneufvalleybrewing.com
Notes:
No notes at this time.
Added by BeerAdvocate
Reviews: 10 | Ratings: 17

3.73
/5
rDev
+0.8%
vibe: 3.25 | quality: 3.25 | service: 4.25 | selection: 4
This is a brew pub/pizza parlor. All ten beers are only sold on site. In business ten years and no off site sales, perhaps because the beers are average to below average. Did not have anything to eat. Ok vibe and very nice, knowledgeable bartender. Best beer of the bunch was a new beer, a Mexican lager (served with a lime wedge no less) that was actually quite good, allegedly brewed in collaboration with another local brewer...
431 characters
4.14
/5
rDev
+11.9%
vibe: 4 | quality: 4 | service: 4.25 | selection: 4.5 | food: 3.5
I was in town for work and had the opportunity to visit this spot. I really liked the atmosphere as soon as I walked in. I sat at a high top table next to the bar with views of the brew kettles. Their sampler was an amazing option...a little of all ten of their beers and since I love trying new stuff, this was a great option for me. My food was decent (turkey wrap and french onion soup) but their beer was better (my fave was the midnight satin). The staff was very attentive and helped make the experience enjoyable. Very unassuming exterior which I think helped the atmosphere inside. If I ever find myself back here in Pocatello, this will be one of my first stops.
671 characters

3.5
/5
rDev
-5.4%
vibe: 3.5 | quality: 3.5 | service: 3 | selection: 4 | food: 3.5
I got the chance to stop in and have a couple of pints and some food. The brew pub had a quaint atmosphere with two different seating areas. If someone chose to sit at the bar it could cause a traffic jam going to the back seating area. The brewery had a few customers scattered throughout. The Bathrooms here are some of the nicest I have seen in a pub. The brews they had on tap was around 10 or so less. I opted to try a couple to pints to sample their offerings. The beers they had were good and satisfying. I order a half Italian sandwich and apple bar dessert. The sandwich was pretty good for pub food, it was spicy cheesy goodness on the plate. The apple bar dessert was good also. I would have like to seen a little more flavor in the crust to help it develop into a very good dessert. The best thing that I like about the desert, it was not overly sweet. The waitress that help us seemed like she had better things to do with her time, but she was friendly off and on. It kinda upset me that when I asked her for change to give her a tip no one dollar bills showed up. She automatically assumed that I was going to give her something above a five dollars for a bill less than 20. To me these are minor set backs, the food, people and beer is above average. Stop in and have a pint and some food.
1,305 characters

3.98
/5
rDev
+7.6%
vibe: 4 | quality: 3.5 | service: 4.5 | selection: 4 | food: 4
Visited this place on a recent business trip. It was tough to critique atmosphere and some other things since it was Spring Break for ISU, and the restaurant was completely empty besides myself for the entire visit.
A: Great setup in my opinion, old brick warehouse-type building in an old commercial section of town, has an old feel, but is very clean. Mash-tuns and brewery equipment are visible from the bar, and look very clean (always a plus). Lots of seating at table in the front and back of the restaurant, and the bar has seating for ten or so and is well stocked. Lots of beer pictures & posters on the wall, shirts and caps available for sale opposite the bar. Cool feel, even though it was empty.
Q: Wasn't too impressed with the beers, the amber had some form of hop in it that I despise. The brown was decent, while the IPA was tasty but too malt-forward in my opinion. The best was easily the Stout, of which I had a glass and took a growler of.
Service: Shouldn't go overboard praising the service here since I was the only patron, but the bartender was really nice, pretty knowledgeable, talkative, knew about the beers and also about the history of the area. My food came relatively quickly, and I got to try several samples of beers without any resistance.
Selection: Lots of beers to choose from, stout, porter, brown, amber, IPA, Kristalweizen, Extra Pale (super light low abv low calorie), Lager, seasonal Irish Red, etc. Sounded like there was a seasonal Scotch Ale on deck, which would be followed by a Kolsch.
F: Decent, the nachos (which were recommended) didn't look like much when they were brought to me but they ended being tasty and there ended up being more on the plate than met the eye. Menu included smoked salmon, sandwiches, burgers, salads, etc.
Good value, growlers are $10 to fill. Prices for food seemed normal, right in that $8 range.
A complaint would be unlisted (and unknown) abv for the beers. Overall its a cool place, and one that Pocatello is lucky to have considering its the only game in town.
2,051 characters
4.13
/5
rDev
+11.6%
vibe: 4 | quality: 4 | service: 4.5 | selection: 4 | food: 4
A: a thin and long bar/eatery area. Lots of wood. an inviting area though. i sat at the bar, and I was the only one at if for most of the night, but most of the tables were filled.
Q: i had half pints of the oktoberfest, porter, midnight satin. all of them were good. i also had a sample of the gorg ipa, which was also tasty. the quality of the beers was good, and the food was too.
S: i sat at the bar, so my service was very good. very attentive and knowledgeable about their beers. asked what i liked and gave opinions of what i should try.
S: they had around 10 beers on tap, all of them theirs. and it was a good selection of styles.
F: i had the curry which was pretty good. i don't think i would order it again, but it was good. the pretzels were huge. i didnt try one, but they looked amazing. the food menu is pretty diverse, and everything sounded good. they also make their own dough for the pretzels and the pizzas, and they use spent grain.
V: food seemed like it was a little pricey for the area, but you could get half portions of most of the things on the menu, which helped out with prices. i only had half pints which were $2.25, so very nice prices.
If you are every in Pocatello it is worth stopping by. I would gladly come back if I was every back here, but I doubt that ever happens.
1,317 characters
4.1
/5
rDev
+10.8%
vibe: 4.5 | quality: 4 | service: 4 | selection: 4 | food: 4.5
Once you find this place I think you will enjoy it. The deck looks over a rail yard so train nuts love this place.
We sat at the bar and the service was spot on, prompt, friendly and helpful. It was slow so the entire staff was alot of fun and very engaging.
The food was very good especially the freshly prepared giant soft pretzel( try the blue cheese dip-really). They do a nice job with making the place appealling to those who don't enjoy beer.
The beer was good, and there were many styles to choose from. No real remarkable beers, just a solid lineup.
561 characters
4.1
/5
rDev
+10.8%
vibe: 4 | quality: 4 | service: 4 | selection: 4 | food: 5
This is by far my favorite place to hang out in the podunk down of Pocatello, Idaho. Honestly I was surprised this place even existed to begin with, I didn't expect it from a mainly Mormon town.
The wait staff knows me by name now, and I always get great, attentive service from them. They can almost already tell what to get for me. Frequent this place enough, and they treat you very well.
Everything I've ever ordered in terms of food has been absolutely delicious, and I really like the fact that they are vegetarian friendly. The prices seem more than reasonable, and are some of the lowest I've seen on certain items. Their soups are especially creative and are absolutely to die for. Another big plus is there are no fried foods, so if you're health-conscious you can find something that's for you.
The beer has very much a homebrew-type taste to it, which seems to turn some people off, but I really enjoy it. My two current favorites are probably Midnight Satin (cream stout) and Grog (IPA), but I've tried all of them and liked all of them except for one, and that being their Ligertown Lager (which is to be expected, that's their beer that caters to BMC drinkers).
I like to go when they have live music, as they usually have some great bands. I also really like the fact they are smoke free and have absolutely no television. Nice laid back atmosphere and the people that come in are usually very friendly and never cease to strike up a conversation with you.
To add value, regulars can sign up for a mug club membership (I am a member) and get 5% back on all purchases loaded onto a reloadable gift card, a 20 ounce personalized mug, among other things. It's a great deal if you frequent the place enough.
In short, PVB is something special for Poky, Idaho, and I frequent the place at least once per week. If you're ever around, look me up.
1,865 characters
3.6
/5
rDev
-2.7%
vibe: 4.5 | quality: 3 | service: 3 | selection: 4 | food: 5
I just want to start off by saying this is probably the hardest brewpub to review I've ever been to. Part of me really liked it. Part of me really hated it. Read on to find out why.
The brewpub is located in an ancient building just outside of downtown. It must have been a multipurpose building in a former life, because the upstairs is used for events that range from jazz concerts to tap dancing sessions. Obviously, the first is quite enjoyable. The latter is not. Make sure to check a schedule before you come in.
The restaurant itself is long and narrow. An open space with about six tables greets you when you walk in. The bar is set at the end of this space with a narrow corridor running to more seating in the back. It has a charming feel. A local feel. I like the location.
Most of the menu is dedicated to pizza, which is what I tried. I was not disappointed. The toppings were huge chunks of artichoke, Canadian bacon, black olives and sun dried tomatoes. The crust made with spent grains from the brewery was chewy yet crisp on the bottom. The flavor was flawless. This is one of the best two or three pizzas I have ever had. Now if only I didn't have to wait for over an hour to get it.
I also tried some cheesecake for dessert. It was an excellent example for its style. Heavy on the sour cream with just a bit of flour to make it both light and creamy. I prefer less sour cream, more sugar, and even more fluffiness, but all in all, it was pretty tasty.
Here's where the review really gets tricky. The sampler comes with about eight varieties of beer. The initial impression of the light lager was, "Wow, this is great!" There was this sweet flavor I couldn't place but absolutely loved. But when the amber had the same predominant taste with slight modifications to the malt background, the IPA the same sweet flavor drowning out the hops and the same for two other varieties, I began to wonder. There are four possibilities.
One, they don't clean their lines well and the lines were used for their homemade soda. Two, they use the same fermenters for beer as soda. Three, they sampler glasses were not washed and had soda in them. Four, most the beers are the exact same recipe with slight modifications. I think it's the latter because the brown ale and silk stout did not have this sweet flavor in the least, and it makes sense to buy just a few ingredients to make comprise 90% of each recipe in today's economy.
As for the darks, the stout wasn't hopped enough for my liking, but the nut brown was one of the better examples I've had and the clear winner of the group.
Even though I've complained, I did like this sweet taste I mentioned. So even though the other six beers tasted nearly the same to me, they were quite good.
The service was split too. Fifteen minutes after ordering my waitress reappeared and asked if I was ready to order. This should have clued me into the fact she may have forgotten to place my order with the kitchen. During the whole visit I drank a sampler, a pint and ate a pizza and cheesecake. It took about two hours. I ate the pizza and cheesecake in about the last 15 minutes I was there. Does it take 90 minutes to bake a pizza? I don't think so. But the waitress was quite nice and pleasant. My beer did not sit dry for long after finishing the sampler. So again, I'm on the fence, except it took a long time to get my order taken in the first place, and they were definitely not busy.
The bottom line is that this place needs a second visit for a true opinion to be reached. I will return next time I'm near Pocatello.
3,585 characters

3.35
/5
rDev
-9.5%
vibe: 3.5 | quality: 3 | service: 3 | selection: 4 | food: 3.5
Very good for rural Idaho, but probably not quite as good as the opinion the place seems to have for itself. You can't fault for them for effort, whether it's the beers, the menu, or the overall vibe. But the execution is a little rough on all three.
Starting with the beers - generally drinkable, with a laudable attempt at a variety of styles. But ultimately they taste like homebrews, not competitive with the craft beers that can be found in bottles at the local grocery store. The best beer by far on my visit was the Midnight Satin cream stout, and a seasonal bock was also good. The rest were unremarkable.
The food also tries to be more than your typical fare, with a very interesting and tasty calzone-like baked sandwich roll the most interesting item. However, the buffalo chicken wings we ordered were no better than what can be found in the frozen food aisle.
And while the owner certainly didn't overspend on furniture or fixtures - the chairs and tables seem to be from a local garage sale - the place is a nice outlet for what looks to be a vibrant local music scene, with a tiny little stage right near the front window. I would have liked to see a bigger bar with more focus on the beers and brewery, but the space itself is a bit constraining.
So all credit to the owner and brewer for making a go of this type of place in a sleepy rural Idaho town. And given the beer wasteland that is Utah, I imagine the locals are really grateful to have it. Definitely worth a special stop if you find yourself going through Pocatello, but you needn't go out of your way if Pocatello's not on your regular itinerary.
1,627 characters
3.95
/5
rDev
+6.8%
vibe: 3.5 | quality: 4 | service: 4 | selection: 4 | food: 4
Good food & good beer. Not that I think these beers are phenomenal, but they are overall quite well crafted. I liked the Midnight Satin stout the best.
I think the brewer/owner is a bit too self congratulatory, but that too may be a by-product of being so close to Utah and the related beer wasteland. My brewing ego has inflated a bit since moving to a S.E. AZ beer wasteland too. Certainly these beers far outshine most of what you could find in Utah.
I had a very nice pizza which had spent grains in the crust, the pizza would have been 3 times better with a crust half as thick. The service was good. Really nothing to complain about except for that infernal tap dancing upstairs. What's up with that? I don't think they have people tap dancing there every night of the week, but perhaps they do.
Overall, If you are there you should check it out. It is one of the better places in the area, and the only brewpub that I know of in quite some distance.
965 characters
Portneuf Valley Brewing in Pocatello, ID
3.55
out of
5
based on
79
ratings.