't Smisje Kuvee Elektrik 979W
| Brouwerij Smisje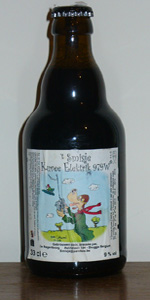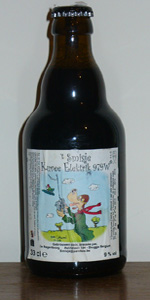 BEER INFO
Brewed by:
Brouwerij Smisje
Belgium
smisje.be
Style:
Belgian Strong Dark Ale
Alcohol by volume (ABV):
9.00%
Availability:
Rotating
Notes / Commercial Description:
No notes at this time.
Added by John_M on 10-27-2008
HISTOGRAM
Ratings: 13 | Reviews: 8
Reviews by thepeter:
3.63
/5
rDev
-3.2%
look: 4 | smell: 3.5 | taste: 4 | feel: 3.5 | overall: 3
Pours a dark brown with big sticky bubbles and leaves lots of foamy lacing. Smells of deep malt, a bit of citrus, yeast and some hops. I thought this was quite a hoppy beer, zesty yeast and a sticky but refreshing finish. Medium bodied with nice carbonation. The bitter finish made this one a hard sell at more than one. The Alcohol is very well hidden taste wise, but can definitely feel it after the beer is finished.
419 characters
More User Reviews:

3.53
/5
rDev
-5.9%
look: 4 | smell: 3.5 | taste: 3.5 | feel: 3.5 | overall: 3.5
Bottle: Poured a deep hazy brown color ale with a large foamy head with good retention and some light lacing. Aroma of deep Belgian malt with some candi sugar notes and a spicy yeast finish. Taste is also dominated by a mix between some candi sugar and deep Belgian malt backbone with a very spicy finish. Body is quite full with good carbonation and no signs of the alcohol. Well done though I thought yeast was too spicy for malty base and didn't mix that well with all of the candi sugar.
491 characters
3.71
/5
rDev
-1.1%
look: 4.5 | smell: 3.5 | taste: 3.5 | feel: 4 | overall: 4
A - Very dark ruby chestnut brown, closing in on cola black but not quite there. Huge creamy and foamy off-white/very light beige head that sticks to the side of the glass with very good retention and a lot of thick creamy lacing left, especially on the edges.
S - Faint aroma, what is present is some dark malt, Belgian spice and yeast, and some faint dark fruit and candi sugar.
T - A lot of dark malt and brown sugar sweetness along with some dark fruit (raisin in particular). A touch of Belgian spices and a fair amount of Belgian yeast in the background. Hints of earthy hops come out, much more than most BSDA I've tried. Some other earthy type flavors are also in the background.
M - Medium to full body with above average carbonation. A little creamy and smooth.
D - Fairly good drinkability. Nice well balanced and somewhat complex flavors. It is enjoyable to drink but it doesn't necessarily make me want to grab another.
Notes: Nice beer that is pretty tasty and easy to drink. It doesn't really stand out or impress me that much, but it is a nice BSDA. A little earthier and hoppier than other BSDA. Nice solid beer but nothing particularly breathtaking.
1,172 characters
4.5
/5
rDev
+20%
look: 4.5 | smell: 4.5 | taste: 4.5 | feel: 4.5 | overall: 4.5
Poured from 33cL bottle at Brugse Beertje.
Ar: Dark and roasty, complex fruit with date, melon, apricot, peach, tropical fruit, chocolate, dark toffee, light alcohol.
Ap: clar dark ruby, very thick light tan head, great retention
F: Dark fruit, complex, nutty, chocolate, alcohol, molasses, nice dark sweetness, unique mixture of fruit and crisp dark malt, brown malt, toffee, brown sugar, clean hop bitterness at end
M: very high carbonation, smooth, ligh/mid body, very drinkable, light alcohol warmth
O: very good, difficult to describe, alc a bit rough as it warms, nice fruitiness
590 characters
3.75
/5
rDev 0%
look: 3.5 | smell: 3.5 | taste: 4 | feel: 4 | overall: 3.5
On tap at Max's the other day. Have not encountered this beer before, but have always been fairly pleased with beers from De Regenboog.
This beer pours a dark cola color with fair head retention and lacing. The nose is a bit muted, but I'm picking up some sweet malt and sour funk. It's pretty light, however. Flavors on the palate are very odd indeed. I'm getting some ketsup and beef bullion, coupled with some light sweet malt and a wave of sour. There's some underlying hoppiness, but not a lot. The mouthfeel is full and smooth, and the alcohol is pretty well disguised. However, some of the more unusual flavors in this beer, coupled with the sour component, are making this a bit difficult to take. The beer gained a bit more sweetness with some noticeable cola flavors as it warmed up, but still, this is one VERY odd tasting beer. One glass was definitely all I could do.
881 characters
2.7
/5
rDev
-28%
look: 4 | smell: 4 | taste: 2 | feel: 3 | overall: 2
Stubby brown bottle with a best by indication of 2013. Poured into a goblet, it takes multiple pours to get a decent amount of brew in my glass. The first pour yields all foam, 2nd pour gets the glass half way filled, 3rd attempt fills more than half of the glass. A resilient head holds across the top that is more than 2 fingers strong of tan coloring. The brew itself appears a reddish brown color that is hazed. As the cap fades, some spots and patches of lacing are left on the glass. A light swirl revives the already strong head.
The smell of this brew is sweet with a scent reminiscent of vanilla and belgian candy sugar. Through the middle though is a peculiar inclusion of minerals and sulfur with a faint hint of grass to herbs. As the brew warms up, a bit of alcohol comes forward and has a solvent kick to the back of the nose.
The taste starts off just like the aroma. Belgian candy sugar and vanilla sweetness are the first things noted. However, the sweetness does not last inside the mouth. It is met with an abrupt bitterness and almost cleansor type of flavoring that is quite harsh. It includes almost a resinous cling of oily hops. The aftertaste is horrific once the brew comes up to temperature. It is like I am rolling a bunch of old coins and cheese around inside my mouth, this truely is unpleasant.
This is a medium bodied brew that is excessively carbonated. It starts off as a nice take on the style but as the experience continues I start to dislike it which is very unusual for me. I wouldn't mind trying this one again to see if I had a bad bottle. But as-is this is not something I would seek out again. The solvent alcohol and sharp bitterness just didn't mesh well with the initial indications of sweet malty character.
1,757 characters
4.82
/5
rDev
+28.5%
look: 4.5 | smell: 5 | taste: 5 | feel: 4.5 | overall: 4.5
A: Nearly black in color, with a massive ice cream cone head that lasts forever and leaves nice lacing.
S: Aroma of pumpernickel and dark rye bread.
T: Flavor is all about the massive roasted malts, but the yeast and hops come through in a good balance.
M: Great body, good complexity.
D: Best beer of a New Year's Eve 2009 tasting session. Find and store if you can.
367 characters
3.23
/5
rDev
-13.9%
look: 4 | smell: 3.5 | taste: 3 | feel: 3.5 | overall: 3
Glad I read steakem's review which indicated this thing was strongly carbonated. That and I took the advice of the label and poured it into my De Struise glass (same glass style that is indicated on the picture) because this thing is insanely carbonated. Had to chop off the overflowing head twice!
Pours a murky brown/ruby red color with a 4 finger offwhite head, which lingers the whole time.
The nose is off rich fruits, grains, and floral hops.
Taste is heavy on the toffee and caramel with a strong bitterness.
The alcohol is quite astringent, which is fairly off puting.
Finishes with a lingering brown sugar note, some dry oakiness, and a chalky bitterness.
Overall; definitely unique but is not a good example of the style.
737 characters

't Smisje Kuvee Elektrik 979W from Brouwerij Smisje
Beer rating:
3.75
out of
5
with
13
ratings