Silurian Stout

Door County Brewing Co.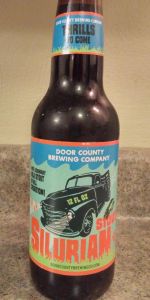 Rate It
Beer Geek Stats
| Print Shelf Talker
Style:

ABV:

5.7%

Score:

Avg:

3.85

| pDev:

10.91%

Reviews:

12

Ratings:

From:

Avail:

Rotating/Seasonal

Wants

Gots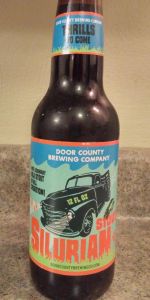 Notes: This is a rich, dark and velvety creation. We used chocolate, dark malts, lactose sugar, and a hint of coffee. Ruling land and sea, this legendary creamy milk stout is unlike anything of our time.

Hopheadjeffery from Illinois
3.86
/5
rDev
+0.3%
look: 4.25 | smell: 3.75 | taste: 3.75 | feel: 4.5 | overall: 3.75
Tasted in a pint glass from draft at Lake Lawn Resort on January 4, 2019. A rich, dark and velvety creation with chocolate and dark malts, lactose sugar and a hint of coffee. Creamy.
Feb 05, 2019
ordybill from Georgia
3.77
/5
rDev
-2.1%
look: 4 | smell: 3.75 | taste: 3.75 | feel: 3.75 | overall: 3.75
Poured from the tap into a pint glass. The appearance is a dark brown color with a small tan head. The aroma is vanilla and malt. The taste is cocoa, roasted malt and a hint of vanilla.
Aug 18, 2018

AdmiralOzone from Minnesota
4.01
/5
rDev
+4.2%
look: 4.5 | smell: 4 | taste: 4 | feel: 3.75 | overall: 4
Pours a dark brown with a thick mocha head that leaves a little lacing. The aroma is chocolate, vanilla and dark roasted malt. Flavor is sweet cocoa with roasted malts, a little lactose and vanilla in the finish. Feel is a little thin as most milk stouts tend to be. Very nice beer.
Aug 01, 2018

KS_Augsburg from Illinois
4.39
/5
rDev
+14%
look: 4.25 | smell: 4.5 | taste: 4.5 | feel: 4 | overall: 4.25
Excellent example of a Vanilla Milk Stout. Nice notes of chocolate and vanilla, but NOT coffee (which is a plus, in my opinion). Foam could be a little creamier, still a nice mouthfeel with relatively low carbonation. Balanced, very pleasing on the palate, you will want to open a second one...
Jul 30, 2018

Ferretferret from Wisconsin
4.88
/5
rDev
+26.8%
look: 5 | smell: 4.5 | taste: 5 | feel: 5 | overall: 5
Want a recommendation for this beer? I joined BeerAdvocate just so that I could give this one a positive review. My single favorite bottled beer, along with Karben4's Fantasy Factory (brewed just down the road). This beer has this wonderful vanilla kick that perfects the coffee flavor inherent to the stout. So many beers advertise that their beer is a milk stout, but, this is among the first to live up to the billing! Truly, truly, what I envision when I hear a "milk stout".
Mar 25, 2017

drdiesel9483 from Ohio
4.04
/5
rDev
+4.9%
look: 4 | smell: 4.25 | taste: 4 | feel: 3.75 | overall: 4
Look - as expected, fairly thin and black. Good lacing though
Smell - toasted chocolate milk
Taste - more toasty than chocolate but it's still there
Feel - thin as expected with light carbonation
Overall - pretty good
Nov 22, 2016

Jugs_McGhee from Oklahoma
3.18
/5
rDev
-17.4%
look: 3.25 | smell: 3.25 | taste: 3.25 | feel: 2.5 | overall: 3.25
BOTTLE: Courtesy of Duff27 via trade - thanks, man! Small format bottle (12 fl oz). Unbranded pry-off crown cap. Generic abel art.
Served cold into a conical pint glass and allowed to come to temperature over the course of consumption. Reviewed live as a milk stout per the label. Expectations are above average given Duff27's recommendation.
No bubble show forms as it's poured.
HEAD: Around 5cm wide. Khaki colour. Frothy but not real creamy or thick. Bubbly and fizzy (though not audibly). Recedes fully within 4 minutes, leaving spotty inconsistent lacing on the sides of the glass. Could be softer, fuller, darker, and more appealing.
BODY: It's a very dark opaque ruby, but might appear to the untrained eye to be black. No yeast is visible within.
Pretty typical appearance for a milk stout. Not unique or special within its style, but generally appealing.
AROMA: Lactose sugar, dark malt sweetness, cream, and chocolate malts. Roasted barley is sorely missed/absent. I find no hop notes, yeasty character, booze, or off-notes.
Aromatic intensity is average. Suggests a straightforward conventional milk stout on the sweeter side.
TASTE: Has the usual dark malt & chocolate malt backbone, with moderate sweetness amplified by the subdued lactose sugar. Cream makes an appearance, but sadly there's no roasted barley. With the style's requisite lack of hop presence, this build is in dire need of some kind of bitterness...roast, coffee, charred sugars, something. As it is, it's imbalanced towards the sweeter side, with no compensatory bitterness.
Luckily, though, it's not syrupy - though it is a biteen sticky. Depth of flavour is average if not below average, as are flavour duration and intensity. It's built neatly within style conventions, but nothing shines.
To style, there's no booze, overt yeast, overt hops, or off-notes. I do like it, but it leaves a lot to be desired in terms of complexity and subtlety. A straightforward unnuanced brew that is neither gestalt nor intricate. Cohesive enough.
TEXTURE: Nicely creamy and soft on the palate, but unfortunately it's too thin and weak, with too light a body. Not watery, but definitely thin. Carbonation is more or less on the money. Lacks sufficient thickness and weight on the palate to support its flavours.
Fails to elevate the beer as a whole. There's no marriage of texture and taste here.
OVERALL: ABV is well disguised, and it's certainly drinkable. Certainly well above average, but not notable within its style. Classic domestic favourites like Left Hand's Milk Stout are a better bet, but I'm glad I got the opportunity to try this, and it's more than competently brewed. An enjoyable but unimpressive offering within its style.
C+ (3.18)
Sep 28, 2015

emerge077 from Illinois
3.64
/5
rDev
-5.5%
look: 4.25 | smell: 4 | taste: 3.5 | feel: 3.25 | overall: 3.5
Poured into a tulip glass, it's a dark brown and appears black once in the glass. Tan foam lends a nice rocky surface texture, it fades soon after the first sips, leaving no lace behind.
Aroma is chocolatey with a little bit of a roasted quality.
Initial taste follows this, roasted malt and hitter dark chocolate, although after a couple sips it gets muddled. Dry roasty aftertaste, tiny bit of sweetness up front that rapidly fades. Feel is thin and somewhat astringent. Overall it's alright, meets the need for something dark on a cool summer night.
Jul 16, 2015

Ri0 from Wisconsin
4.11
/5
rDev
+6.8%
look: 5 | smell: 4 | taste: 4 | feel: 4 | overall: 4.25
poured 12oz bottle into pint glass.
A - Perfect as far as I'm concerned. Burnt brown with a big 3 finger mocha head that looks like it was on a nitro tap. Excellent head retention with good amounts of lacing.
S - Roasted sweet malts along with milk chocolate and sweet cream. Aromas are very enticing.
T - A good amount of roasted malts. Allows the bitter chocolate to mix with the milk chocolate and sweet cream flavors. Maybe even a slight hint of coffee to give it some bitterness.
M - Medium creamy body with a velvety smooth feel and nice carbonation.
O - This is a winner from Door Co. Brewery. I agree with Stevedore. Give it a chance if you like a good Milk Stout.
Feb 04, 2015

Stevedore from Oregon
4.05
/5
rDev
+5.2%
look: 3.75 | smell: 3.75 | taste: 4.25 | feel: 4.25 | overall: 4
12oz bottle. Poured into a snifter 1/5/15.
A- Dark brown, nearly black, body. Looks like coffee, black. Hard pour, so it yields a thick 3 finger tan head with good retention time, nice lacing. Thick collar.
S- Lots of roast, supplemented by a mild roasted coffee bean aroma. Mild sweet milk chocolate. Mild earthiness.
F- Rich roast. Lots and lots of roast. Hints of black coffee. Plenty of lactose, nice milk chocolate sweetness. Sweeter on the finish with the lactose, although combined with a reasonably bitter earthiness. This is a very flavourful milk stout with a lot of roast and milk chocolate.
M- Medium bodied with a nice creaminess to it. Nice carbonation. Moderately drying finish with a decent earthy bitterness that balances nicely with the milk chocolate and lactose flavours. Tons of depth to this for a 5.70% ABV milk stout.
O- I'm actually impressed with this beer. This beer has a ton of flavour- lots of roast and chocolate, just the right amount of lactose with a mild-moderate earthy bitterness. This is a very good beer, and definitely an above average milk stout. Seriously, this is a good beer that deserves higher ratings than it's currently getting (rAvg 3.75 as of this writing). Give this one a chance.
Final score: 4.08
Jan 05, 2015

martyl1000 from Wisconsin
4.21
/5
rDev
+9.4%
look: 4.5 | smell: 4 | taste: 4.25 | feel: 4.25 | overall: 4.25
Had just a sample of this at The Spot, really liked it.
Several weeks later: Bumping up my initial score (3.95) after having a bottle of this at Greg's for the Packers' game. This is one of the two or three best regular strength stouts I've ever had. Very impressive.
Nov 27, 2014
jwc215 from Arizona
3.7
/5
rDev
-3.9%
On-tap @ Three Cellars, Frankiln, WI:
Pours very dark brown to ruby-hued black with a thin head. Minimal lacing sticks.
The smell is of rich chocolate, coffee and a hint of lactose.
The taste is not quite as robust as the nose. Chocolate turns to roasted coffee with just a suggestion of sour tart.
The body is on the thin side of the stout spectrum.
For a milk/sweet stout the roast lingers quite a bit. A nice stout overall, especially in the nose.
Oct 11, 2014
Silurian Stout from Door County Brewing Co.
Beer rating:
86
out of
100
with
62
ratings