Mehana Roy's Private Reserve
| Hawai'i Nui Brewing / Mehana Brewing Company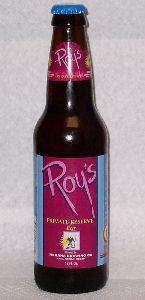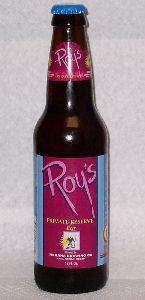 BEER INFO
Brewed by:
Hawai'i Nui Brewing / Mehana Brewing Company
Hawaii
,
United States
hawaiinuibrewing.com
Style:
American Amber / Red Lager
Alcohol by volume (ABV):
4.90%
Availability:
Year-round
Notes / Commercial Description:
No notes at this time.
Added by xlperro on 04-15-2004
This beer is retired; no longer brewed.
HISTOGRAM
Ratings: 6 | Reviews: 6
Reviews by psyphin:
3.68
/5
rDev
+8.9%
look: 4 | smell: 3.5 | taste: 3.5 | feel: 4 | overall: 4
A - Very light copper with white fluffy head and no lacing
S - Noble spicy hop kick with subdued malt background
T - Light malt breadiness and a bit of spicy hop kick. Very mellow all the way around
M - Medium light with nice carbonation.
D - A decent sessionable lager with just enough there to keep you interested but nothing that makes you go wow.
354 characters
More User Reviews:

3.08
/5
rDev
-8.9%
look: 3.5 | smell: 3 | taste: 3 | feel: 3.5 | overall: 3
Dark gold in hue, there is a very modest coppery-amber highlight to the liquid as well. A limited amount of animation danced through the liquid on its way to the white head. At the apex the foamy mass of bubbles was less then a half-finger in height. Head retention was sensible; it leisurely faded to a thin cap and then to a soapy collar. There was no subsequent lacing, which is always disappointing. This is a good-looking beer, nothing extraordinary but it caught my eye.
The nose is not very talkative. There are suggestions of malty sweetness but little else. It is appropriately clean, for a lager (if this is a lager, the label doesn't have any information to say otherwise). I wish the hops were louder, I detect a hint of earth but there really isn't much depth. As noted, low potency. The bouquet is not flawed but it is not aromatic enough to be considered inviting.
The palate is flavorsome but confusing. It is not a true Vienna Lager (it lacks the hop bite and malt depth/sweetness), so I guess I'd call this a run-of-the-mill Amber/Red Lager. Reds are historically difficult to impress me because they typically lack hop bitterness and hoppy flavors; plus they typically lack noteworthy maltiness. Roy's is sadly typical of the style. The malt provides some sweetness and a trace amount of caramel but it is very scrawny. Little notable hoppiness, there is some at the finish. I decided to check Mehana's website while drinking this and they call this an ale! What the hell? If this is an ale it needs some *serious* retooling. First off all, it is way to clean. I am going with the illusion that is beer is a lager because that is what I taste. Whatever it is I am judging this beer based on what I taste and I taste a very mild beer, granted there are no off-flavors but it is too simple and unexciting. I am sure it quenches thirst in the heat of Hawaii but it really lacks where it counts… scrumptiousness.
Medium/medium-light in body, low carbonation but the mouthfeel doesn't suffer. In fact the beer does glide very well over the tongue, the mouthfeel fits this beer well. Clearly this beer was brewed to be easy to drink.
And the brewers succeed, this is an easy drinking beer and I am sure there is a time and a place for this beverage. Uncomplicated. I bet it would be a good crossover beer for locals. I need to thank my Uncle Rick and Aunt Kathy for bringing me a mixed six-pack of Hawaiian beers. Thanks for including this one.
2,479 characters
2.85
/5
rDev
-15.7%
look: 3 | smell: 3 | taste: 2.5 | feel: 3.5 | overall: 3
Poured from a 12 oz. bottle into a pint glass.
First, for those who don't know, Roy Yamaguchi is a very famous chef in Hawaii [he's originally from Japan] who has branched out with many restaurants in different locations. His restaurant in Hawaii Kai on Oahu is very, very good [and also very, very noisy].
The beer poured with a small white head that dissipated very quickly. A light golden/amber color with only light carbonation rising.
The aroma was barely discernable with some slight malty sweetness. The taste was of moderate hops and sweetness. Not much character.
The mouthfeel was moderatly cleansing with a medium body. Rather smooth. Overall, a very unimaginative beer without much character. Not offensive, but not impressive. Doesn't lead me to want another.
785 characters

3.37
/5
rDev
-0.3%
look: 3 | smell: 3.5 | taste: 3.5 | feel: 3.5 | overall: 3
Pours a lighter shade of amber and is clear, lackluster white head.
Smell is malty and spicy with a noticeable amount dark roasted malt and caramel in the scent.
Taste is malt and a little spice and caramel. Hops appear only in the mild spiciness and the herbal aftertaste. Fair amount of caramel in the flavor.
Mouthfeel is OK.
An OK drinkable beer but nothing at all special.
389 characters

4.11
/5
rDev
+21.6%
look: 4 | smell: 3 | taste: 4.5 | feel: 4.5 | overall: 4.5
Had at Roy's in Las Vegas, specially brewed by Mehana Brewing Co. This beer goes great with the Hawaiian cuisine. It poured a light copper color, with a thin 1/2" head that lasted for a bit. Some light lacing developed. The aroma was light as only some malts were detectable. The flavor was full of maltiness with some toned back caramel, light hops, and some faint fruitiness.
This was on the light side of a medium bodied beer, had nice carbonation, and was extremely drinkable. Overall a very nice brew that was very flavorful but not overwhelming for the food.
568 characters
3.19
/5
rDev
-5.6%
look: 2.5 | smell: 3.5 | taste: 3 | feel: 3 | overall: 3.5
Bottle into pint glass.
I bought this at a grocery store on the big island, it said nearly nothing about the beer itself on the label (it didn't even identify itself as an ale or lager) so I bought it out of curiosity. The color is a clear amber/brown, minimal lacing and not much head retention. The aroma is malty with a little spice, smells a lot like Sam Adams Boston Lager. The taste is pretty malty up front with a bitter finish, the hops are there but they aren't really adding anything besides bitterness. Overall it's decent. I imagine it would go pretty well with some Hawaiian cuisine, but it's not anything I'm going to miss when I'm back on the mainland.
671 characters
Mehana Roy's Private Reserve from Hawai'i Nui Brewing / Mehana Brewing Company
Beer rating:
3.38
out of
5
with
6
ratings