Wild Hop IPA
| Harviestoun Brewery Ltd.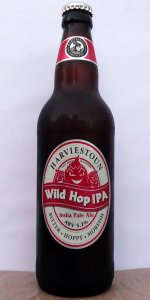 BEER INFO
Brewed by:
Harviestoun Brewery Ltd.
Scotland
,
United Kingdom
harviestoun.com
Style:
English India Pale Ale (IPA)
Alcohol by volume (ABV):
4.90%
Availability:
Rotating
Notes / Commercial Description:
No notes at this time.
Added by wl0307 on 12-24-2010
Reviews: 11 | Ratings: 16
3.74
/5
rDev
-4.6%
look: 4 | smell: 3.75 | taste: 3.75 | feel: 3.5 | overall: 3.75
2013 bottle poured into snifter. Straw yellow color w modest carbonation. ABV 5.2%. Biscuits, honey, notes of vanilla to the nose. Grassy, peppery and light bitterness of hops coat the palate; dry medium body.
209 characters
3.43
/5
rDev
-12.5%
look: 3.5 | smell: 3.5 | taste: 3.25 | feel: 3.75 | overall: 3.5
500ml bottle from GapWines, Belfast...
Poured a golden straw colour with light copper tinge. Creamy head poured big, foamy and meringue like then faded slowly to light coating. Faint carbonation drifts to the surface... some light lacing...
Aroma - Light biscuity malts, juicy spicy fruits (pineapples, apricots, some apples), light butterscotch sweetness, some honey notes, vanilla, peppery hops, some grassiness, herbal...
Taste – Light fruitiness (lemons, apples, apricots), sea saltiness, perfumey, herbal, grassy, spicy hops, marzipan/almond notes, some graininess...
Feel - Sharp and dry... light bodied... very very refreshing and drinkable... a decent session beer...
Overall - A good clean crisp pale ale... worth a try...
737 characters
3.58
/5
rDev
-8.7%
look: 4 | smell: 3.5 | taste: 3.5 | feel: 4 | overall: 3.5
Light golden colour with a pinky sized, bubbly white head that settles down to a foamy lacing after a few minutes and remains that way throughout.
Strong hops to being and definitely noticeable floral notes along with a little bit of citrus in the mix too. There is some very light bitterness and grapefruit. The drink finishes with a little bit of spice and some light grassy notes.
Strong hops and floral presence and a background grass and citrus taste with plenty of bitterness coming through as well.There is some background malts as well and some biscuit but the hops dominate along with the bitterness towards the end.
Medium bodied with lively carbonation and a lot of bitterness throughout, particularly towards the end of the drink. The beer is quite crisp and clean as well as having good balance into the bargain.
A nice English IPA with a gentle nod to the American style of brewing but nothing to full on. Very drrinkable and quite enjoyable as well, it's a beer I wouldn't say no to trying again.
1,015 characters

4.14
/5
rDev
+5.6%
look: 3.5 | smell: 4.5 | taste: 4 | feel: 4.5 | overall: 4
On cask at the White Hart in Waterloo, appearence is gold with small, frothy white head leaving heavy, sticky foamy lace.
Smell is pungent, skunky hops, a welcome refrain in this land of malty ales.grapefruit emerges as well.
Taste is firmy bitter, skunky, and a little flutter of citrus and resin from the west coast (US) hops. Not much from the malt, which aligns with my taste in IPAs nicely.
Mouthfeel is very dry, light bodied, resin coating the tongue.
Drinkability is good, this is an aggressively hopped english IPA. Heavily skewed to bitter vs flavoring hops, which is the opposite of my presence, but nevertheless. It's nicely done.
647 characters
3.67
/5
rDev
-6.4%
look: 3 | smell: 3.5 | taste: 4 | feel: 3.5 | overall: 3.5
500ml Bottle (5.2% ABV): best before Dec 2012, poured into an Abbot Ale glass tankard on 10 Aug 2012.
Light amber/golden body with a mini-haze within: full and deep head of white bubbles on top, left some good lacing on the side of the tankard.
Mixed hop aroma: floral, citrusy and piney all rolled into a wooden barrel and shaken up.
The taste follows that mixed barrel of hops in the smell almost to the letter: with the bitterness you'd expect from such a heavily hopped beer evident straight away, the wood feel also in the flavours. The malt content is well below the surface, traces of caramel are just about detectable and this prevents the beer becoming too hop orientated.
I enjoyed it.
699 characters

3.97
/5
rDev
+1.3%
look: 3.5 | smell: 4 | taste: 4 | feel: 4 | overall: 4
A 500ml bottle with a BB of Dec 2012. ABV stated as 5.2%. Purchased as one of the candidates for Sainsbury's British beer hunt. The label mentions the use of American and UK hop varieties.
Poured into a pint glass. A clear pale golden colour with medium carbonation. Yields a white head of foam with decent retention; this subsides to a surface layer after a while. As noted by another reviewer, it superficially resembles a lager. A generously hoppy aroma greets the nostrils; plentiful notes of citrus and a hint of piny bitterness underpinned by light malt.
Tastes overwhelmingly of aromatic hops with light, grainy malt and a solid bitter finish. Notes of pine (more dominant on the tongue) and citrus, with hints of tropical fruit, grain and subtle toffee. A faint whiff of diacetyl in the background, though this is not unpleasant. Mouthfeel is crisp, tingly and dry, but a bit thinner than could be desired. Aftertaste of bitter piny hops.
Tasty - a solid IPA; much better than most ales which fall under that label. Plenty of aroma and considerable bitterness. This ale's weak point is that the malt character doesn't stand up to the hops well enough. It would probably also be improved by bottle conditioning to add depth to the flavour. As it stands it falls short of the gold standard, but nonetheless a quality brew that is well worth sampling.
1,359 characters
4.42
/5
rDev
+12.8%
look: 3.5 | smell: 4 | taste: 4.5 | feel: 4.5 | overall: 5
A - looks thin, a bit lagery, but a good head when poured, excellent lacing and overall air of "I will be delicious and slake your thirst".
S - vaguely citrusy, slightly bready beery smell. Nice, not necessarily uninspiring though.
T - BAM! Hops! Big malt body! More hops! Bitter! More hops! Big US hops taking a mallet to anything that relies on Fuggles...
M - Good carbonation, dances on the tounge, much thicker feeling than it looks, very, very nice.
Excellent beer. It's not Brewdog Punk IPA, but it's not trying to be. It's a delicious, satisfying, full on IPA that kicks Deuchars into a dark close and leaves it wondering what happened.
It's clearly influenced by the West Coast IPAs, the US hops are in full effect here, but it's not as overwhelmingly citrusy as most American IPAs, there's a good strong bitterness to carry it.
844 characters
4.04
/5
rDev
+3.1%
look: 3.5 | smell: 4.5 | taste: 4 | feel: 3.5 | overall: 4
A very solid IPA which is a combination of Brit and US hop varieties. pours clear and golden with little head. Smells beautiful, floral, fruity sweet and bitter all together. Flavor is pleasantly bitter with grapefruit, grass and clean but sharp after taste. Palate was light-medium bodied, crisp and refreshing with great carbonation. Overall a very good IPA. An easy drinking IPA that could also be called a Pale Ale. I like it.
430 characters
4.17
/5
rDev
+6.4%
look: 4 | smell: 4.5 | taste: 4 | feel: 4.5 | overall: 4
500ml bottle from sainsburys beer hunt.
Poured a light pale straw color & looks a bit watery, no head at all.
Aroma was nice, lots of citrus & hoppy notes.
Taste was a light grapefruity taste followed by a bitterness at the end.
Overall i was worried at first by the watery look but it made amends from the aroma & taste, a loverly ipa.
Cheers.
348 characters
4.09
/5
rDev
+4.3%
look: 2.5 | smell: 3.5 | taste: 4.5 | feel: 4 | overall: 4.5
Bottle #1 of Sainsbury's Beer Hunt 2011! Poured from a 500ml bottle into a pint glass.
Pours a light golden colour, looks identical to a lager - perhaps a bit more watery looking, gains an extra .5 for a good head and impressive lacing.
Smells quite hoppy, fresh and flowery/citrusy notes.
Hops dominate the taste, with a malty balance, making them not overbearing though still powerful with a distinctive citrus tone, and a pleasant bitterness on the finish.
Overall a perfect drink for the summer - shame it's September!
527 characters
4.15
/5
rDev
+5.9%
look: 4 | smell: 4 | taste: 4 | feel: 4.5 | overall: 4.5
(Notes of Nov. 2010) Tasted during the J D Wetherspoon's 2010 Autumn Beer Festival @ a local branch, John Russell Fox. Served by a non-sparkler pour in a straight imperial pint glass.
A: pours a slightly hazy, gently carbonated dark reddish amber hue, topped with a creamy beige froth with good retention.
S: fruity (pear-ish+flowery+grapy+tropical fruits), biscuity, yeasty all round - full-aroma.
T: nicely hoppy (sour-sweet pear-ish & berry-ish) upfront, turning lightly spicy & marvellously tannic-bitter in the aftertaste underlined by medium-weight biscuity & nutty malts (with lots of aroma to linger); a beautiful balance is reached in the end but the lingering hop aroma definitely does not go unnoticed.
M&D: softly carbonated, smooth on the palate, medium-plus bodied and full-flavoured, this is a delicious IPA full of hops but shows its brilliance in balance.
878 characters
Wild Hop IPA from Harviestoun Brewery Ltd.
3.92
out of
5
based on
16
ratings.