Crank Arm Brewing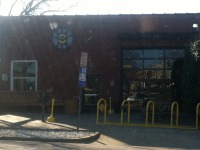 PLACE INFO
Type:
Brewery, Bar
319 W Davie St
Raleigh
,
North Carolina
, 27601-1718
United States
(919) 291-0643 |
map
crankarmbrewing.com
Notes:
No notes at this time.
Added by wedge on 07-31-2013
Reviews: 14 | Ratings: 53

3.81
/5
rDev
-4.3%
vibe: 4.25 | quality: 3.75 | service: 3.75 | selection: 3.75
A neat little brewery in the hipster area of Raleigh, squarely between Poole Downtown Diner and Tasty Beverage. Crank Arm has the bike theme nailed. They even have funky-weird rickshaws for seating. Chic-industrial atmosphere all around, pretty busy on a weekend night.
9 beers on tap during my visit, including Belgian wheat, American Rye IPA (Rickshaw), Peloton Belgian IPA, Wee Heavy, Motivator Coffee Imperial Stout… good variety.
Beers are not mind-blowing but good for sure. Growlers, tasters, friendly folks… cool place.
536 characters
4.49
/5
rDev
+12.8%
vibe: 4.5 | quality: 4.25 | service: 5 | selection: 4.25
Cool bicycle themed brewery. They had some games and were dog friendly, but pretty small so it got crowded quickly. Even so, bartender was very attentive and gave explanations when asked. The beet beer was a little weird, but everything else we tried was great. 12 or so beers on tap if I remember correctly. I'd definitely go again if I'm in town.
348 characters

4.07
/5
rDev
+2.3%
vibe: 4 | quality: 4 | service: 4.25 | selection: 4
I Visited Crank Arm Brewing on 2/06/16. The taproom was set up nicely, with bar seating as well as quite a few tables. You had to order your beer at the bar, which seems pretty typical for taprooms. We had the 5 beer sampler. The beers were pretty good. I was not a fan of Beetaway, but I'm not really a fan of beets. I would recommend this place for anyone looking to have a couple beers on Raleigh.
400 characters

3.84
/5
rDev
-3.5%
vibe: 5 | quality: 3.75 | service: 3.25 | selection: 4
Came here twice on a short trip to Raleigh. First to make sure we tried it, second because we needed a place to sit and grab a quick beer and there it was again.
I really have to give this place a ton of credit for the vibe and decor. I love the garage theme and the garage doors that open to a main drag in downtown. Perfect place to stop for a beer on an uncharacteristically cool August night. It's got a great noise level - not too loud but feels lively. It's clean (huge plus for a place with the brew tanks in the same open area as the serving bar).
Beers range from okay to really good. Nothing at all was bad, a couple were forgettable and a couple stood out. Only slight gripe was the service. The bar wasn't that busy but we watched other folks who bellied up after us get served before us. Maybe they're regulars so that's okay, I'll give a pass. I didn't like that we couldn't order a tasting of all 8 to share - only the first 5 were available in a flight and the bottom three you could have a small taste or a full pour. Maybe that's common but I'm not exactly used to that and felt like I could have been told "sorry no" a bit nicer.
I'd definitely stop here again if I was in town for longer, but if I had another short stop I'd try some of the other options nearby first.
1,304 characters
3.94
/5
rDev
-1%
vibe: 4 | quality: 4.25 | service: 4 | selection: 3.5
The place had a much nicer space than the other breweries that opened around the same time - bright and clean inside with a bicycle theme (industrial design elements made from gears are present all over the place). Their were a lot of folks there on a Sunday afternoon when I visited spanning young (20ish) hipsters to older (50ish) groups. I saw a couple of families but I would not consider this space to be real family friendly.
Beers were really well poured into proper glassware - tulip/snifter, pint, and weizen glasses were all in use on my visit. Beers were poured at the proper temperature with a decent amount of head.
Bartenders were really friendly, attentive, and knowledgeable about the product. Were quite helpful at talking about the other places that have opened in the last couple of years in Raleigh beer scene and recommend some other places to visit.
They had eight beers on tap when I visited but the majority of the beers had a fairly hoppy profile - so they might not appeal to everyone. Interesting twists on some of the classic styles.
1,064 characters
3.79
/5
rDev
-4.8%
vibe: 4.5 | quality: 4 | service: 3.25 | selection: 3.75
Once you have stuffed your gullet with brisket at The Pit, it is very easy to waddle across the street for a few fine fresh pints at Crank Arm Brewing. A new entry to the Raleigh Beer Scene, Crank Arm, which has something to do with bicycle machinery is situated in an industrial structure that may have been a body shop. There is a large space with communal tables, some high-tops and a moderate sized bar. The brewing tanks are towards the back and on view to all. There is a popular patio in front where patrons, kids and dogs may enjoy the day.
During my visits - I made two - I counted 10 available beers and one cask. My favorites included their Rickshaw Rye IPA, an Irish Red Ale and the Flying Scotsman, a Scotch Ale.
A full pour runs about $5.50. There is no food or table service.
Definitely, a worthy stop!
818 characters
3.93
/5
rDev
-1.3%
vibe: 4 | quality: 4 | service: 4 | selection: 3.75
Finally got in to visit Crank Arm. This is a pretty sweet little spot near downtown Raleigh. Long, narrow building, with all the brewery equipment in the back. From the entrance, the bar is on your left, with tabled seating on the right. The bar is a reversed J-shape, with plenty of seating. Pretty cool moving bike art on the walls to the right, and a few televisions over the bar to the left. The bartender was awesome. Very friendly and very knowledgeable. There were 10 beers on tap, and beer is available to go in growlers. They have the traditional glass, as well as some insulated thermal growlers for a little bit more. Plenty of swag available, too. This is a good place to stop if you find yourself in the triangle for some beer tourism.
748 characters
4.5
/5
rDev
+13.1%
Stop #435 on my world brewery tour.
Stopped in early on a Monday. Big, open space with a cycling vibe. Exposed brewery in back. Nice looking chocolate shop next door in the warehouse district.
Eight beers on tap. I had two flights. Belgian Wit with Citra, Single Hop Pale Ale (Wakatu), Rye IPA, Hefe, ESB, Mole Porter w/ Habenero & Chocolate, Lemongrass Ginger Saison, and Pumpkin Porter.
All beers were very good. I especially liked the mole porter - exceptional balance. Pumpkin porter could have used a bit more pumpkin.
On my 3 day beer tour or Raleigh, Crank arm and Raleigh Brewing came out on top. Crank has a better atmosphere.
643 characters

4.5
/5
rDev
+13.1%
Fantastic vibe with excellent service. Focus is Belgium inspired beers. Very knowledgable and happy to answer questions. One feels at home when they enter the place. Place is decorated beautifully with bike parts. Pleasure to have had this place suggested to me!
267 characters

3.75
/5
rDev
-5.8%
vibe: 3.75 | quality: 3.75 | service: 3.75 | selection: 3.75
Not a bad place to visit if you're an out-of-towner but not a place I would frequent. Nothing bad with this brewery at all, mind you, it has about nine or ten beers although it's all their own selection and I think one guest tap (their beers range from awful to great so it's hit or miss), dog friendly, bartender was nice, so nothing bad. Just not a varied selection, a big, spacey area with not much going on (no food/kitchen) and the bartender, at least on night I was there, had his buddies on one side so my wife and I got respectable service.
548 characters
4.13
/5
rDev
+3.8%
vibe: 5 | quality: 4 | service: 4 | selection: 4
Crank Arm might be the best all-around brewery in Raleigh, and I'm pretty sure I've been to all of them now. It'd be a close call between them, Raleigh Brewing, Lonerider, and Big Boss, but given the details the edge might go to Crank Arm.
I love the space. It's big and bold, has excellent lighting, and I love the decorations made out of old bicycle parts. Whoever took the time to put together the giant wall murals of bicycle wheels that all turn together with the single crank of a pedal mounted to the wall deserves a medal. It somehow manages to combine modern, chic, cozy, hipster, and retro all in one space.
Plus, the beer is pretty damn good. I tried a sampler with my wife and thoroughly enjoyed each offering. They have a nice range of beers from classic, lighter styles to higher gravity experimental versions, like stouts with cocoa nibs and chili peppers. I liked the IPA enough to take home a growler of it, and that's saying something.
The bartenders were pleasant and laid back, plus they really knew their schtick about beer. All in all, Crank Arm sets the bar for Raleigh breweries, at least downtown if not the entire city.
1,158 characters
3.77
/5
rDev
-5.3%
vibe: 4 | quality: 3.5 | service: 4 | selection: 3.75
Interesting little brewery in the outskirts of Raleigh - not terribly far from all the other beer spots, so worth a look for sure.
They have a bike (non-motor) theme going on, which is fine, but a little tiring. It was a cold day but I imagine the garage door would be open in the summer and provide an enjoyable ambiance.
+1 for giant-jenga
the belgian IPA was a little strange tasting and not encouraging enough to warrant a 2nd beer
438 characters
4.61
/5
rDev
+15.8%
vibe: 4.25 | quality: 4.5 | service: 5 | selection: 4.5
I love this place! The vibe is very relaxed and run by cyclists. They also run the rickshaws so it makes sense.
A: A very chill, garage/warehouse vibe. The brewing equipment is right at the back of the bar, and if you ask nicely the owner will show you the malt room, amazing. Nice patio space too on a sunny day.
Q: Beers are all top notch. Unicycle is a great single hop beer that rotates. So far I have tried Sorachi Ace and Centennial. Simcoe is available this week. Its a great beer and an even better opportunity to try some different hops. Usually during the transition phase you can try two back to back. Rickshaw IPA is also a great rye IPA. I haven't had one of their beers I didn't like. Seasonals and one-offs are great as well. Their chocolate coffee stout is one of the best I've ever had.
S: The bartenders are great. Super friendly, really into what they do. Dylan is the man.
S: See above. This is a brewery for craft fans. They do have a Belgian Wit, but most of their other beers are not going to be a light lager, etc. That doesn't mean you have to be a total hop head. They always have something on tap for anyone whether its their Wit or a fall amber.
F: I put N/A since they do not provide their own food, however several local restaurants deliver if you just can't wait to eat.
V: Great beer, awesome staff, great location. What more can you ask for in a local brewery!
1,401 characters

3.86
/5
rDev
-3%
vibe: 4.5 | quality: 4 | service: 3.5 | selection: 3.75
Stopped by on a Saturday afternoon, obvious during the timeframe of our stay was that there was a beer-run or something going on.
The place seemed a little small, barely, but popular. There was outside patio seating that many took advantage of. Ended up really enjoying the beers across the board, even if none stood out as 5-star brew. Learned this was actually a really new brewery, even if the guy(s) running it have some experience (was told Natty Hreene and Capitol City is on the resume).
The volume the day we were there widely varied as the "runners" showed up in spurts (quotes indicate unsure by educated guess). The servers had to deal with these influxes of business and did so pretty well. Despite this, the severs did seem a bit detached from the bulk of the patrons, whole a few friends or regulars did get some attention. The service was fine, but could have been better.
Being a new brewery, the selection probably suffered from "staying within the wheelhouse", but given that, there was some risky offerings (I thought) for a young brewery. Hoping this adventurous nature continues.
1,103 characters
Crank Arm Brewing in Raleigh, NC
3.74
out of
5
based on
197
ratings.