Tommy Condon's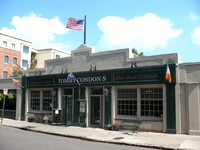 PLACE INFO
Type:
Bar, Eatery
160 Church St
Charleston
,
South Carolina
, 29401-3125
United States
(843) 577-3818 |
map
tommycondons.com
Notes:
No notes at this time.
Added by JISurfer
Reviews: 14 | Ratings: 17
3.88
/5
rDev
+11.2%
vibe: 4 | quality: 4 | service: 4 | selection: 3.5 | food: 4
Here's where the distinction always has to be made - this is a great bar, but it's an Irish bar, and as such it only carries Irish style beers. So, if you're looking for an incredible assortment of craft brews - this isn't your place. If you want to drink an Irish pint, then this is your place. Food's good too - shrimp and grits is off the chain.
348 characters
3.6
/5
rDev
+3.2%
vibe: 4 | quality: 4 | service: 4 | selection: 2 | food: 5
Some of the best fish-n-grits in Charleston, SC. Not much to offer brew-wise.
Lots of eye candy walking around as to the waitress/hostess staff.
Quality is good, a for the food, beer quality, well on to selection.
The selection for beer is not exceeding my expectations. THey must have a reason for not offerng a whole lot of good choices.
The food is very good, and the atmosphere is conducive to a memorable time with friends. I remember my last time there more than 1.5 years ago as if it were yesterday,
Check it out, pregame, and bring your wallet as the menu is somewhat expensive.
Cheers!
601 characters
2.98
/5
rDev
-14.6%
vibe: 3.5 | quality: 3 | service: 3.5 | selection: 2 | food: 3.5
Been awhile, but this was one of the first 'irish pubs' I went into in my wee years.
Located in a beautiful part of Charleston, gets a non beer centric crowd for the most part. Some old school Guinness guys, lots of tourists etc. . . but overall, very popular. Extra half point for the cool patio. Good food every time I've been there. Shephard's pie = excellent.
Beer selection was appallingly pedestrian, nothing beyond what you could find at the Piggly Wiggly down the street. This place would be a lot cooler if they just diversified their selection, just a tad. Its not like they are doing the 100% authentic thing, so why not expand your horizons?
656 characters
3.63
/5
rDev
+4%
vibe: 4 | quality: 4 | service: 3.5 | selection: 3 | food: 4
As has been said before, Tommy's is in the uber touristy Market area of Charleston. It is a pretty cool joint, though, an old brick building with wood floors and wooden tables. Very old school feel. The beers are kept fresh and cold, especially the Guinness. Service can be a little dicey depending on when you go of course. During the afternoon/evening Tommy's is well staffed. After 10 or so the two or three cocktail servers are insufficient and that's as it should be, since they make few tips as most people just order from the bar at this point. The selection of beers in bottles and on tap is above average, but this means simply a few specialties and imports among the macros. Nothing to write home about. The food is pretty tasty as well, and I've heard more than one person say their Reuben is the best in town. Shepherd's pie isn't bad either, but of course is extremely filling. The food could be a bit cheaper but this is the tourist district so that's to be expected. If you're looking for a selection of micros and craft brews, this is definitely not the place for you. But if you're in the mood to knock back a Guinness or two and enjoy some Irish fare, stop on in.
1,181 characters

3.86
/5
rDev
+10.6%
vibe: 4 | quality: 4 | service: 4 | selection: 3.5
Popped into this Irish pub on accident last week. Tommy's is in the Market area, next to uber touristy spots. Pretty cool atmosphere...typical of most Irish joints. Grabbed a amall table by the empty stage. Server,who we called Sven, was very quick and prompt. He informed us that they have the new Guinness and SA Summer as the seasonal. My Sierra Pale Ale draft was very fresh and tasty. Pretty boring tap list overall.
Place got pretty packed, with mostly Irish and Scottish senior citizens. The band played some Irish classics, including a unique version of 'Dixie'. After all, we were in Charleston...
607 characters
2.86
/5
rDev
-18.1%
vibe: 3 | quality: 3 | service: 3 | selection: 2.5
I knew this place wasnt going to be special, but I drove right past it so I decided to stop in and see what was going on. When others have mentioned your typical Irish pub that really sums it up quite well, really. It was typical in every way. Sad beer selection with really nothing on at all I would want to go for, Boddigntions? I will pass. The food looked good, but I had already eaten so I decided to skip it. I guess if you were down there it would be a decent stop, but I am not too sure about this one even being in here any more to be honest.
551 characters
3.16
/5
rDev
-9.5%
vibe: 3 | quality: 3.5 | service: 3.5 | selection: 2.5
no point in going here if you're in search of good beer or local color when there is an abundance of superior options nearby
atmosphere: Irish Pub, if you've seen one you've seen 'em all. Smells a bit like the aftermath of a frat party. Quiet on a late Saturday afternoon.
quality: no real issues, pint glass was a bit dirty, the Palmetto Amber was good
service: average, not particularly good but got the job done
selection: this place probably shouldn't even be listed on Beerfly, in addition to the standard Irish pub fare that I don't really need to list, I recall a cider, a selection of macro bottles, some Samuel Smith, Sam Adams Seasonal, SNPA, and Palmetto Amber...full list available by following the link to the pub website
738 characters

3.3
/5
rDev
-5.4%
vibe: 3 | quality: 3.5 | service: 3.5 | selection: 3
Stopped in here for a pre-dinner drink. Stop number two on our tour of the city. Typical Irish bar, lots of Irish and beer stuff on the walls, plenty of TVs for college football. This place has a covered outdoor dining area, which was must be nice on a warm night. Grabbed a seat at the bar, though, and was helped pretty quickly. Selection was average, all the usual Macros and Irish stuff, plus Spaten and Palmetto Amber. We ordered two Palmettos, which was pretty decent. While we did not eat, this place looks like a popular place to dine. If you like Irish bars, stop by. But we were looking for a place a bit more unique to Charleston.
641 characters
3.88
/5
rDev
+11.2%
vibe: 4 | quality: 4 | service: 4.5 | selection: 3 | food: 4
A typical Irish bar I suppose. On the tele was Irish football which I have never seen before. It looked like a mix of football and soccer. Typical drafts like Guinness, Boddingtons, Harp, Bass, etc. The Boddingtons seemed especially fresh on my recent trip, but the selection of beers could be stepped up a bit.
The food was pretty good as well. I chose a tuna salad and the fish and chips. Both were perfectly cooked and full of flavor.
Servers were attentive and kept my glass full which is about all I ask for in a server. I have been here several times and have never had a bad experience.
601 characters
3.28
/5
rDev
-6%
vibe: 3.5 | quality: 3 | service: 3.5 | selection: 3 | food: 4
Your typical "what Americans think and Irish bar should be like" Irish bar. The selection is reprensentative of that, mostly macro "Irish" style beers. However,this has been the only place I have seen a shamrock drawn in the head of my Guinness. Authentic? Probably not, but cool nonetheless.
Where this place stands out is the food. Heads and shoulders above typical pub fare, the food is good enough that this can be a destination if you are looking for a good and interesting dinner.
If fake Irish signs and tinny Irish music don't make you heave a little, this can be a relaxing place to hang out.
607 characters
3.44
/5
rDev
-1.4%
vibe: 3 | quality: 3.5 | service: 4 | selection: 3
I stopped in here during a trip and had a couple of beers at the bar. The atmosphere seemed friendly and mellow, and there was plenty of decor to add some Irish flare and create a pub atmosphere. The beer selection was rather limited although there were several Irish (of course) beers to choose from but nothing that would be considered rare or that you couldn't find in most places. The service was friendly although a bit slow for a moderate crowd. Enjoyable, but not the best place to grab a few in Charleston.
514 characters
4.18
/5
rDev
+19.8%
vibe: 4.5 | quality: 4 | service: 4.5 | selection: 4 | food: 4
Tommy's is the best version of the 8 or so irish pubs in the greater Charleston area. It gets extremely crowded on weekends, but has a solid beer selection and is one of the few places outside of Ireland that I've been able to find Beamish stout on tap. The Irish music on the weekends is entertaining, but for the strict traditionalist may leave you a little empty. Seating at the 4 sided bar is adequate, but goes fast. Early arrival is a must, esp in tourist season. The food is solid with standard pub grub with low country and seafood options. The fish and chips are excellent.Unlike the pubs in Ireland, smoking is permitted and unfortunately prevalent most of the time (not unexpected this close to tobacco road). Secondhand emphysema aside, for a good pint and some good Irish craic this is the place in Chucktown.
822 characters

4.2
/5
rDev
+20.3%
vibe: 4 | quality: 4 | service: 4.5 | selection: 4.5 | food: 3.5
Food is good, but the best part about it is the bar, especially on Friday and Saturday nights. If you like singing Irish drinking songs with other would-be and real Irish, this is the place to be on the Southeast coast. Mostly British Isles beers on draft, but do get seasonals and other hard to find beers. A good place indeed!
328 characters

4.33
/5
rDev
+24.1%
vibe: 4.5 | quality: 4.5 | service: 4 | selection: 4.5 | food: 4
This is the best Irish Pub in Chucktown. They have some great imports on draught. The food is a mix of Lowcountry and Irish food, and it's awesome! I suggest the Shrimp and Grits, Corned Beef, and Sheapard's Pie. They have Irish music on the weekends and it gets packed. The regulars are business suits, locals, and some Irish. Another great thing about this place is that they have a hard to find(at least in my area) vodka from Ireland called Brian Boru. It's smooth and goes down nice and easy. Also, another great plus to the place is that they have beautiful waitresses! Enjoy!
582 characters
Tommy Condon's in Charleston, SC
3.49
out of
5
based on
17
ratings.