TableRock BrewPub
BEER AVG
-
none
Awaiting 10 Ratings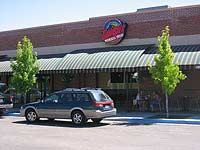 PLACE INFO
Type:
Brewery, Bar, Eatery
705 W Fulton St
Boise
,
Idaho
, 83702-7126
United States
(208) 342-0944
// CLOSED //
Notes:
No notes at this time.
Added by BeerAdvocate
Reviews: 11 | Ratings: 13

4.63
/5
rDev
+23.8%
vibe: 4.25 | quality: 4.5 | service: 4.5 | selection: 5 | food: 4.75
I rolled into the TRBP on a January Monday evening at the end of a week-long biz trip across the Gem State. When I saw what they had on tap, I was elated - they had 3 offerings which were hop-oriented. Hopzilla was a 8.0 hop blast that made my taste buds stand up and salute; Hophead @ 7.6 was a more subtle, balanced brew and Black Hops was a splendid marriage between malt and hops and a beer that I'd frequent more if I lived in the area. Service was spot on and I ordered a salad/soup combo that was an ideal accompaniment to their fine brews.
TRBP has been around since '91 and that tenure attests that they know what they're doing. I'd agree heartily and you will, too.
676 characters

4.36
/5
rDev
+16.6%
vibe: 4.5 | quality: 4.5 | service: 4 | selection: 4.5
Table Rock is great. If I wasn't a Mug Club member @ the Ram this would be the place I'd hit all the time.
Great atmosphere, big open bar area, two covered seating area's outside, brick walls, lots of tables, long bar area with lots of chairs, free popcorn being popped in the corner, some nice booths and more secluded tables off to the side. I hadn't been in since the remodel, it looks great!
Quality is always top notch with Table Rocks beers, there were three hop-forward beers on tap, plus a black IPA and a Belgian IPA (local collaboration), a red ale, amber, pale ale, Brown Ale...I'm sure I'm forgetting something. Good selection.
Service was good, bartender and server were nice and knowledgeable, got tasters of what I wanted and was treated well.
Got a half order of nachos, which were good too. I'll have to go back and try a meal with the wife.
Like this place a lot.
886 characters
3.44
/5
rDev
-8%
vibe: 3 | quality: 3.5 | service: 3.5 | selection: 3.5
The Table Rock was great. I had a good time. Visited here numerous on my stay in Boise. It was an odd location and I found it difficult to find at first. It was several blocks away from the main downtown scene, The food was great, beer was good and I went back. The bar is directly ahead as you walk in with seating to the left and right. The IPA was tasty and hoppy, good golden color and left me with a hoppy aftertaste. I never had any food while there. Service was good, mostly a young BSU crowd but when it comes to the beer ask the bartender, he knows the beer well. Overall I was impressed. Go to the downtown Old Chicago if you get a chance.. great college crowd and good beer selection, I mean very good selection! Cheers and enjoy Boise, great city.
759 characters

3.71
/5
rDev
-0.8%
vibe: 3 | quality: 3.5 | service: 4 | selection: 4
Inflatable Chair dropped Phil and I off in front of their exterior with the long, dark green awning and the fenced-in outdoor patio. As we transited the vestibule, a sign admonished us to "Read the Parking Rules!" We didn't need no stinkin' rules, since we were vehicle free and drinking beer.
We headed up to the inverted "S"-shaped bar for some libations where the back bar had a series of swiss cheese-like windows, through which the brewhouse and FVs were barely visible. To the extreme right was a wall of white knotty pine with more FVs on display. Big Mike's Pizza and the lavatories were to the immediate left and the restaurant area was to the far left. It had a spartan interior, but not an unpleasant one.
Beers: Nut Brown Ale; Laughing Dog Pale Ale; Whitebird Wheat; St. Andrews Amber; Dog Paddle Pils; Peregrine Porter; Old Fitzgerald's Barley Wine; Hop Head IPA; Orange Blossom Special (OBS); MacLobie's Scottish Ale; and Hopzilla. Big surprise - I had the Pilsner and the IPA, both of which were reviewed.
1,022 characters
3.58
/5
rDev
-4.3%
vibe: 3.5 | quality: 3.5 | service: 3.5 | selection: 4 | food: 3
I was back this week (March 15 2011)and am sad to say both the beer and food slipped a notch.
Original Review from 2-22-08
The Table Rock is tucked away on a short side street. Use the public parking lot, as street parking is almost nonexistent.
They have kind of a different layout. This is a modern take on the brewpub style. There is 30' green vinyl and wood topped bar that seats about 20. There are some really nice long tables to share. I like the high ceilings, but could have done with out the suspended tile look. I also like the nice large skylight/transoms. The Table Rock has stained concrete floors and makes a lot of use of blond wood, black surfaces and stainless steel.
The brewing equipment is behind and to the right as you face the bar. They also have a small patio as you enter.
Lots of TVs, would be a good place to catch a game. Nice tunes, primarily 60 and 70s R&B and classic rock.
During my visit they were offering 9 house beers. I liked what I tried. Bartender said the IPA is the big seller. $4.50 for an imperial pint with happy hour pricing of only $2.75 (Tuesdays & Thursdays 4:30 to 6:30). They also offer growlers and kegs to go (1/2 barrels for $98 and ¼'s for $56) I think that is a good deal for beer of this quality!
Service was Western USA friendly. I did not try the food or even really look at the menu, but a lot of the patrons were eating.
1,392 characters
3.65
/5
rDev
-2.4%
vibe: 3 | quality: 4 | service: 4 | selection: 3 | food: 4
This location is difficult to find almost in the warehouse district of Boise, if there is one. I have a friend who sells this spot their steaks, they offer organic steaks and pretty good food, the service is excellent as most places in friendly Boise.
They do offer Growlers, although a while ago my friend brought me a growler from here and when I opened it about a week after getting it, it seemed flat, maybe there is some secret I do not know about growlers.
The selection of food was good, but the selection of beer was not, let me clarify, they had a lot of beers on the menu but when I asked my first two choices were out of stock.
all in all a good spot, downtown location.
684 characters

2.7
/5
rDev
-27.8%
vibe: 2.5 | quality: 2.5 | service: 3 | selection: 3 | food: 2
Blah. From perusing beerfly, Table Rock looked to be the best place to go on our one night in Boise. If so, it says pretty bad things for Boise.
Arrival: parking was a surprising pain in the ass. Street parking was literally non-existent anywhere within a six block by six block area. We finally paid to park, which was only $3 at the lot a block away (the special "evening rate" which doesn't allow me to pay $1/hour, but requires a base payment of $3.) It appeared that some sort of event might have been going on at the adjacent school, since numerous SUV grocery wagons were happily parked in the no-parking-any-time loading zone in front of it.
Atmosphere: the unique physical layout, with huge vaulted ceilings and numerous odd and interesting angles, is probably the best thing about the place. Lots of small tables in the dining area, though only a few two-tops. Several long, tall community tables dominate the center of the seating area. Bar area looked nice, though we took a two-top. Overall, though, the atmosphere is a cross between a ski lodge and a Denny's, and is surprisingly loud given the gigantic ceilings.
Service: was relatively fast and friendly, though of dubious knowledge about the beers or the food. They seemed to follow the trend of hiring young, cute women for server positions, regardless of their knowledge or interest in craft beer.
The selection might have received a 3.5, had they had in stock either the Hopzilla or another attractive looking beer ( I forget which was our second disappointment.) Half a dozen or so basics, and a couple of seasonals.
The quality? ugh. Bordering on bad. The beers had the limited, restrained character of Gordon Biersch or Rock Bottom, but weren't nearly as well done technically. What's with an IPA in American northwest hop country, named Hophead IPA, being made with "Cluster, Willamette, Fuggle and Kent Goldings"? The Hophead was thin and crisp, like a moderately hoppy APA. The Peregrine Porter tasted strongly of salt, chalk, and mineral. More details to follow in individual beer reviews, but suffice it to say, the beers were pretty bad. We didn't finish either, even after a long day of driving in 100+ degree temperatures.
The food was deeply mediocre, dry, and bland. It tasted like it came out of freezers and vacuum bags.
Bleh. I wouldn't bother going back.
2,368 characters
3.39
/5
rDev
-9.4%
vibe: 3 | quality: 2.5 | service: 4.5 | selection: 3.5
I swung through Boise last week and managed to make stops at four of the different beer joints around town--Table Rock, Sockeye, The Ram, and Bitter Creek Alehouse. Table Rock is between Boise State U and the Capitol district of downtown Boise (which, by the way is a great town to visit, even if the beers there aren't the greatest).
On a Saturday night, this place was virtually empty. Maybe it had to do with school being done for the semester, but save a few folks on the patio out front and another two fellas at the bar, there wasn't a soul in the place. When I found out that Table Rock had been in business for quite some time, I was shocked; I had figured that they had opened a few months earlier and that they were bound to close in the next few weeks!
The bar service was prompt and friendly, and our bartender was happy to talk about her preferences amongst the eleven or so beers on tap. She poured samples happily and did a fine job of introducing a whole variety of styles to some nearby newbies to craft beer.
I tried a few of the brews and found them underwhelming overall. The Orange Blossom Special was non-offensive--my favorite amongst a group of tastings that included their Hopzilla and English IPA. They also had a weizen cream stout with good flavor and character, but overall the flavors were a little underdone.
Next time I'm in Boise, I'll stick to Bitter Creek, though I wish Table Rock the best of luck in the future. If I get word that their beer has gotten better, I'd be willing to give them a second look in the future.
1,566 characters
4.13
/5
rDev
+10.4%
vibe: 4 | quality: 4 | service: 5 | selection: 3.5 | food: 4
Visited Boise last weekend and stopped by on Friday night. Wasn't too busy, so my wife and I decided to have dinner. I ordered the Hopzilla and my wife had the Nut Brown. Both where good quality and fresh, I would have to say I enjoyed her beer better.
Food was good but what made the experience stand out was our waitress, she was pleasant, social, and actually knew enough about the beer to recommend.
After sampling all the beer on tap, we ordered two growlers; one nut brown and one St Andrews amber ale.
If in Boise, I would stop by, make sure they have plenty of seasonal beer on tap as they were out of an IPA I wanted to try.
636 characters

3.5
/5
rDev
-6.4%
vibe: 3.5 | quality: 3.5 | service: 3.5 | selection: 3.5 | food: 3.5
I mainly go to Boise on business trips, but I did spend about 4 months there on assignment once as well. Last time I was there, I only had two choices for craft brew...Table Rock & the Ram....but Table Rock was my favorite choice between the two. Beer and food have always been great, and while I was living there the Nut Brown Ale was the beer I kept around the apartment all the time. This was the one beer I wished I could take home with me when I left. The menu is varied, and has some unique items you generally don't find (at least not done well) anywhere else.
567 characters
4
/5
rDev
+7%
vibe: 4 | quality: 4 | service: 4 | selection: 4 | food: 4
I had one night to spend in Boise and I chose to spend it at Table Rock. I'm confident that I made the right choice. Table Rock is located very near to the center of downtown Boise in a neighborhood that is partly industrial and is adjacent to the theater district. The first thing one notices about Table Rock is its unusual architectural lines. The lines are offset triangular and break up the monotony of predictable rectangles. This creates a tasteful, livable space that is energetic without being too eccentric or complex. Tall clerestory windows throw diffuse lighting across the dining area during daylight hours and create a tall central chamber near the bar. An outdoors patio is also triangular and comfortable.
Inside is a full wet bar and about two dozen tables. A glass display case of two hundred historic beer cans lines the far wall. My partner and I found this quite entertaining.
Here's the quick rundown of essential facts: the food is decent and modestly priced. The beers are fabulous and are available in growlers to go. Table Rock has about eight regular beers on tap plus five or so seasonal offerings. I had four pints -- all winners. Kids are welcome in the restaurant. You can catch a ball game at the bar where I noticed a real friendly set of folks. The serving staff isn't too beer savvy (some are no doubt underage), but the service was fine. I highly recommend Table Rock to any beer fans visiting Boise.
1,444 characters
TableRock BrewPub in Boise, ID
3.67
out of
5
based on
0
ratings.