Weiss

Gneiss Brewing Company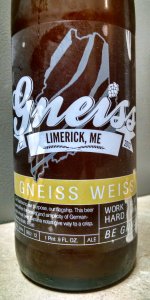 Write a Review
Beer Geek Stats:
| Print Shelf Talker
Style:

ABV:

4.8%

Score:

Avg:

3.87

| pDev:

10.59%

Reviews:

9

Ratings:

From:

Avail:

Year-round

Wants

Gots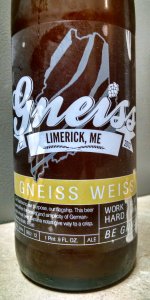 Notes:

Amendm from Rhode Island
4.02
/5
rDev
+3.9%
look: 4.25 | smell: 4 | taste: 4 | feel: 4 | overall: 4
An easy pour yielded a finger of egg-shell white, rich soapy foam with long retention and small spots of lace.
Very hazy (I can see my fingers but can't read through it) yellow straw color, yellow gold in bright light.
Mild smell of clove and banana greets the nose as expected. Shredded wheat with some toasted character in the background, faint lemony citrus and herbal hops join in.
Neutral on sweetness with low bitterness, yeasty bread and bubble gum appear during the taste. Items from the smell get their turn, however rich grainy malt is king. A slight tang is noticed as hop bitterness builds a little.
The finish clean, smooth and refreshing. The aftertaste lingers as wheaty malt and spicy hops slowly fade.
Medium-light bodied with lasting and plentiful carbonation. Smooth and session-able easy drinker, true to style and just plain enjoyable. I'm glad to see the BA score as 85, I don't see this as a 3.87 avg. Hefe. I'm going high on this one.
Aug 02, 2020
brureview from Massachusetts
4
/5
rDev
+3.4%
look: 4 | smell: 4 | taste: 4 | feel: 4 | overall: 4
It's best to serve this beer in a Hefe glass.
Place the bottle on the counter, turn it around a few times, then hold it and turn it up and down a few times.
This gets the yeast mixed in.
Pour slowly at an angle. Then near the top of the pour, hold the beer bottle and shake it so the bottom liquid circulates in the bottle.
Then, pour straight down assuring that yeast gets in. Changes the flavor of th beer.
Poured a cloudy apricot color with a 2F head in a Brooklyn Hefe glass.
Best served at 48° to bring out flavor.
Aroma: clove, lemon.
Carbonated, medium-light body.
Taste: clove, fruit and licorice with warming , which also begins to be noticed with warming.
Finish: lightly bitter, dry, crisp.
Overall: excellent approach to Hefe. The head retention could be better. Warming does being out flavor.
Best at 48°.
Jul 18, 2017
DBosco from Massachusetts
3.5
/5
rDev
-9.6%
look: 3.5 | smell: 3.5 | taste: 3.5 | feel: 3.5 | overall: 3.5
I think this was bottled 3 weeks ago (assuming the paper stick-on label is the bottling date), 500ml bottle. Yellow dark haze that is a bit murky. Head that quickly settles with some lace. Smells medicinal, cloves. Tastes of cloves and banana, fairly sweet. Mouthfeel is pretty good, a bit of a prickly aftertaste from the spice notes. Overall, this is an OK Hefeweizen but it is easy to find better for less money. Worth trying if you want to form your own opinion.
Feb 22, 2017

illpass78 from Maine
4
/5
rDev
+3.4%
look: 4 | smell: 4 | taste: 4 | feel: 4 | overall: 4
Tasting glass at Old Port Spirits in Portland.
Appearance: Hazy yellow.
Aroma: Wheat, clove.
Taste: Wheat, clove, banana. Tasty.
Mouthfeel: Light and easy.
Overall: Nice interpretation of style.
Nov 04, 2016

lordofthewiens from New Mexico
3.32
/5
rDev
-14.2%
look: 3.75 | smell: 3.5 | taste: 3 | feel: 3.5 | overall: 3.5
A hazy yellow color with no head to speak of.
Banana aroma, a hint of spice.
Not very flavorful. A bit of banana, a touch of clove. Not much there.
Light-bodied.
Mar 25, 2016

MaineBrewing from Maine
2.59
/5
rDev
-33.1%
look: 3.75 | smell: 4 | taste: 1.75 | feel: 3 | overall: 2
A - Poured a cloudy golden straw with a white loose head which disipated quickly.
S - Banana,dominates the aroma, some tart sharpness, slight clove, soapy, no hop, slight grainy malts but,mostly,yeast forward with the immense banana. A little peak at sourness can be detected wafting through.
T - crisp, very nice fresh malt character, which is swept away quickly with a medicinal sour flavor but,not actually sour. If that makes sense. Sort of,tastes infected. I get it's,a Weiss but it's not sour enough to really be a sour. So it just tastes bad.
M - light crisp refreshing ample carbonation. Ok.
O - not my favorite. The malt flavor is so fresh though but it almost tastes infected. If it was actually sour it would be more fitting since,its not it's off putting.
Feb 27, 2016
anthony23cippy from Maine
4.46
/5
rDev
+15.2%
look: 4.5 | smell: 4 | taste: 4.5 | feel: 4.75 | overall: 4.75
22oz off tap at the family dog in Orono. Pours the typical dark straw color of a hefe with minimal head and a little lacing. Smell is the classic Bavarian yeast banana and a little biscuity malt at the end. The flavor is what makes this a great beer in my opinion, honestly may taste better than weihestaphner but I haven't had one in a couple weeks lol. Mouthfeel is also typical of the style crisp and a refreshing beer one of my favorites if not my favorites of the style. 4.75/5!
Feb 27, 2016
MisterWoodhouse from New Hampshire
4.89
/5
rDev
+26.4%
look: 4.75 | smell: 5 | taste: 5 | feel: 4.5 | overall: 4.75
This is one of my favorite beers of all-time. Had it at The Tap House in Bridgton, Maine, a small bar near the brewery in Limerick where the only beer that isn't local is the shelf of PBR pounders at the bottom of a cooler. The owner of the bar, Carrye, recommended Weiss to me one of the first times I went in and it was love at first taste.
Look: It's fun to watch this beer poured, especially by a skilled bartender. It's playful and light, with gorgeous amber and clouding.
Smell: If you love the smell of a good hefeweizen, you'll be in heaven. Smells like a crisp Fall day with just a hint of spice that teases you.
Taste: Clean with just the right amount of citrus. Good consistency from start to finish, so no surprises at the end of your sip, unlike some other local hefeweizens I've tried.
Feel: Imagine thick champagne and you're got a good idea of how Gneiss Weiss feels in your mouth. Very smooth consistency and it's quite fluid. No sticking around.
Overall: It's the best hefeweizen I've ever had the pleasure of tasting and in my top 5 beers of all-time. So happy that I'll be passing through the area today and can get a growler of Weiss for the weekend :)
Oct 09, 2015
ThisLadyLovesBeer from New Hampshire
4.71
/5
rDev
+21.7%
look: 4.5 | smell: 4.75 | taste: 4.75 | feel: 4.5 | overall: 4.75
A = Beautiful light amber, with the cloudiness expected of a wheat beer. A long-lasting head with ample lacing.
S = Crisp, slight spiciness, and bread.
T = Bright, citrus, and clean, and leaves nothing undesirable lingering on the palate.
M = slightly creamy, but then has a clean, crisp finish.
O = Love it. I think this local brew has ruined me for other wheat beers! I'm in trouble now!
I enjoyed a drive out to Gneiss brewery on New Hampshire's and Maine's country roads. Was greeted by the brewer Justin, who answered all my questions and gave me a tasting of all four current offerings. These folks really pay attention to detail, and the beer really shows it! It is highly drinkable alone and would be a great accompaniment to a burger, chicken, fish, nachos, whatever! It would not overpower any food selection.
Feb 02, 2014
Weiss from Gneiss Brewing Company
Beer rating:
85
out of
100
with
59
ratings