Island IPA

Bad Martha Brewing Co.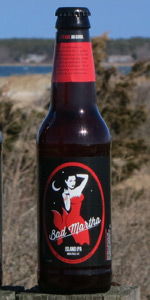 Write a Review
Beer Geek Stats:
| Print Shelf Talker
Style:

ABV:

5.5%

Score:

Avg:

3.49

| pDev:

13.47%

Reviews:

12

Ratings:

From:

Avail:

Year-round

Wants

Gots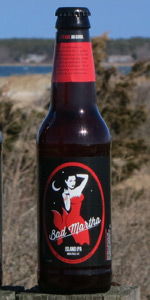 Notes:
3.95
/5
rDev
+13.2%
look: 3.75 | smell: 3.75 | taste: 4 | feel: 4.25 | overall: 4
Light amber color with the very lightest of hazes--nearly clear. Modest head which settles to rim bubbles. Some good initial spots for lace. Very few spots thereafter.
A touch of caramel with a floral hop aroma. Pleasant and unremarkable.
The malt is subdued--I get a little biscuit and crystal malt sweetness. The hop comes in quickly with a white pepper bite. The swallow, though, brings back some of the malt smoothness leaving a balanced aftertaste. The body is appropriate, smooth really. Decent carbonation. Overall, I like this IPA as a good, true to the style, introduction to craft beer. That said, it isn't the finest beer offered, but still very good.
674 characters

3.29
/5
rDev
-5.7%
look: 3.5 | smell: 3.25 | taste: 3.25 | feel: 3.5 | overall: 3.25
Beer Summit sample pour. Pours a clear copper. Aroma is very soft. It doesn't really have anything wrong with it, it's just tough to peg it as an IPA. Mild hops and caramel sweetness. Malty pale ale flavor, too. Soft flavors. Probably could put down a couple but it surely is a bore.
283 characters
3.74
/5
rDev
+7.2%
look: 3.5 | smell: 3.75 | taste: 3.75 | feel: 3.75 | overall: 3.75
Pours a deep honey gold with a half finger of head that quickly dissapates to a cap with ample sticky lacing that persists throughout. Very little aroma..taste mild malty sweetness no bitterness.
195 characters
2.42
/5
rDev
-30.7%
look: 3.75 | smell: 3.5 | taste: 2 | feel: 2.5 | overall: 1.5
12oz bottle poured into a snifter.
A: Bright golden-orange color with great clarity. Creamy fine-bubbled head retains well. Spotty lacing.
S: Blood orange and tangerine, sugared grapefruit, orange gummy wedges and a sort of gummy bear fruitiness. A bit floral. Tick of grape leaves far in the back. Sweet malt base is very involved. Honey and caramel, lightly toasty and nutty.
T: Earthy and fruity hop flavors. Tangerine, blood orange, sugared grapefruit and candied citrus peels. Notes of bark and peppery tobacco. Gummy fruit chews. Grape leaves creep in with some unpleasant and acidic bitterness. Orange blossom honey and caramel, light toast. Peppery,acidic, and bitter grape leaves close things on a sour note.
M: hefty medium body is coating and rife with residual sugars. Prickling carbonation does not do enough to lift it, so this weighty and sticky feeling really sits.
O: Perhaps my palate is sensitive to the grape leaves, but even if you took that most awful part of the beer away, what's left is nothing special. Sweet and sticky malt flavors and textures ruin drinkability and don't give the hops enough space to operate either. If you're going to use citra, let it shine. I suspect it was done more for the buzz behind the strain than anything.
1,268 characters
4.04
/5
rDev
+15.8%
look: 4 | smell: 4.25 | taste: 4 | feel: 3.75 | overall: 4
On-tap 3/13/2015 at Doherty's Ale House in Warwick, RI, served in a tapered pint glass.
A: The beer is a deep gold color, with a large off-white head that fades slowly and leaves a thick lace on the glass.
S: The aroma contains fruity citrus, floral hops and caramelized malts.
T: The taste starts out sweet with flavors of citrus and caramel. Then a strong but not over-powering hops presence comes in. The malt character is a bit on the thin side but it still brings a good balance. The after-taste is slightly sweet.
M: Crisp and smooth but a bit watery, medium body, medium carbonation, finish is dry and slightly sticky.
O: Tasty, goes down easily, not too filling, mild kick, good representation of style, this is a solid IPA to drink for a while.
760 characters
3.71
/5
rDev
+6.3%
look: 3.5 | smell: 3.75 | taste: 3.75 | feel: 3.5 | overall: 3.75
The color is a cloudy orange/amber with two fingers of foamy white head and some nice thick lacing left on the glass.
The smell is earthy with some fruit flavor mixed with a pollen aroma. The nose makes you think of early Spring with some flower hints coming out and hints of lemon peel and tangerine.
The taste is slow to open up and gives just a touch of hops with some sweet malt flavor. There is a slight butter crunch candy flavor that first appears in the utter reaches of this beer with some earthy delight. The fruit pops on the second sip with a juicy strawberry mixed with a citrus flavor that's hard to place. The bitterness comes towards the end but this beer really saves that till the end before a good melding of bread flavor shares space with a fruit punch flavor.
The feel of this beer is medium bodied but drinks like a session beer. This comes down easy and does not force you to sip but allows for whatever way you feel to enjoy this beer. Good melding of flavors and a great drinker.
1,009 characters

2.72
/5
rDev
-22.1%
look: 3 | smell: 2.75 | taste: 2.75 | feel: 2.75 | overall: 2.5
Another IPA that missed the mark, Nothing about this beer made me say, hey I would drink this if it was on tap somewhere. A beer for someone who has a less discerning pallet.
174 characters

3.8
/5
rDev
+8.9%
look: 4 | smell: 4 | taste: 3.5 | feel: 4 | overall: 4
12 oz. bottle, with bottled on date 09/17/2014 printed on the bottleneck. A new beer from a new to me brewery, acquired as part of a mixed six pack at the local Binny's. "Brewed and bottled for Bad Martha Brewing Co. by Mercury Brewing Co., Inc, Ipswich, MA".
Poured into a clear balloon snifter.
A - It pours a dark hazed burnt sienna orange body with three big fluffy frothy fingers of long lasting white foam head. Leaves lots of big lacing leftover on the glass. Looks very nice.
S - Lightly citric and orangey, but a bready doughy yeast presence pervades.
T - Taste follows the nose: sweetened malt, caramel, bready yeast, and a juicy orange / tangerine hop presence. Very nice yeast and hop flavors.
M - The feel is smooth, fluid, creamy, and clean. Light-bodied and easy drinking, with good carbonation.
Overall, a fairly average but pleasant IPA from this brewery. Definitely a beer I would have again.
Bad Martha Island IPA -----4/5.
952 characters

4.5
/5
rDev
+28.9%
I really enjoyed this beer, though I am not sure I have the vocabulary to express the fine taste. It was a fruity IPA, if you can try it, and you like IPA's, try it.
165 characters
3.21
/5
rDev
-8%
look: 3 | smell: 3.25 | taste: 3.25 | feel: 3.5 | overall: 3
New brewery from MA, the Vineyard even... could be interesting. Just showed up at the store, yet bottled on 2/13/14
Pours a small fizzy head that fades pretty quickly, super hazy sediment filled copper amber caramel orange colored.
Nose is meh, crystal malts, little sweet coppery reddish amber malts, mild grassy earthy hops, a weird fruity aroma that seems like it came from the yeast... oh I guess grape leaves... very very faint citrusy note in the background. Smells like it's either very underwhelmed with the hops vs the malt profile, or it's fairly old. Considering it was bottled 4 months ago I could see that.
Taste brings more caramel malts, coppery amber reddish malts, somewhat sweetness followed by some mild bitter hops. Hops get a bit fruity, very faint citrus, with more like apricot fruitness, and a hint of a weird leafy earthy flavor, and another background fruit I can't really put a finger on. Hops are also grassy and earthy, turn a bit spicy on the finish, which is fairly dry a little sticky, hint of fruit still, bit more caramel malt and some earthy hops.
Mouth is med bod, lighter but decent carb.
Overall this was quite a let down for a new brewery in MA. However, it is a bit on the old side for an IPA, but that's when it showed up in the store, so quite disappointed at the distributor more than anything. I will need to revisit this if I can find it fresh.
1,395 characters
4.04
/5
rDev
+15.8%
look: 4 | smell: 3.75 | taste: 4.25 | feel: 4 | overall: 4
Poured from a 12oz bottle into a pint glass.Brewed in Ipswich MA at Mercury Brewing and uses grape leaves from Martha'a Vineyard.
A: Golden yellow body with a 1inch head (poured on the more viscous side)
S: Grapefruit, pineapple, honey
T: Pineapple and hint of lemon up front. Finishes on the malty side. Very balanced for an IPA and less bitter than most.
M: Standard carbonation, smooth and tasty!
Looking forward to Mad Martha Brewing expanding! Definitely a solid start with this IPA and their traditional ale. Good to see them partnering with Mercury Brewing! Everything that has come out of Mercury has been great beer!
630 characters
3.77
/5
rDev
+8%
look: 4 | smell: 3.75 | taste: 3.75 | feel: 3.75 | overall: 3.75
12 oz bottle was poured into a pint glass.
Appearance: This beer poured a small hear that reduced yo a thin layer. It is a slightly hazy pale orange color with vision of bubbles coming up through the glass.
Smell: Grapefruit, tangerine, a little caramel, toasted malts, and some lemon.
Taste: Pretty much same as above with lingering bitterness.
Mouthfeel: Smooth, a little chewy, light bodied, medium carbonation, and easily drinkable.
Overall: A nice IPA that is light and has a complimentary hop flavor. I could see myself enjoying more of these.
554 characters
Island IPA from Bad Martha Brewing Co.
Beer rating:
81
out of
100
with
72
ratings