Spacetown Pale Ale
| Kelsen Brewing Company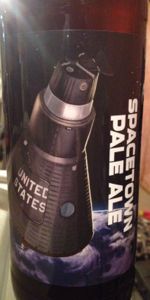 BEER INFO
Brewed by:
Kelsen Brewing Company
New Hampshire
,
United States
kelsenbrewing.com
Style:
American Pale Ale (APA)
Alcohol by volume (ABV):
5.50%
Availability:
Year-round
Notes / Commercial Description:
No notes at this time.
Added by puboflyons on 05-13-2014
This beer is retired; no longer brewed.
Reviews: 9 | Ratings: 37
3.78
/5
rDev
-1%
look: 4.25 | smell: 3.75 | taste: 3.75 | feel: 3.75 | overall: 3.75
First I have to say I love the online beer tracker. I wish more Brewers had such a feature. Unfortunately it showed me that my bomber was brewed 8 months ago! So I guess my review should be inflated to account for lack of freshness.
A - clear pale amber body with dense off-white foam. Very good retention and sudsy lacing.
S - citrus hops, sweet malt
T - slight bitter hop, citrus, and slightly piney. Toasted malt, earthy, and doughy.
M - medium/light body with moderate carbonation.
O - this was ok but the age really killed the flavor. Flavors were weak and dropped off fast. I'm sure this is much tastier when fresh and of course on tap.
654 characters

3.49
/5
rDev
-8.6%
look: 4 | smell: 3 | taste: 3.5 | feel: 3.75 | overall: 3.75
Cool feature to track the bottles
http://kelsenbrewing.com/Beertracker/. Bottled 9/30/2014
Had both on draft in taproom and in bottle. On tap was clearly better. Maybe fresher. The bottle was about four months old and might have lost some of the hops.
Look: nice head clear and a little dark golden color for the style.
Smell: more malt then hops, on tap it was a little brighter and hop nose.
Taste: on tap the hops were more prevalent, in bottle not as much hops
Mouthfeel: thank god for the solid mouthfeel in a nano. Might have a little too much proteins.
Overall: oh on tap it was really a session ipa, in bottle it was too malty. But a great beer for a nano brewery. Drink a few you won't be disappointed.
729 characters
4
/5
rDev
+4.7%
look: 4.5 | smell: 3.75 | taste: 4 | feel: 4.25 | overall: 4
Stopped by the brewery to pick up one each of their 22's. Right off the highway too.
Appearance: A one finger head was poured that reduced to a thin layer. It is a pale orange with great clarity and vision of bubbles coming up through the glass. Frothy lacing down the glass as the beer was drank too.
Smell: Citrus, tangerine, clementine, grapefruit, some resiny pine, biscuity, and pale malts.
Taste: The hop flavors are more noticeable in the taste. Mild tingly bitterness and cracker notes and sweetness from the malts too.
Mouthfeel: Crisp, refreshing, light bodied, chewy, smooth, light bitterness, and medium carbonation.
Overall: Nice hoppiness to this pale ale. Biscuity and pale malts make thus a nicely balanced and enjoyable APA.
756 characters
4.25
/5
rDev
+11.3%
Bought from Craft Beer Cellar over in Nashua and poured from a bomber into a standard glass.
A- Thick white head, actually overflowed my glass. Nice bronze/amber coloring with good carbonation.
S- First thing I get is pine. Second thing I get is grapefruit. Finally, some more earthy notes with malt undertones.
T- Citrus all around with some pine notes. The malt is somewhat muted as the hops really shine on this one. I think that with a bit more of a malt backbone that this pale ale would really shine is it kind of blurs the line between American pale ale and American IPA.
M- Light, crisp, dry finish. Perfect after a night of canvassing in Goffstown.
O- My amazement over the quality that this tiny brewery can muster never ceases. This is a great pale ale, I will stop short of calling it amazing because I feel that the malts were not as forthcoming as I would like in an APA. But that is a personal preference and it certainly does not detract from the fact that this is a great beer. I hear that there is a new beer coming from these guys very soon, so very excited about that! Cheers!
1,102 characters
3.79
/5
rDev
-0.8%
look: 3.75 | smell: 4 | taste: 3.75 | feel: 3.5 | overall: 3.75
Poured into a goblet. Color was a medium amber with a nice creamy thick head. Plenty of carbonation rose from the bottom. Aroma was a sweet floral hoppy smell, not overpoweringly so. Slight caramel aroma. Slightly hoppy piney flavor, with a bit of citrus. Small hint of malt poked through. Fairly well balanced. Coated nicely, plenty of tongue tingle as well. Overall a strong beer.
382 characters

3.37
/5
rDev
-11.8%
look: 3 | smell: 3.5 | taste: 3.5 | feel: 3 | overall: 3.25
22 oz. bomber purchased from the brewery.
The beer leaps out of the bottle in a foamy cascade. It poured with a half-glass full of head that died down slowly into an orange haze.
Moderate scent of citrusy orange peel mirrored in taste. Light-bodied pale ale that has a biscuity malt character and a pronounced Cascade hop flavor. Well-balanced overall.
The over-carbonation definitely detracts from enjoyment of this beer. When I had it at the brewery, it had medium carbonation and the aromas and flavors popped out.
I will give it another try in the hopes that this was just an off bottle.
596 characters

4.01
/5
rDev
+5%
look: 4.5 | smell: 4 | taste: 4 | feel: 3.75 | overall: 4
Poured into a 13 oz tulip glass, not sure of the bottle date. Pours a light amber, with a one inch sticky white head that leaves loads of lace.
Smell is tangerine, caramel, pine, mango, and some grapefruit.
Taste follows perfectly, very tropical, with some malt and biscuit with a little grapefruit finish.
Body is close to medium, nice light carbonation, not dry, and very drinkable, but drinks larger than its abv says.
Overall another solid brew made in my state by a tiny brewery.
489 characters

3.83
/5
rDev
+0.3%
look: 4 | smell: 4 | taste: 3.75 | feel: 3.75 | overall: 3.75
Bottle from Bert's
Pours a fairly clear deep golden color with a huge long lasting frothy white head. Aromas of caramel, bread, resin, and earthy pine with a touch of citrus. The flavor is bready with a touch of caramel and toffee with plenty of earthy piney hop flavor to balance. Light level of hop bitterness. Medium body with a moderate level of carbonation. Flavorful easy drinking pale ale, I quite enjoyed it.
416 characters
4.15
/5
rDev
+8.6%
look: 3.75 | smell: 4.25 | taste: 4.25 | feel: 4 | overall: 4
From the 650 ml. bottle with a tracking number of 14300001. This was released to the public on May 13, 2014 and it is the day I am also sampling it.
The pour is a handsome looking copper-amber color with a modest off-white beige head. Lacing.
The floral hops and toasted biscuit penetrate the nose beautifully and balanced. A bit of caramel but the floral and citrus hop notes are very evident in the APA.
The body is smooth, creamy, and about medium.
The taste begins with a toasted biscuit malt character but the citrus hops quickly erupt but never overpower. Modest and crisp bitterness at the finish. Gets hoppier as it warms.
635 characters
Spacetown Pale Ale from Kelsen Brewing Company
3.82
out of
5
based on
37
ratings.