Kehrwieder Prototyp
| Kehrwieder Kreativbrauerei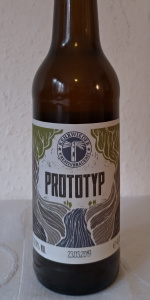 BEER INFO
Brewed by:
Kehrwieder Kreativbrauerei
Germany
kreativbrauerei.hamburg
Style:
Dortmunder / Export Lager
Alcohol by volume (ABV):
5.90%
Availability:
Year-round
Notes / Commercial Description:
No notes at this time.
Added by Ciocanelu on 02-16-2014
Ratings: 11 | Reviews: 4
Reviews by yeaprolly:
More User Reviews:

3.88
/5
rDev
+12.1%
look: 4 | smell: 4 | taste: 3.75 | feel: 3.75 | overall: 4
Bright golden hazy colour with a frothy large white head and excellent lacings. Aromas of lychee and passion fruit dominate but also subtle floral hay notes and some orange develops. Effervescent with a light soft carbonation and a light body. Pretty quaffable with lots of taste. Hits the spot with a well balanced fruity finish.
330 characters


2.53
/5
rDev
-26.9%
look: 2.5 | smell: 2.5 | taste: 2.5 | feel: 2.25 | overall: 2.75
"Prototyp." 5.90% ABV per the label. 33cl brown glass bottle with uninteresting label and branded black pry-off pressure cap acquired at Hopfen und Malz in Berlin, Germany, and served into a Berliner Kindl Weiss glass in me friend's gaff in Berlin. Reviewed live. Expectations are high; the shop owner who sold it to me claims it's the best lager brewed in Germany. Served cold. Side-poured with standard vigor as no carbonation issues are anticipated. Unfiltered. Unpasteurized.
No bubble show forms as it's poured.
HEAD: One finger wide. White colour. Decent creaminess and thickness. Leaves no lacing as it recedes. Retention is above average - about 3 minutes. Decent consistency.
BODY: Dark translucent semitransparent copper. No yeast particulate or hop sediment is visible. Below average vibrance.
Best lager in Germany? It doesn't look all that good. Far from unique or special. I'm optimistic, but it doesn't look like much.
AROMA: Has a nice piney hop aroma. Pale malts. Barley. Some faint oily and nectary hop notes.
Honestly, it smells more like a pale ale than a lager of any type. It's hoppy, sure, but I don't sense a lot of balance here.
No yeast character, alcohol, off-notes, or spices are detectable.
A pleasant aroma of average strength. It does seem entirely too sweet, though...
TEXTURE: Smooth, dry, oily, medium-bodied, overly thick, filling, and overcarbonated.
Overall presence on the palate is poor. This texture doesn't suit the taste very well.
Not gushed, hot, boozy, astrigent, harsh, or rough. Dries out the mouth a bit.
TASTE: Oily. Bready malts. Fruitcake. Hints of pine, nectar, and hop oils. But the hop notes don't come together all that well. Pale malts. Overly sweet. The hops don't mix well with the malts. It's imbalanced. No, actually it's a mess.
Not intricate or subtle, but there is some chaotic complexity. It's far more complicated than it needs to be. Average depth, duration, and intensity of flavour.
OVERALL: Downable, but forgettable. This is far from great, but I do like it in a general sense and you could do worse for the price. I'll easily finish the bottle, but this is a pretty mediocre and disappointing beer. I wouldn't recommend it to friends. The hoop notes in particular are quite lackluster.
Low C-
2,278 characters


3.7
/5
rDev
+6.9%
Pours hazy light orange with a huge white head, fluffy, going down slowly to a thick compact cap. Looks more like an IPA.
Simcoe hops dominate the smell, with mango, apricot and some maracuja, also sweet orange, a small floral note, some honey, a light grainy note underneath and faint spicy hop.
Fruity and crisp with a hearty, somewhat "messy" mix of apricot and lemon, some light orange and grapefruit, mango pulp, faint white grapes and a bit of sweet carrot. Not a dense maltiness, just some grain (getting just a bit bready towards the end) and some honey sweetness. Spicy German hop finish with a nice "green" feel to it, more than mild bitterness, but not exactly big.
Medium body, chewy, kinda thick, carbonation on the verge of being aggressive. Aftertaste fruity and a bit spicy, a bit chaotic, as was the taste.
Certainly an interesting thing to do to a Dortmunder Lager, but the hops end up being a bit too.. bundled up. Some more tweaking needed, i think.
969 characters

3.14
/5
rDev
-9.2%
look: 3.5 | smell: 3.25 | taste: 3 | feel: 3 | overall: 3.25
Orange, peachy color with a decent head, leaving a nice lacing. Rich floral aromas with apricot, melon, grass, lime, kiwi, and honey. Great, refreshing sweetness, defined by fruits, going along with a decent maltiness and hints of honey. Not too bitter, focused on the fruitiness, which stays on the palate the whole time, and is still the most recognizable ingredient, when hop bitterness in the end becomes notable. Smooth mouthfeel, with a dry aftertaste. Supported very well by a fitting carbonation, which is rather low. Missing bitterness makes the beer a little too one-dimensional in the end, leaving me a bit unsatisfied after a great start.
650 characters
Kehrwieder Prototyp from Kehrwieder Kreativbrauerei
3.46
out of
5
based on
11
ratings.