Keiler Dunkel Weissbier
| Lohrer Bier/Privatbrauerei Stumpf GmbH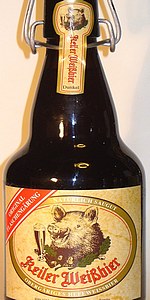 BEER INFO
Brewed by:
Lohrer Bier/Privatbrauerei Stumpf GmbH
Germany
Style:
Dunkelweizen
Alcohol by volume (ABV):
5.10%
Availability:
Year-round
Notes / Commercial Description:
No notes at this time.
Added by RedHaze on 06-26-2007
Reviews: 10 | Ratings: 18
3.81
/5
rDev
+0.3%
look: 3.75 | smell: 4 | taste: 3.75 | feel: 3.75 | overall: 3.75
From the bottle, it pours a hazy brown with a moderate head, surprisingly. Caramel malt and banana in the nose, as expected. Flavor is as expected for a weissbier, a little malty and sweetish. Good.
201 characters

3.85
/5
rDev
+1.3%
look: 3.75 | smell: 3.75 | taste: 4 | feel: 3.75 | overall: 3.75
Murky dark amber color with creamy, off-white head. Aroma has some caramel malts and sweet banana and clove notes. Taste is also slightly sweet with the same notes from the aroma. Smooth body with good carbonation. There is nothing special about this beer but it's really well put together. Some dunkelweizen beers are quite unbalanced but this one has the perfect amount of dark malts to make it really tasty and drinkable.
424 characters

3
/5
rDev
-21.1%
look: 3 | smell: 3 | taste: 3 | feel: 3 | overall: 3
Appearance: Dark chestnut; cloudy; huge frothy head
Aroma: Normal Bavarian wheat smell, but faint; spicy, malty, cloves
Taste: Smooth, refreshing, but watery; hints of molasses
Remarks: Good for hot summer day, but not very impressive
Did not score A, T, S, M at that time; disregard those scores
304 characters

3.73
/5
rDev
-1.8%
look: 4.5 | smell: 4 | taste: 3.5 | feel: 4 | overall: 3.5
Bottle purchased at Maruhn's in Darmstadt, Hessen (Germany)
Pours a very hazy, dark reddish-brown with a very full, clinging head. It is a nearly perfect pour.
The nose has strong bread and clove aromas (both of which are very nice), but not a lot of complexity or depth.
Flavors of bread, clove, white pepper, and a roasted malt finish. Though very pleasant and drinkable, it's a little ordinary in the mouth.
Probably fuller in flavor and body than their Helles Weissbier.
Overall a well-made - though ordinary - dunkelweizen.
533 characters
4.13
/5
rDev
+8.7%
look: 4.5 | smell: 4 | taste: 4 | feel: 4 | overall: 4.5
Flip-top half-litre bottle, best before 26 Dec 2010. The fourth bottle of my German tasting evening, 2 July 2010.
Poured into one of my 'Frankiskaner' Weissbier glasses.
The beer is mid-brown in colour, swurling, murky looking brew, a good deep cream coloured head sat on top.
The smells were of malts, roasted and toasted. A slight smoked ham hint arrived as the beer began to warm in the glass.
The beer was well carbonated, almost too fizzy at first, but it calmed down and was most enjoyable. The flavours within the taste followed the aromas, very pleasant.
566 characters
3.62
/5
rDev
-4.7%
look: 3.5 | smell: 4 | taste: 3.5 | feel: 3.5 | overall: 3.5
Pours an amber brown that is good and cloudy. A tall off white head this is big and fluffy gives a nice contrast to the orange garnet highlights.
Smell is yeasty sweet with a thick wheat grain nose. Warmly spiced with hints of caramel and toffee.
Taste is sweet and heavy on the toffee malts with a nice mild hop spice finish. A slight bubble gum and fruity note make me think of Belgian style beers.
A nice smooth beer that has a mild bitterness to it. This beer has a fine carbonation to it that tickles but doesn't distract. Kind of nice.
544 characters
4.3
/5
rDev
+13.2%
look: 4.5 | smell: 4.5 | taste: 4 | feel: 4.5 | overall: 4.5
At just 4.9%abv., this 500ml swing-top, fat/short brown bottle expired on 13/09/08 - consumed only 10 days past the expiration and served chilled in a weizen glass.
A: reddish chestnut brown hue, evenly murky with moderate and constant carbonation, topped with a superbly lingering, thick, aerated off-white milky-froth... Looking perfect~~
S: sour mangos, caramel, fat juicy prunes, and rather light banana-ish fruit esters rule the aroma, while the bready & wheatish malts provide a sound backbone, rendering a well-blended aroma with fruity-yeasts and malts taking up 50% each. On top of all these, the dusty note and some hints of clove float in the air, making the aroma quite light and refreshing... Very well composed in terms of intensity and body, at least on the nose.
T: bready as well as caramel malts come with sweet yum and plentiful moderately-flavoured sour-sweet estery fruits - showing a well-integrated flavour profile; quietly, the foretaste is followed by a soothing aftertaste full of lightly sour banana-, citric, and green-mango-fruits, a fine dryish bitterness of hops, just a light touch of clove-spice, and a lingering finesse taste of caramel-malt and wheatish aroma. The best part of the beer is that the malted wheat never goes thin or overly sour - just the way it should be!!
M&D: incredibly soothing and soft on the palate, medium-bodied, the texture never falls thin while consistently buttressing the harmonious flavour profile... All in all, this is an utterly enjoyable dunkel-weizen IMO, probably the best I've ever had the luck to have tasted in its category! Had the famous Franziskaner Dunkel-weizen a week ago, and this red boar surely beats Franz hands down - no question about that. Highly recommended!
1,747 characters
5
/5
rDev
+31.6%
look: 5 | smell: 5 | taste: 5 | feel: 5 | overall: 5
Appearance: Traditional German flip top bottle with a serve by date on the back label. Perfect balance of light and dark, noting its finer wheat details and yeast the unfiltered heaviness of the unfiltered wies beer. Bottom yeast slowly sinking dancing almost if you will to the bottom. Firm frothy head retained through the whole glass.
Smell: Firm bread like smell with a hint of cloves. Not too rich and over powering nor is it weak and delicate. A perfect blend to draw you in and make you want to drink one.
Taste: Some what clovey at first with a ting of fruity esters. Blends back nicely with just a hint of hoppy after bite to the end of the sip.
Mouthfeel: Never to bulky as if you are drinking your meal but at the same time a great feel like you know you are drinking a beer. Has a backbone but not enough to make it feel like you are swallowing a sledgehammer.
Drinkability: The perfect combo. Nothing lacks for want here. Strong yet subtle, a balance never found in another brew. Like Goldilocks said "Just Right"
1,032 characters
3.2
/5
rDev
-15.8%
look: 3 | smell: 3 | taste: 3.5 | feel: 3 | overall: 3
This Dunknel is an average beer straight across the board.
Bought this one at Spangdahlem AFB in Germany. Stubby brown bottle with a sweet boar on the golden label and a thumbs of fun swing top to cap it.
When the dark brown beverage is poured out of the bottle it leaves a nice, confident two finger head that dissapates at an average rate and leaves a confused spider web of lacing on the Hefeweizen glass i'm drinking this out of.
A prominent wheat on the nose with hints of caramel and banana. (Sounding like a Hefe, now isn't it?) Here's what seperates the two.
The taste is somewhat grainy to me with a strong wheat head and somewhat of a sweetness on the sides of the tongue. It washes down smoothly and leaves behind a smooth and clean short lasting finish.
Taste combined with a fairly tingly mouthfeel make this a very acceptable brew. I like this smooth drink and would buy it again as a single bottle for some after work relaxation.
951 characters
3.91
/5
rDev
+2.9%
look: 4.5 | smell: 3.5 | taste: 4 | feel: 4 | overall: 4
500ml swing top bottle, best before 15 10 07. Purchased in Spangdalem, Germany.
Pours a very dark chestnut brown with frothy three finger head that takes a very long time to settle a thick quarter inch layer of foam. The head leasves behind a tattered webbing of lace.
Smell; nice solid wheat aroma, with a little cloves and bananas and just a hint of bubblegum. There's also a slightly sweet caramel malt backbone to this.
Taste; the flavor pretty much falls in-line with the aroma with wheat malt, bananas a bit of cloves and a touch of bubblegum. And there's a little bit of a sweetness from the caramel malts in the finish. Overall pretty nice.
Mouthfeel is medium bodied with a nice smooth/creamy natural carbonation. This isn't what I might consider a truly outstanding Dunkel Weizen, but it has a nice flavor profile, and is pretty darn drinkable with a fairly low abv. I would have no problem sitting down with a few bottles of this with friends and a deck of cards for the night.
1,001 characters
Keiler Dunkel Weissbier from Lohrer Bier/Privatbrauerei Stumpf GmbH
3.8
out of
5
based on
18
ratings.