Mamoot
| Logboat Brewing Co.
BA SCORE
84
good
15
Reviews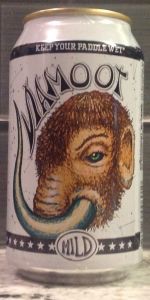 BEER INFO
Brewed by:
Logboat Brewing Co.
Missouri
,
United States
logboatbrewing.com
Style:
English Pale Mild Ale
Alcohol by volume (ABV):
3.60%
Availability:
Year-round
Notes / Commercial Description:
No notes at this time.
Added by zeff80 on 04-01-2014
Reviews: 15 | Ratings: 32
3.35
/5
rDev
-9.9%
look: 3.75 | smell: 3.75 | taste: 3.25 | feel: 3.25 | overall: 3
Kind of a brownish red color with a bit of a tan head, not a bad looking beer
Smell is mainly malt, with a bit of chocolate.
Taste has chocolate with a hint of coffee, and a touch of bitterness at the finish.
Nothing special about the feel, watery comes to mind.
This is my first experience with this style, so I really don't have much to compare it to. It came across to me as a bit watered down, nothing really special about it. I got this as part of a build your own 6 pack, and wanted to try something new. Glad I only have one can of this, not something I would drink on a regular basis.
596 characters
3.51
/5
rDev
-5.6%
look: 3.75 | smell: 4 | taste: 3.25 | feel: 3.25 | overall: 3.5
Brownish-orange body; decent head; sheets of foam along the glass. Nutty, toasted grain aroma. Mild malt taste (cold from being served on tap, so it's difficult to pull out much flavor). Medium-Light mouthfeel; coarse; dry finish.
Tried at Maggie's Bar & Grill in Boonville, MO. Decent take on the style. I'd like to try this slightly warmer to see how it plays out.
367 characters
3.78
/5
rDev
+1.6%
look: 3.75 | smell: 3.75 | taste: 3.75 | feel: 4 | overall: 3.75
not enough good milds out there, these guys always make great stuff, so no surprise that this is excellent as well. more amber than caramel or pale like a lot of these milds are, i like the greater grain depth here, and it remarkably doesnt come with any sweetness, this is real dry, even for english style beer. nice tall head on this and good clarity, pretty brew. aroma of fresh bready english yeast, slight toffee and raisin notes, but not quite that deep, its very light for its color overall. dry nutty grain, mild oxidation, red fruits, dusty, fluffy, hearty. more hops than i am used to in the style too, but mostly used for bitterness here it seems, and pretty classically english, a fuggles or magnum type i would guess, but tough to say with the bitterness. nice carbonation, but still very smooth, this has the exact right feel for an english mild. i like them making this a little more complex without a ton of grain depth, it seems they have achieved that with yeast and hops. always stoked to see new flavors from these guys, they run an impressive operation.
1,074 characters

3.74
/5
rDev
+0.5%
look: 3.5 | smell: 3.75 | taste: 3.75 | feel: 3.75 | overall: 3.75
Pours a hazy light brown color. No head to speak of although some carbonation is apparent initially on the pour.
Smell had aromas of chocolate malts, cocoa powder, mild coffee notes and some bready malts.
Taste has prominent notes of chocolate and cocoa powder. Notes of coffee and malts are also present. Ever so subtle mild bitterness on the finish.
Very smooth almost powdery feel to it with a dry finish. Mild carbonation - bit on the light side. Very drinkable. It is thin, but not unusually so for the style.
Overall a really nice English pale mild. Drinks very similar to a brown ale. A very good beer I'd be happy to drink again.
645 characters

3.74
/5
rDev
+0.5%
look: 3.75 | smell: 4 | taste: 3.75 | feel: 3 | overall: 3.75
Brown hued with a fingernail of beige resting on top. The aroma is very enticing chocolate malt. The flavor is a delicate milk chocolate candy bar. The mouth is very light and a bit watery.
192 characters

3.84
/5
rDev
+3.2%
look: 4 | smell: 3.75 | taste: 4 | feel: 3.5 | overall: 3.75
Solid effort and a great beer. I love the style, not enough breweries try something like this. I think if you want a full flavored "session" beer this is the way to go. The heavy hop-water beers seem forced to me. Anyways this beer has a great smoky, roasted flavor and finishes clean. If you're in love with hops and nothing else then this isn't for you, but then maybe you're missing the point of beer. Best I've tried from Logboat so far. Or maybe I just love the fact they brewed an English Mild.
500 characters

3.37
/5
rDev
-9.4%
look: 3.5 | smell: 2.75 | taste: 3.5 | feel: 4 | overall: 3.5
From a twelve ounce can, decorated with a mammoth, the beer is deep brown, clear, and with with think head. Very carbonated. Malt smell, but also a bit of stale cardboard...not quite what I expected. The taste is lightly bready, tilted sweet, and has just a balancing bitterness. The body is spot-on, medium in texture and heft. Mild is a great style, and for this one, I'd like a it more fresh malt in the aroma, with a bit of biscuit....not a bad brew, just a bit off the mark.
484 characters
4
/5
rDev
+7.5%
look: 4 | smell: 4 | taste: 4 | feel: 4 | overall: 4
Had on tap at Lake of the Ozarks. Nice transparent brown ale with smell of English hops. The flavor begins with a bit of malt sweetness, with an English hop presence but not overly bitter or hoppy. For a beer under 4%, this is a nice session ale for the cooler months rather than the now trendy session IPA's.
312 characters

3.68
/5
rDev
-1.1%
look: 3.5 | smell: 3.5 | taste: 3.75 | feel: 3.75 | overall: 3.75
First had Mamoot poured from 12-oz. can (listing ABV at 4.00) into clear plastic wine cup. I am not a big fan of brown ales, but this is not (too) sweet.
154 characters
4.32
/5
rDev
+16.1%
look: 4.25 | smell: 4 | taste: 4.5 | feel: 4 | overall: 4.5
I'm not normally a fan of the coffee taste of this type of beer. Since it won a Silver medal at GABF I decided to give it another shot. It's great with food!
157 characters
2.67
/5
rDev
-28.2%
look: 3.25 | smell: 3 | taste: 2.5 | feel: 2.5 | overall: 2.5
First english mild I've had, but not a huge fan. Good brown ale flavors are there, roasted coffee and a touch of chocolate. I just wasn't a huge fan of the sweetness of the thing, that couple with the lower ABV makes it hard to justify dropping the money on it when there are better tasting brown ales out there.
312 characters
3.86
/5
rDev
+3.8%
look: 3.5 | smell: 3.75 | taste: 4 | feel: 4 | overall: 3.75
This is a really tasty session ale. Had on tap at the brewery. Chestnut colored beer with notes of coffee, roasted malt and a mild grassy hop bite. Smooth and easy drinking.
173 characters
4.58
/5
rDev
+23.1%
look: 4.75 | smell: 4.75 | taste: 4.5 | feel: 4.5 | overall: 4.5
Pours a reddish brown with decent but not perfect clarity. Big 2+ finger head is a light tan color, thick, and very long lasting. Good sticky lacing left behind.
Nice smooth coffee and chocolate aromas. Caramel malt. Mild earthy hops.
Taste is more coffee and chocolate. Slight bitterness on both. Big malt in the background. Caramel, toffee and light molasses.
Mild mouth feel with nice creaminess. Medium+ carbonation. Mild bitterness. Chocolate lingers.
This is my favorite local beer. Amazing how big the flavors are considering the low abv.
564 characters
3.43
/5
rDev
-7.8%
look: 3.25 | smell: 3.25 | taste: 3.25 | feel: 4.5 | overall: 3.5
Pours a clear, brown color. 1/4 inch head of an off-white color. Decent retention and decent lacing. Smells of sweet malt, roasted malt, English hops, hint of caramel malt, and slight metallic. Fits the style of an English Pale Mild. Mouth feel is smooth and clean with a low carbonation level. Tastes of sweet malt, hint of pale malt, slight caramel malt, hint of earthy malt, hint of hop, and a hint of metallic. If the metallic aroma and body is disregarded, this is a decent mild, alas the metallic is too noticeable.
521 characters
4.13
/5
rDev
+11%
look: 4 | smell: 4 | taste: 4.25 | feel: 4.25 | overall: 4
A - Light brown color with a nice tan head of bubbly foam. It leaves nice lacing on the glass.
S - Nutty and slightly roasty with a hint of floral notes.
T - A mild spiciness with hints of chocolate, nuttiness and some roasted goodness.
M - It was crisp, sharp and smooth. A light to medium bodied ale that is easy drinking.
O - This is one of many fantastic brews that Logboat is going to produce. So sessionable. I can't wait to have cans of it sitting in my fridge.
472 characters
Mamoot from Logboat Brewing Co.
3.72
out of
5
based on
32
ratings.