Old Slipperyskin India Pale Ale

Jasper Murdock's Alehouse, Dining Room & Microbrewery (The Norwich Inn)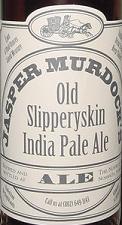 Write a Review
Beer Geek Stats:
| Print Shelf Talker
Style:

ABV:

6.3%

Score:

Avg:

3.67

| pDev:

18.53%

Reviews:

9

Ratings:

From:

Avail:

Rotating

Wants

Gots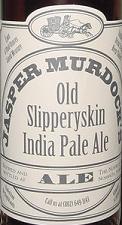 Notes: A strong amber ale, full bodied, with a hearty hop flavor and a pronounced hop finish.
Reviews by Bobzilla:
4.49
/5
rDev
+22.3%
look: 3.5 | smell: 4.5 | taste: 4.5 | feel: 4 | overall: 5
On tap at the Ale House - 3/21/08
Nice orange-yellow color, with a thin white head. It didn't seem to last terribly long, but left a nice halo around the edge of the glass throughout drinking.
Very nice Target hop aroma, with a bit of peppery fruitiness as well. The malt mix may be giving it some further smell that I can't quite identify. But, it is quite pleasant. Bready, yeasty notes that mix well with the hops.
The taste is outstanding. Smooth, and simple, with only as much complexity as is needed. There is more of the target bitterness, and some northern brewer(?) character to the beer. Nothing seems to be 'in your face' about this IPA. It is full flavored, but light bodied, with a good amount of crispness in the carbonation. This was the beer that both me and the Mrs had for most of the night.
810 characters
More User Reviews:

4.42
/5
rDev
+20.4%
look: 3.5 | smell: 4 | taste: 4.5 | feel: 4.5 | overall: 5
Out of a bomber to go, this pours an incredibly bright orange-y / amber beer topped with an eggshell colored it that snaps down to a thin lace. This beers is wicked bright, but the head retention lacks for such a hoppy beer.
Upfront, a musty cellar aroma. This clears with sweet hints of fruity esters, distinct, Red Delicious apple and skin, light hop floral notes.
Sweet and full malt body, almost chewy in spots, with light notes of caramel. Fruity. More sweet apple and peel/skin flavors with a prickly hop bitterness and oily finish with some distinct Chinook hops leaving its mark on the palate. Earth flavors in the back. Oiliness is clingy, piney. Soft soapy note. As the beer warms, mild toasty/bready notes emerge adding depth to the sweet malts. Finishes with hop oils coating the palate – quite pleasant.
Balanced and packed with incredible flavors. A pretty damn fantastic English-style IPA!
Pretty nice in the bottle, but I'm much more of a fan of it on tap while I'm hanging at Jasper's. Still … you gotta take some bottles home when you visit!
1,076 characters
4.44
/5
rDev
+21%
look: 3.5 | smell: 4.5 | taste: 4.5 | feel: 4.5 | overall: 4.5
Presentation: 22 oz brown bomber with a bottled on date on the side of the label.
Appearance: Dropped bright orangey copper, with a snapping lace that leave a few bubbles behind.
Smell: Fresh aroma of hop oils and an herbal back, a bit of ripe fruit and doughy biscuity grain in the nose as well.
Taste & Mouth Feel: Smooth and creamy with medium body. Wow, a ton of hop flavor with just enough bitterness to push the malt sweetness back. Oily, lightly piney with an earthened quality. Solid pale malt sweetness shows a touch of fruitiness from with the yeast and more doughy biscuit flavors in the drying finish.
Drinkability & Notes: Now this is what an English Style IPA is all about, just the hop character in the brew is amazing enough … big time kudos to Tim for keeping it real.
799 characters
3.32
/5
rDev
-9.5%
look: 3 | smell: 3.5 | taste: 3.5 | feel: 3 | overall: 3
Pours with a nice dark amber body and a creamy pale head. Being an IPA, this beer sports a particularly strong hops aroma, with a bit of floral character. As far as taste, I was a bit surprised, as the hops flavor was a lot weaker than I'm used to for an IPA---in fact, I'd actually call this a normal pale ale. But it did have a nice hops flavor with some nice malty tones to it. The mouthfeel was quite moist, not dry like a lot of pale ales.
A good beer, but not what most people might expect from an "IPA".
513 characters
3.53
/5
rDev
-3.8%
look: 4 | smell: 3.5 | taste: 3.5 | feel: 3.5 | overall: 3.5
Pours very clear. Surprising for a bottle conditioned ale. No head and very limited carbonation. Aroma is all hops, but old flowers that have been over fertilized. The flavor is malty at first but quickly followed up by a malty bitterness. Also a bit of a pepper spice to it and a woody mellowness. Served cold, but as it warmed the flavor improved to give more of a fruity flavor. Very full mouthfeel that finishes crisp, but with a finish in the mouth that left my tongue and lips feelin all slick. A bit too sour to be truly drinkable, but for a tasting of strong IPA flavors this is a great beer.
600 characters
3.75
/5
rDev
+2.2%
look: 3.5 | smell: 3.5 | taste: 4 | feel: 4 | overall: 3.5
22oz bomber bottle poured out with a golden orange color that had a tight cap of foamy head that held tight. Citric floral hops with a touch of pine. A good amount of sweet caramel malts were in the aroma as well. Grapefruit bitter hop bite up front with a nice earthiness backing it up. Solid malty base keeping the bitter hops in check. A bit prickly feel from the hops a nice bitter finish. Very nice body to it. Decent drinkability overall but something about it made it a bit hard to finish.
496 characters

3.5
/5
rDev
-4.6%
look: 3.5 | smell: 3.5 | taste: 3.5 | feel: 3.5 | overall: 3.5
Poured a light copper hue with a one finger foamy white head. There was good retention and lacing.
The smell featured a grainy malt with some flowery hops detected as well.
The taste consisted of a light cereal grain with some balancing hops.
The mouthfeel was of average fullness.
Overall a good, but unexciting ale. Subtle is the key word here.
358 characters
2.19
/5
rDev
-40.3%
look: 3.5 | smell: 2 | taste: 2 | feel: 3 | overall: 2
No hop aroma, even getting it directly off tap. Very little hop character in the beer, as stated here before it was much more of an APA. Decent mouthfeel, good color, but all in all a very un-exceptional beer.
I would gather, from the varied reviews here, that the Ale house is very inconsistent in their brewing techniques, as it would seem their beers are rated in a wide range.
All in all I was underwhelmed with their IPA.
428 characters
2.95
/5
rDev
-19.6%
look: 2 | smell: 2 | taste: 3 | feel: 4.5 | overall: 3.5
Really more of an American Pale Ale than an IPA. Aroma? No hop character at all even fresh off the tap. Very little head. Very smooth. Very little... anything! Pale, straw golden color. A finesse brew, almost certainly low ALC %. Medium body and very lightly carbonated as though it is cask conditioned. Refreshing and summery but hard to say much about it.
357 characters


4.29
/5
rDev
+16.9%
look: 4 | smell: 4.25 | taste: 4.5 | feel: 3.75 | overall: 4.25
I had the flight, with both IPAs and the pale. I thought this was the best, but they were all good!
100 characters
Old Slipperyskin India Pale Ale from Jasper Murdock's Alehouse, Dining Room & Microbrewery (The Norwich Inn)
Beer rating:
82
out of
100
with
12
ratings