Stackpole Porter
| Jasper Murdock's Alehouse, Dining Room & Microbrewery (The Norwich Inn)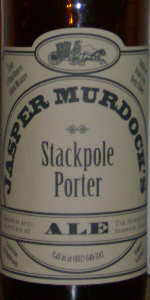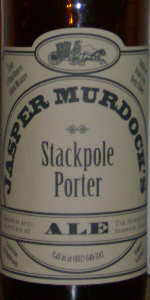 BEER INFO
Brewed by:
Jasper Murdock's Alehouse, Dining Room & Microbrewery (The Norwich Inn)
Vermont
,
United States
norwichinn.com
Style:
English Porter
Alcohol by volume (ABV):
5.10%
Availability:
Rotating
Notes / Commercial Description:
A dark ale style dating back to the 1700's. Roasted malt lends chocolate and coffee-like flavors and aromas.
Added by BeerAdvocate on 03-20-2003
HISTOGRAM
Ratings: 9 | Reviews: 8
Reviews by BeerTruth:
3.5
/5
rDev
-6.9%
look: 3.5 | smell: 3.5 | taste: 3.5 | feel: 3.5 | overall: 3.5
Picked up a couple bottles after we stopped by the brewpub on our Sunday afternoon drive back from the Burlington/SIPtemberfest trip :)
22 oz. bottle poured into a nonic.
Even after an aggressive pour I only get a quick one finger light brown head atop a cola black body that dies down to a ring at most. No lacing to speak of, doh! Smell consists of brown sugar, some molasses, and a bit of cocoa powder. There is a slight musty earth hop aroma underneath the sweetness as well. Taste begins with bitter coffee grinds and a touch of vanilla. Midway roasted chocolate malts and more sugar with a sweet woody finish. Flavors become more pronounced with warmth. Mouthfeel is light and watery with a body, very English, almost firkin-esque. Not a bad porter, I could easily have a few of these in a sitting. I'd love to try the Oatmeal Stout one of these days, we'll have to make another trip there soon eh?
906 characters
More User Reviews:
3.15
/5
rDev
-16.2%
look: 3.5 | smell: 3.5 | taste: 3 | feel: 3 | overall: 3
Appears a dark brownish black with a tan head that fades quickly.
Smell is of a slight roastiness that is just ok. Nothing really fancy jumps out at me.
Taste is thin and watery for a porter with nothing good standing out. A slight bit of roasted malts can be detected but not much else.
Mouthfeel has a roasted malt light linger with bits of cocoa.
Drinkability is ok but I'd pass on having another.
404 characters
3.43
/5
rDev
-8.8%
look: 3.5 | smell: 3 | taste: 3.5 | feel: 4 | overall: 3.5
Poured dark, almost black, with a bubbly tan 2-finger head that faded quite qickly. The smell was dark, roasted malts, especially coffee and chocolate, with a slightly bitter linger. The smell was actually a bit milder than expected. The taste was robust and full of burnt coffee and chocolate malts, with little taste of hops. A full bodied beer, but a bit lighter than your average porter and a bit more carbonated. I found the beer good, fairly drinkable, but I wouldn't put it at the top of my list of favorite porters
522 characters
4.12
/5
rDev
+9.6%
look: 4 | smell: 4.5 | taste: 4 | feel: 4 | overall: 4
This was the third of the three beers on tap I had at the Norwich Inn and it happened to be the best. It poured with a solid 1/2 finger tan and very creamy head. While it was pitch black in appearance, the nose consisted of a beautiful deep roasted quality with dark chocolate overtones....nice! The body is medium-to-heavy with a smooth and temptatiously creamy mouthfeel. There is wonderful chocolate malt and some roasted qualities that exist. However, the dark chocolate bitterness that exudes is clearly the defining aspect of the beer. Good stuff, wholesome and fulfilling all around. It finishes softly and creamy as the chocolate lands on the palate. Exceptional and well crafted, wish they had it available to take home!
729 characters
4.15
/5
rDev
+10.4%
look: 4 | smell: 4 | taste: 4.5 | feel: 3.5 | overall: 4
Pours with a deep black body, thick, frothy head (one of the best I've seen on a non-nitro porter). It sports a nice almost smoky malt aroma, with some nice hops notes. The smoky-malt flavor carries over to the taste, nicely balanced with some sweet nuttiness and bitter overtones. It's got an almost syrupy mouthfeel, good for a slightly sweet beer. Very pleasant, and much better than their stout.
(Made with English East Kent Golding hops, OG 1.055)
455 characters
3.7
/5
rDev
-1.6%
look: 3.5 | smell: 3.5 | taste: 4 | feel: 3.5 | overall: 3.5
Poured a dark brown, but was thin around the edges. Thick brown head (slightly tinged brown) that receded to a thin film. Aroma was of roasted malts--it came across as a medium roast coffee. The flavor was smokey. But with lots of coffee and chocolate. Also just abit of hazelnut. The body was a shade shy of being full because it would finish a bit watery.
357 characters
4.05
/5
rDev
+7.7%
look: 3.5 | smell: 3.5 | taste: 4.5 | feel: 4 | overall: 4
Purchased a bottle at the Norwich Inn in Norwich, VT.
A: Deep chestnut brown with red highlights. Very dark but clear.
S: Malt aroma with faint chocolate quality. A slight hoppy aroma accompanies the more prominent malt.
T: Nice malt flavor with moderate roastiness. Good, solid coffee flavor with some chocolate undercurrents. Finishes with a hoppy bitterness.
MF: Medium light body. I was expecting heavier. Lower carbonation due to bottle conditioning.
D: A very nice drinkable porter with moderate roastiness and a good bittering finish.
561 characters
4.03
/5
rDev
+7.2%
look: 4 | smell: 3.5 | taste: 4 | feel: 3.5 | overall: 5
Decent tan head that displays some intermittent lacing. Deep brown color like Myers dark Rum. Inviting, semi-sweet aroma; the only Norwich beer to show much nose. Roasted malts and fresh coffee, dark chocolate. Uncommonly smooth and creamy for a porter. The mouthfeel is a little chewy fading into a lingering coffee-like finish. This is the one beer where I really appreciate the Norwich 'extended cold-again process' because it makes a big beer style very drinkable, almost as if it were cask conditioned.
507 characters
Stackpole Porter from Jasper Murdock's Alehouse, Dining Room & Microbrewery (The Norwich Inn)
Beer rating:
3.76
out of
5
with
9
ratings