Serafijn Grand Cru
| Microbrouwerij Achilles
BA SCORE
83
good
14
Reviews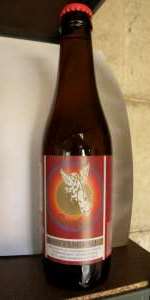 BEER INFO
Brewed by:
Microbrouwerij Achilles
Belgium
Style:
Belgian Strong Dark Ale
Alcohol by volume (ABV):
9.00%
Availability:
Rotating
Notes / Commercial Description:
No notes at this time.
Added by RblWthACoz on 01-01-2008
Reviews: 14 | Ratings: 18

3.5
/5
rDev
-3.6%
look: 4 | smell: 4 | taste: 3.25 | feel: 3 | overall: 3.5
Dark orange, hazy, beer with a one finger high, white, head.
Nose: Sweet caramel malt, orange, vanilla, bread, raisin, apple and toffee.
Taste: Brown sugar, caramel, raisin, biscuit, plum, yeast, herbs, orange marmalade, malt and hops.
Body: Medium body. High carbonation. A little bitterness.
Great taste and moutfeel. Not overwhelming though. Good solid Belgian strong ale.
381 characters
3.27
/5
rDev
-9.9%
look: 3.25 | smell: 3.75 | taste: 2.75 | feel: 3.25 | overall: 3.75
The color is dark red, brown.
Head made of fine bubbles, beige. Unfortunately rapidly reduced.
Intense aroma, honey, dates, figs liqueur and raisins, a little aromas cognac, spices and sugar candy.
Taste a honey plus figs and dates, caramel, generally sweet. There are touches of wine or even cognac.
In Serafijn Grand Cru bitterness is low, insignificant. The loading medium toward high. Although alcohol is at 9% is felt but rather as a pleasant warmth. Invoice beer rather seems to be oily, but does not give the impression that beer is massive. You rather get the impression that it is slightly watery.
606 characters
3.42
/5
rDev
-5.8%
look: 3.5 | smell: 4 | taste: 3 | feel: 3.5 | overall: 3.5
9% ABV
11.2oz Brown Bottle $2.25 Ryan and Casey Greenfield MA
Appearance: Dark amber, large foamy head on pour, followed by thin layer of bubbles and lacing
Smell: malty, fresh sweet bread, maybe a little raisin/vanilla
Flavor: Very light and sweet, no tartness or sourness. Aftertaste is mildly hoppy (still more than I like)
Overall: 3.5/5 a very drinkable high ABV beer, the good parts of beer while limiting the stuff I don't like
(like bitterness). Can't beat the price!
478 characters

3.41
/5
rDev
-6.1%
look: 3.25 | smell: 3.5 | taste: 3.25 | feel: 3.75 | overall: 3.5
BSDA, an umbrella style but one that I generally find pleasant. Random gift from the classic ROBD basket, thanks again sire.
A- 330ml bottle pours to my snifter revealing a murky deep apricot hue somewhat pale for a BSDA. A white crown ends up at under half a finger with a puffy, frothy texture. Fair head retention down to a thick ring depositing lace as spotty sheets.
S- The first sniff really reminds me of wine and with yeast present that is certainly plausible. Dark grapes and raisin jam open this big Belgian up with brown sugar, musty caramel, apples, medium candi sugar and yeast spice.
T- Sweetness adds a new dimension not really found in the nose. It seems to really accentuate the fruit notes in this beer specifically the raisin and apple; the wine feel is still there but not as strong. Yeast spiciness gains strength giving way to caramel, deep golden candi sugar, oxidized leathery, vinous and alcohol notes.
MF- High carbonation level promotes a bit of a sting to the palate and a rather foamy overall body which acts like a cushion. Bitterness throughout with a touch of heat once the beer leaves the taste buds.
Enjoyable strong Belgian Ale but at times it feels like the overall flavor profile falls a bit flat. Certain sips are mostly just bitter spice and raisins with vinous hints. I usually find this style excels in ridiculous complexity and this beer doesn't do that for me. Nothing particularly wrong but not in the class of the good ones.
1,474 characters
3.69
/5
rDev
+1.7%
look: 3.75 | smell: 3.5 | taste: 3.75 | feel: 3.75 | overall: 3.75
*Update - 10/4/14 - Not sure if its the 1 year of age or just warming up to it, but I found myself rather enjoying a few August 2013 bottles of this in recent weeks. My previous description still holds up, but mostly I've appreciate its good, straight forward raisin/caramel/spicy yeast Belgian profile. Nice slight alcohol warmth. Maybe this will age as well as their Donker. Shout-out to Serafijn.
Pour to a tulip glass is a nice hazy brightish orange color with a white head, which reduces to a swirly partial cap. Bits of lace left.
Scent is mostly malts of the sweeter variety, bringing some toffee and honey, with some toasted bread and fruitcake as well.
Taste follows suit though some extra hoppiness is coming through. Caramel-drizzled bread, orange marmalade, earthy hops, raisin and light spice comes to mind.
Decent malty body with some decent hop bitterness and highish carbonation. Some alcohol heat.
Not bad, decent flavors but very straightforward, kinda bland for a Grand Cru. This is closer to a Belgian strong pale ale rather than dark.
1,061 characters
3.92
/5
rDev
+8%
look: 3.5 | smell: 4 | taste: 4 | feel: 3.5 | overall: 4
A - Poured out a hazed, golden amber color with a two-finger, off-white head of bubbly crackly foam. It left sudsy trails of lace on the glass.
S - It smelled of raisin, plum and currants. Nice maltiness.
T - It tasted of sweet biscuity malt with lots of dried dark fruits - raisin, plum, etc. A touch of booziness, too.
M - It was crisp, sharp and fairly smooth. A full bodied ale with a warm alcohol presence.
O - This is a pretty good Belgian Strong Ale. It reminds me of a Quad, too.
491 characters

3.75
/5
rDev
+3.3%
look: 4 | smell: 4 | taste: 3.5 | feel: 3.5 | overall: 4
Poured a beautiful golden-orange color into a Westmalle glass with a midsized head. Maybe the coloring is what gave it hints of orange in the taste, which overall was somewhat sweet. Didn't feel too heavy for being a 9-percent beer.
After drinking, was surprised to read this beer's somewhat average score (or some scores at B- and below). Very much enjoyed this beer and, if done slowly and moderately (always a challenge!), I could drink several on any given night.
468 characters
3.88
/5
rDev
+6.9%
look: 4 | smell: 3.5 | taste: 4 | feel: 4 | overall: 4
A nice tasty Belgian, bottle from Premiere Gourmet. Light orange colour with thick head, and full mouthfeel. Rich malty, secondary spicy, pepper, orange cream,honey cloves,caramel, lemon, corriander is minute. On the sweeter side, yet most drinkable.
250 characters
3.44
/5
rDev
-5.2%
look: 5 | smell: 3.5 | taste: 3 | feel: 4 | overall: 3.5
750 ml bottle. Pours a golden orange with lots of suspended floaties. It has a huge spongy white head that retains well and laces the glass.
The aroma is sweet fruity and bready malts, with a little grassy bitterness and some funk. Some dark fruit / fruitcake comes out as it warms.
The flavor is some sweet malts with light bitterness and spicy yeast - it's a bit washed out. The mouthfeel is medium to full bodied with a velvety mouthfeel.
Overall, a decent brew. It reminded me a lot of fruit cake.
504 characters
3.5
/5
rDev
-3.6%
look: 3.5 | smell: 3.5 | taste: 3.5 | feel: 3.5 | overall: 3.5
Faintly fuzzy pumpkin orange with golden honey colored edges and abundant carbonation. The manila colored crown is large and semi-rocky, but it doesn't have the greatest texture. The foam is soft and unsticky, and the glass features no more than a few splotches of lace.
The aroma is musky-fruity (apricot skins) and has a modest amount of yeasty spiciness in the manner of most Belgian ales. It's pretty generic, however, and could use more power. Oh yeah, this ain't no BSDA.
Like Celtic Angel and Christmas Angel, Grand Cru is really a Belgian amber ale (darker than pale, lighter than dark). It makes no sense that Microbrouwerij Achilles would release three such similar brews. Granted, time has passed since the others were consumed, but reading my reviews helps my memory.
The malt tastes slightly toasted-earthy-nutty, with no real caramel per se. The spotlight is on apricots, peaches and oranges.... with less sweetness than that implies. A bit of clove attempts to add another dimension to a flavor profile that is in desperate need of more dimensions. Sorry, but even when they use Grand Cru ammo, these guys don't blow me away.
Additional pours add more fine yeast, which helps the appearance a little. The mouthfeel is medium in heft and has fairly lackluster carbonation. There are plenty of bubbles, but they don't do a very good job of volumizing the beer.
Grand Cru is the last Microbrouwerij Achilles beer in my cellar. It's just as well because I've given up hope of ever being impressed by their products. Perhaps things will improve over time or perhaps the brewery is happy with things as they are. It will be a damn shame if it's the latter.
1,671 characters

3.88
/5
rDev
+6.9%
look: 4 | smell: 3.5 | taste: 4 | feel: 4 | overall: 4
750ml bottle poured into my St. Feuillien goblet, Serafijn Grand Cru is a brassy gold with tons of floaties, with a large creamy off-white head with long last that leaves zero lace. Served at 50F, where I've kept it for a couple months, the cap it stamped 'LOT 0607' - I got it on clearance and wonder if it's actually from June 2007?
Smell is strong and sugary, lots of fruity esters and a bit of a sour citrus twang.
Taste is similar to the nose, sweeter and fruity, drying alcohol solvents. Simple and not too inspiring, but tasty enough.
Mouthfeel is a bit sugary, light bodied, pretty heavily carbonated. Of course you can't feel the floaties.
Drinkability is ok, it's kind of light and not to assertive, that you can suck it down with ease. But there's really nothing about it that would ever draw me back, and my overall impression is boring, especially for a grand cru.
883 characters
4.38
/5
rDev
+20.7%
look: 5 | smell: 4.5 | taste: 4.5 | feel: 4 | overall: 4
Everything I've had from this fine brewery has so far been excellent, and this beer was no exception.
The beer pours a hazy orange amber color with stunning head retention and very good lacing. Everything about this beer looks impressive. The nose on this beer is every bit as impressive, and the aroma just leaps out of the glass. There is an astonishingly rich aroma of honey, butter (and lots of it), tangerine and underlying spice. The flavors on the palate replicate the nose, with just enough hoppy citrus to keep the beer from tasting too heavy or sweet. Nevertheless, this beer is incredibly rich, smooth and long, but remains remarkably drinkable despite that. Alcohol is very well disguised, and the beer has a long, lingering finish.
One of the better beers I have had in quite some time. Highly recommended and a beer I will always buy from now on when I see it (which is not nearly often enough). Impressive.
924 characters
3.42
/5
rDev
-5.8%
look: 3.5 | smell: 4 | taste: 3 | feel: 3.5 | overall: 3.5
Appearance: Pours a clear, orangey body with a medium-sized, dense, off-white head.
Smell: A touch of lemon, more than a touch of orange. Also notes of orange blossom honey, light caramel, and yeast (though only everso slightly).
Taste: Light caramel and honeyed maltiness with a medium sweetness. Small pinch of lemon zest. A full helping of orange oil. Slight yeast character. Restrained bitterness. A bit peppery near the end. Lingering orangey taste on the drying finish.
Mouthfeel: Medium-bodied. Well carbonated.
Drinkability: Oh, it's not so bad, really, though it could stand to use a greater depth of malt character.
629 characters
3.1
/5
rDev
-14.6%
look: 3 | smell: 3 | taste: 3 | feel: 3 | overall: 3.5
Pours a brown hued orange. Nose is kind of syrup like and sweet. Flavor is not very eventful. Nice smooth and even tones. The funk is there. The sugar is very slightly there. It's decent...but...lacking. This is a Grand Cru? Standard on the mouth, and even a bit thin. This was nice to drink, but certainly nothing unusual or at the least interesting.
352 characters
Serafijn Grand Cru from Microbrouwerij Achilles
3.63
out of
5
based on
18
ratings.