Serafijn Tripel
| Microbrouwerij Achilles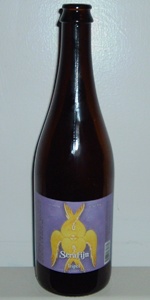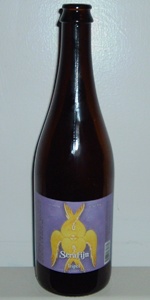 BEER INFO
Brewed by:
Microbrouwerij Achilles
Belgium
Style:
Tripel
Alcohol by volume (ABV):
8.00%
Availability:
Rotating
Notes / Commercial Description:
No notes at this time.
Added by TheLongBeachBum on 01-16-2005
HISTOGRAM
Ratings: 12 | Reviews: 10
Reviews by dgallina:
4.45
/5
rDev
+20.9%
look: 4.5 | smell: 4.5 | taste: 4.5 | feel: 4 | overall: 4.5
750ml brown bottle marked June 2007 on the cap.
Pours faintly clouded golden-brown. Very active carbonation creates a large head that reduces quickly, leaving lots of sticky lacing. The smell is a complex blend of bananas and cloves, coarse grains, yeast, hops, and alcohol tones. The balanced flavors are sublime. Initial coarse malts blend into creamy banana and cloves. These seque into a sharp metallic tang of pilsner hop before flashing into a brief, clean, alcohol and banana finish. The body is medium-light, very carbonated and easily quaffed. An exceptionally well-executed tripel.
592 characters
More User Reviews:

3.95
/5
rDev
+7.3%
look: 4 | smell: 4 | taste: 4 | feel: 3.5 | overall: 4
A 750ml bottle with Lot 0607 stamped on the cap. Poured into a tulip glass, the beer was a slightly hazy gold color with a thick white head. It had a grainy and floral aroma. The taste was quite a bit malty, with some banana flavor following. Late in the taste there was a hit of hops. I thought this beer was rather bready and filling, but found it mostly enjoyable.
367 characters
4.12
/5
rDev
+12%
look: 4 | smell: 4.5 | taste: 4 | feel: 3 | overall: 4.5
"Lot 0607" on top of the cap. Brewed in June '07 perhaps? We can only guess.
Pours a rusted golden color, slight haze from tiny bits of sediment hanging in suspension. Head is an inch-thick, thinning to a half-inch quickly, very soapy and made of impossibly small bubbles. Lace forms, but doesn't have a whole lot of stick, disappearing quickly.
Fruity/flowery aroma shows a nice bit of the hops, accented by lemon, honey, caramel, ginger and yeast…all of it checking in very politely, everybody getting along. Yeast wafts in stronger as it warms, which is very welcome to this nose.
Sweet fruits, gentle floral earthiness and a zingy spiciness all share space equally in the flavor. Spiciness and an almost rye-like element show throw stronger after some warming. An interesting (or suspect?) sugary vibe starts coming through halfway through the bottle...DMS? Evil adjuncts? Who knows...luckily it's not dominant enough to detract.
Carbonation is a little high, getting in the way of the flavors somewhat. Zaps the mouth with micro-explosions of the bubbly stuff. Letting it sit and warm seemed to help with this.
It's one of the lighter, less demanding triples out there…despite my initial dislike of the near-champagne mouthfeel, I'm sure others will like that, and it only barely takes away from the drinkability. Not the best in its league, but certainly an enjoyable concoction.
1,398 characters
3.57
/5
rDev
-3%
look: 3 | smell: 3.5 | taste: 3.5 | feel: 3.5 | overall: 4
A drinkable beer, with a sgnificant though not overwhelming bitterness. I do not know what that was about, but I was expecting something softer and sweeter. Some fruit, melon. Dry finish. Not much head,a cross with a Belgian pale. Refreshing, though not exceptionally enjoyable or complex.
289 characters
4
/5
rDev
+8.7%
look: 4 | smell: 4 | taste: 4 | feel: 4 | overall: 4
Bottle: Poured a dirty yellow color ale with a huge foamy head with some great retention and some very good lacing. Aroma of sweet Belgian malt with some spicy notes from the yeast. Taste is a well balance mix between sweet Belgian malt with some nice spicy notes from the yeast and some floral and dry hops notes at the end. Body is above average with some good carbonation and no alcohol is discernable. Very well done for the style and something I wouldn't mind trying again.
479 characters


3.08
/5
rDev
-16.3%
look: 4 | smell: 3.5 | taste: 3 | feel: 3 | overall: 2.5
750 Ml bottle purchased from Buy Rite on Oak Tree in South Plainfield for $9.99... Presented with an elegant bronze foil around the bottle neck...
A slow and steady pour yielded a bright amber, golden, copper-colored appearance with enormous carbonation rising and a gigantic foamy and frothy head that exhibited enormous staying power before slowly receding and leaving a copious amount of lacing around the edge of the glass...
Sweet, attractive smell of honey, candied sugars, and syrups noticeable...
The flavor really threw me off at first because definitely tastes much sweeter than many other Belgian triples... Super-sweet saccharine taste noticeable with a slightly unpleasant bitter finish on the tongue... Slight florals are also evident along with a fair suggestion of minor hops... The overall flavor of this beer seems to get lost in an overbearing sea of sweetness, which really muffles the flavor to the extent that the drinkability took a hit...
Not worth the price...
985 characters
3.3
/5
rDev
-10.3%
look: 3.5 | smell: 3.5 | taste: 3 | feel: 3.5 | overall: 3.5
Serafijn pours in fine. Nice head and a light golden color of the beer. The haze looks unbelivable though. Just shiny glitters is a golden world. Nose is not bad either. Litle DMS, koreander and some yeastarome make it with the rest of the maltflavour ok.
Taste is not that bad either, sweet but malty, koreander and litle bitter make it drinkable but nothing great.
367 characters
2.61
/5
rDev
-29.1%
look: 3.5 | smell: 2.5 | taste: 3 | feel: 2 | overall: 2
A: goldish tan, good white head with a strong leg on the glass
S: heavy alcohol smell, overpowers the other elements
T: bitter finish, again the alcohol overpowers the other elements from start to finish
M: good carbonation, again with the alcohol at the end that rolls out to the bitter finish
D:not impressed and would not purchase again
344 characters
3.15
/5
rDev
-14.4%
look: 3.5 | smell: 3.5 | taste: 3 | feel: 3 | overall: 3
Slightly more orange than gold, with a light dusting of yeast. Although the pearl colored cap is expansive, it doesn't have the beauty and the character of the best Belgian ales. In addition, there could be more (and more attractive) lace. Still looking for a great looking ale from Microbouwerij Achilles.
This must be a somewhat different take on the style because the nose isn't typical. It's *slightly* darker than most tripels and doesn't deliver as much ripe fruit or spice. It also smells more tart than sweet. It'll be interesting to see how it all comes together (or not) on the palate.
Tripel is definitely different. The problem is, it isn't a take on the style that I can support. There's too much toasted malt, too much tartness (early and mid), too much bitterness (late), too much acidity and a generous amount of unmasked alcohol on the back end... when the other flavors fade away... which happens too soon.
After reading the previous paragraph, one could be forgiven for thinking that I don't like Serafijn Tripel. That isn't necessarily the case, but it isn't especially well-crafted. The negatives are balanced by just enough positives to keep the taste score right about average.
The beer has an earthy, rustic quality that gives it a small-batch, farmhouse ale sort of vibe. That is, a farmhouse ale mixed with a strong amber mixed with a tripel. The flavor profile is a grab bag of the usual and unusual: unripe peaches and pears, dried herbs, white pepper corns, juniper berries and fennel root. Maybe Mr. Van de Moer added a shot of gin prior to bottling.
Given the competition, the mouthfeel falls short. It's okay from a size standpoint, but is woefully undercarbonated. While there seems to be enough bubbles, they don't do any heavy lifting and the beer has no mouthfilling creaminess whatsoever. There's definitely work to be done here.
Tripel is my favorite style of Belgian beer, so it stands to reason that I tend to give most versions the benefit of the doubt. Unfortunately, there's too much doubt and not enough benefit where Serafijn Tripel is concerned. Christmas Angel is still this brewery's best.
2,143 characters
3.95
/5
rDev
+7.3%
look: 4 | smell: 4 | taste: 4 | feel: 3.5 | overall: 4
My Bornem Chalice hosts two fingers of puffy meringue drifting above a slightly hazy, golden-orange beer with endless carbonation.
The aroma caries sweet fruits, punctuated by grapes and white wine.
Opens with crisp, sweet apples, followed by a quick burst of bitterness that repeats in a lingering finish. Serafijn Tripel is held back, only by its simplicity, which seems to be out of the style.
The thin texture and light body of this beer are overwhelmed by the carbonation. Some metallic astringency is present, but oddly a welcome characteristic.
While this beer is significantly less contemplative than most Tripels, it is easy to consume and thirst quenching. The 8% ABV clearly holds this one back.
date consumed: 11 Nov 2008
738 characters
Serafijn Tripel from Microbrouwerij Achilles
Beer rating:
3.68
out of
5
with
12
ratings