De Brouwers Brussels Triple
| Les Brasseurs de la Grand Place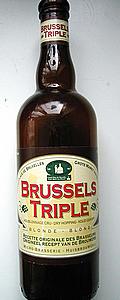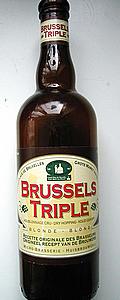 BEER INFO
Brewed by:
Les Brasseurs de la Grand Place
Belgium
Style:
Tripel
Alcohol by volume (ABV):
8.00%
Availability:
Year-round
Notes / Commercial Description:
No notes at this time.
Added by marburg on 09-22-2004
This beer is retired; no longer brewed.
HISTOGRAM
Ratings: 10 | Reviews: 9
Reviews by DaPeculierDane:
4.09
/5
rDev
+2.8%
look: 3.5 | smell: 4.5 | taste: 4 | feel: 4 | overall: 4
Appearance: Darker than most triples. Cloudy browned yellow body with light carbonation and nice lacing.
Aroma: Candied pineapple, somewhat boozy, passion fruit, strawberries, butterscotch, slightly mineraly, touch of orange.
Taste: Candied sugar, tropical fruits, coriander, citric hop finish.
Mouthfeel: Crisp, clean, moderately dry and pleasantly bitter. Warming but not too boozy.
Dinkability: Really solid. Sessionable even.
435 characters
More User Reviews:
4.42
/5
rDev
+11.1%
look: 4 | smell: 4.5 | taste: 4.5 | feel: 4 | overall: 4.5
An immense rocky white head sits over a somewhat hazy pale golden liquid. Light tropical fruity nose, nice malt aromas too. Balanced hop bitterness and good maltiness mixes with superb yeast fruitiness and alcohol combining for a complex mix that is quite tasty. Finishes bitter and dry, a fine fine example of a microbrewed Tripel.
332 characters
4.53
/5
rDev
+13.8%
look: 5 | smell: 4.5 | taste: 4.5 | feel: 4.5 | overall: 4.5
Wonder if bottles were Contract brewed (?) Label States: Brewerij de Landtsheer, Buggenhout, Belgium.
Bright straw-yellow color with a full pillowy white head, very active carbonation, and good lace following the HUGE CORK POP. Prominent saaz hop aroma and a bit flowery. Saaz hops and Belgian yeasty flavors with a touch of fruitiness. Fairly light bodied due to carbonation with a fairly dry finish but it does gain weight as it sits.
Per Label: Grand-Place de Bruxelles. Grote Markt van Brussel.
"Dry Hopping" & "Blonde"
Per MJ notes: 24-26 IBU, 7.5-8.5 EBC, ph 4.2, OG 17P.
Best Before: 12/09/05 (091205) & " /03" on cork
Tasted: 08/18/05
(25.45 oz / 75 cl tall straight brown champagne style bottle, corked, and caged)
740 characters
3.58
/5
rDev
-10.1%
look: 4.5 | smell: 4 | taste: 3.5 | feel: 3.5 | overall: 3
Appearance: Poured from a large bottle with a drink by date of 9/12/05. The beer poured with a bright orange/yellow color and some sediment clouding up the whole event. There is thick and fluffy white head with excellent and beautiful retention.
Smell: There is not much aroma on this beer. From a tulip shaped glass I got whiffs of a light maltiness fruits, but the quantity is severely lacking in the nose.
Taste: Tart, sweet, dry all up front. There are tannins that lend to a velvety sourness. This does not taste like your average trippel. It's very dry and it lacks a lot of complexity to add to the dryness. There is slight apple flavor but nothing particularly impressive.
686 characters

3.35
/5
rDev
-15.8%
look: 3 | smell: 3 | taste: 3.5 | feel: 3.5 | overall: 3.5
Visited in April 2008
The triple came with the sampler, IMO this beer was terribly bland, hazy golden appearance, a weak head, semi-sweet malt character, decent but budget hop bitterness and it didn't sport the true body of a triple. Not a terrible beer, but no stand out.
273 characters

3.75
/5
rDev
-5.8%
look: 3.5 | smell: 3.5 | taste: 4 | feel: 4 | overall: 3.5
Had on tap at the brewery, just off the Grand Place, Brussels.
A - Light blond color, clear but not crystal clear. White head initially big and fluffy, but faded quickly.
S - Aroma was very clean but not exciting or complex. Grain and light Belgian yeast characteristics.
T - Flavors are clean and fresh, but again not complex. Light malt flavor along with lots of bubblegum and fruity yeast notes.
M - Light body; dry, crisp finish. Low carbonation bite. No alcohol warmth.
O - This is an approachable, well-made Tripel, but not very interesting and definitely not worthy of much notice in this country full of classics.
627 characters
3.75
/5
rDev
-5.8%
look: 5 | smell: 5 | taste: 3 | feel: 3.5 | overall: 3.5
This is the opposite of so-called stinky cheese, those culinary treats of the dairy world that smell like ass and taste (so I'm told) like heaven. This smells amazing and looks delightful -- but the taste...well, I've had better. That's for sure.
An electric yellow beer with a moderate haze, the lightning white head billows to Charmin-like proportions and even the inside of the bottle has a rocky, well-puffed lacing. And certainly an aromatic gem, this beer has a vibrancy that really gets one excited to drink it. If ever there were a beer that could be poetically characterized as "sunshine in a glass," this would be it. Lemon zest, a slight hint of orange, and peppery crispness are quite pervasive, and subtle undertones of mint made this difficult to stop smelling.
Sadly, the fun kind of ends there. Slightly watery in feel, the dominant flavor is the white, bitter part of citrus fruit and a lingering astringency in the finish. There are mild citrus, fruity, and phenolic hints, but let's not kid here -- this is simply a letdown after such a potent aroma. A redeeming quality has to be the incredibly lively carbonation, which really helps make this a drinkable, enjoyable beer. I could definitely see drinking this before a meal or perhaps with a salad or some similarly bitter vegetable course.
This is a solid beer. But it's one of the biggest beer teases of all time. Like a ridiculous $50 lap dance and nowhere to go afterwards.
1,456 characters
4.24
/5
rDev
+6.5%
look: 4 | smell: 5 | taste: 4 | feel: 4 | overall: 4
Had several glasses of this beer at the mini-brewery itself when I was on a fieldwork trip in Belgium last year. Remember it was blissful when served slightly chilled at the bar... just after I finally decided it was delicious enough for me to take the bother to bring a big bottle back to London, I left it in a dark corner in my room, literally at the back of my brain, until now... and the BB date is 15/05/04!!!! Just can't believe my ignorance, but still wish it to outlive the "unscientific" and "self-imposed" fresh date~~
A: served in a goblet, it first pours an extremely effervescent beer head which is both rocky and fluffy-loose, settling down slowly but leaving good trace of it with that nice layers of tight lacing... cloudy dark-yellowish colour, with a gentle, constant carbonated body.
S: perdominantly candy-sugary, but not OTT--perserved figs, a touch of pineapple, and a raw, strong smell of honeycomb hide beneath the sweet aroma, followed by a strong, stinky, bold aroma like the work of exotic yeast as well as calcium pills; firmly and surely fruit-esters along with a butterscotch aroma sustains at the back, making the nose distinctively-balanced b/w exotic-fruits, exotic-yeasts and candyish malts, as well as pleasantly complex.
T: very smooth texture of candy-sugar mixed with semi-sweetish malts upfront, on top of a Chinese green-bean paste like flavour or even the greenbeen-skin's raw flavour straight from the steamer, plus fig-cake's slightly sugary flavour, a mild but lingering hint of coriander-seed like spice. The first part of taste passes quickly onto a dryish flavour, which is so intensely dry that it, like a black hole, sucks in all the residual flavour to one spot, resulting in a long, lingering, hoppy finish circled with lots of subtle flavours; finished crisp, ever so dry and bitter. Very refreshingly hoppy esp. in the aftertaste, guess it's where the wording on the label "dry-hopping" makes its mark?
M&D: smooth mouthfeel throughout, but not without healthy support from the constant, albeit mild, fizz, although in the end the texture does thin out a bit. Overall this rather "old" triple has not shown any bad side-effects of expiring; rather the taste is indeed more mellow and rounded than I could remember from my several glasses at the brew-pub. An exceptional beer to savour.
2,345 characters
4.06
/5
rDev
+2%
look: 5 | smell: 4 | taste: 4 | feel: 4 | overall: 4
On tap at the brewery 6 20 09 into a clean, clear glass. Review from notes taken there.
A Clear, like a lager really body under a minimal head. I really like this look, kind of like a Duvel (it is deceiving, as it looks like an innocent lager...)
S Nice, strong malt scent.
T Great malt, grains and even yeast tastes. A nice, solid tripel, my favorite style.
M Big ABV, sticky syrupy malt feel.
D Good for a Tripel, I could have several of these.
Notes: A treat to have on tap at the brewery in Brussels!
510 characters
De Brouwers Brussels Triple from Les Brasseurs de la Grand Place
Beer rating:
3.98
out of
5
with
10
ratings