S.W.A.G.
| Black Hog Brewing Co.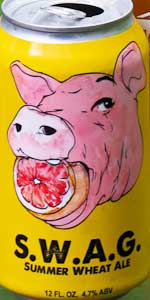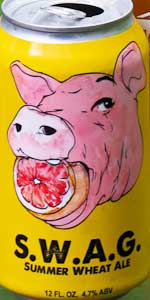 BEER INFO
Brewed by:
Black Hog Brewing Co.
Connecticut
,
United States
blackhogbrewing.com
Style:
American Pale Wheat Ale
Alcohol by volume (ABV):
4.70%
Availability:
Summer
Notes / Commercial Description:
None provided.
Reviews: 7 | Ratings: 81
2.79
/5
rDev
-21.6%
look: 3 | smell: 2.75 | taste: 2.75 | feel: 3 | overall: 2.75
From the 12 fl. oz. can with no canning or expiration date. Sampled on July 22, 2018.
The pour is light amber, not super hazy, but fairly heady.
Where is the wheat in this aroma? I wanted to get at least some but I could ascertain any., It smelled more like a bready, sweet pale ale. Maybe some grassy notes.
Light to medium body.
Same thing in the taste. I get a sweet breadiness but essentially no wheat. Maybe come citrus. Maybe some herbal. Mild bitter ness to finish. Eh, I won't have it again.
509 characters
2.09
/5
rDev
-41.3%
look: 3.5 | smell: 2 | taste: 2 | feel: 2 | overall: 2
Ordered on tap.
Super bitter. Tastes like stomach acid. I
couldn't finish the pint. Super grapefruit with nothing to cover it up. I regret this decision.
155 characters
3.27
/5
rDev
-8.1%
look: 3.75 | smell: 3 | taste: 3 | feel: 4.25 | overall: 3.5
looked pretty hazy, but not murky. smell was very malty with some grapefruit notes. taste was almost sour from the grapefruit, lots of malt, and very little hop flavor (I think it is completely masked under the grapefruit). The feel even could have been a little better for a summery, light beer. overall very underwhelmed.
323 characters
3.52
/5
rDev
-1.1%
look: 3.75 | smell: 3.5 | taste: 3.5 | feel: 3.5 | overall: 3.5
On-tap 8/28/2016 at Flynn's in Mansfield, MA, served in a tapered pint glass.
A: The beer is a cloudy light gold color, with a short white head that fades quickly and leaves a thin lace on the glass.
S: The aroma is faint but contains citrus, wheat, light caramelized malts and a touch of hops.
T: The taste starts out bready with flavors of wheat and a light malt character. Then some mild sweetness comes in from citrus and caramel. The hops presence is very mild and brings some balance. The after-taste is slightly sweet and slightly bready.
M: Crisp and a little smooth, medium body, medium carbonation, finish is slightly sticky.
O: A little tasty, goes down ok, not too filling, very mild kick, decent representation of style, it's a decent beer but there are better choices within the style.
808 characters

4.18
/5
rDev
+17.4%
look: 4.5 | smell: 4 | taste: 4.25 | feel: 4 | overall: 4.25
Every now and then a random six-pack can be a good idea, so today I went with this one. Grapefruit and sage inclusion definitely didn't hurt my decision to purchase, that's for sure. Expecting a thirst-quenching wheat beer with a unique herbal bent here.
Pours a very nice looking ruddy golden color (a bit darker than expected, actually) with a cap of eggshell-white foam that leaves some spotty lacing as it fades. Retention is very high here, carbonation rises very steadily and there's plenty of cloudiness and haze to boot. High marks.
Nose is definitely herbal and even a touch woody with some ripe grapefruit, lemon peel and grains of paradise-esque notes. Reminds me of a slightly headier, more round Sam Adams Summer in that way. The grapefruit comes through quite a bit more as the beer opens up. This almost has an Americanized saison element to it with the sage providing some unusual spice and twang. Combined with the yeast heavy and wheaty backbone, you'd be pretty close if you blindly assumed this were a Belgian style beer, I think.
Flavor is bready malts, citrus, herbal elements, spice and doughy yeast. This isn't hoppy or bitter at all, and definitely continued to remind me a bit of a maltier, more robust Sam Summer with a bigger hit of fruitiness from the grapefruit inclusion. Not as dry or weak in body as the aforementioned ale either. Still getting some of the tannic/woody notes from the nose, translating as kind of a dry spiciness here.
Surprisingly big body for a 4.7% beer, the wheat adds a very apparent pillowy and comfortable element to the mouthfeel, but I think this is lacking just a little bit of oomph from carbonation. It goes down a bit too smoothly and the finish feels a little muted due to that fact. Other than that, this is quite a nice beer and I'm glad to have more of it in the fridge. Not sure it's a repeat buy, but definitely worth a sixer!
1,899 characters

3.99
/5
rDev
+12.1%
look: 3.75 | smell: 4 | taste: 4 | feel: 4 | overall: 4
A pretty gold color in my pint glass. Small white head.
Grassy aroma. Herbal. Citrus.
Definitely a wheat beer. Grapefruit. Herbal.
A thirst-quenching beer with flavor.
Great!
175 characters
4.09
/5
rDev
+14.9%
look: 4.25 | smell: 4 | taste: 4.25 | feel: 3.75 | overall: 4
This one took me by surprise. I just grabbed an 6 pack today and tried my first one. Impressive for such a seemingly simple profile. Smooth, malty, slight non citrus hops, attractive. Feel is maybe a little too bright for my liking, but okay for the taste. Just an ale that tastes like a beer, and comes across very fresh, which is the best part.
346 characters
S.W.A.G. from Black Hog Brewing Co.
Beer rating:
3.56
out of
5
with
81
ratings