Triple Nelson

Black Hog Brewing Co.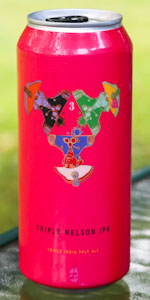 Beer Geek Stats
| Print Shelf Talker
From:

Style:

ABV:

9%

Score:

87

Avg:

3.87

| pDev:

7.24%

Reviews:

7

Ratings:

Status:

Active

Rated:

Mar 28, 2020

Added:

Nov 13, 2018

Wants:

Gots:
Our take on a triple IPA, the 9% ABV is well hidden with the fruity wine musk and gooseberry flavors and aromas from the New Zealand hop, Nelson Sauvin.
Recent ratings and reviews.
| Log in to view more ratings + sorting options.

Reviewed by woodychandler from Pennsylvania
4.09
/5
rDev
+5.7%
look: 4.25 | smell: 4 | taste: 4.25 | feel: 3.75 | overall: 4
The CANQuest (tm)'s backlog is getting to be like that pesky loose thread on a knit sweater. You know how it goes, pull on it & all of a sudden, everything unravels & you are left with a ball of yarn that used to be a sweater! I had a Black Hog Pilsner a little bit ago, then thought, "Hmm, I think that I've got a few more from Black Hog. Lemme see. What? I could have sworn that I already reviewed THAT one!". OMFG. Now, I've got an impromptu brewery horizontal on my hands!

From the CAN: "Triple India Pale Ale"; "You best 'cycle"; "Made in CT"; "Hops: Nelson Sauvin"; "We get our name from the heritage breed Berkshire pigs, who are black in appearance and always delicious. Black Hog Brewing Co. works with local farmers who grow some of our ingredients and feed their pigs with our spent grains. At the completion of another year full of beer, the farmers donate a hog for roasting. Which is why our rally cry is, #DRINKTOTHEHOG Cheers! Tyler, Tom and Jason";

The Crack! of the vent left me facing more furious foaming just as @tone77 knocked on my door!8=O I went into Emergency Glug mode in order to CANswer the door. That mission acCANplished, I returned to the beer, just in time to see the last of the two fingers of dense, foamy, rocky, tawny head fade into wisps, leaving great lacing in its wake. Color was a pretty Deep-Amber/Light-Copper to Copper (SRM = > 13, < 17) with NE-quality clarity. Nose smelled of caramel, pineapple, blueberry, grapes & an earthiness like Spring onions, fresh from the garden. Summit in there? Purrhaps, said Simcoe the naughty kitty as she finished her catty business. I CANnot believe that this was only Savignon Blanc. Mouthfeel was medium-to-full, but even at that, it was light for the style. The taste was much less sweet than the nose had led me to expect. Instead, it was very earthy, vinous with a light berry accent. 8=O I felt like I was drinking a dry white wine with a cocktail onion as a garnish! This may sound worse than it was. Personally, I like the oddballs, both beer & people & this was definitely an oddball. The ABV was well-hidden amongst everything else that was going on, making it rather dangerous. Finish had a cool, dry earthiness that lingered well after the swallow. I CANnot say that I would want a steady diet of it, but it was an intriguing beer all the same. YMMV.
Mar 28, 2020

Reviewed by rorjets from Connecticut
4.04
/5
rDev
+4.4%
look: 4 | smell: 3.75 | taste: 4.25 | feel: 4 | overall: 4
Interesting art on the can - the 'Triple Nelson IPA' name alludes to the triple amount of only Nelson Sauvin hops used to make the beer. After studying the can while drinking, the illustration is of Lord Nelson, the famous British admiral of the 18th century, rendered like an Andy Warhol print in triplicate, forming a pyramid! Very clever! The beer itself is quite good. Poured from the pint can into a chalice style glass. A good cream colored head appears, with a copper colored body of beer. Some fruitiness and citrus on the nose. First sip is a taste of tropics, with mango, grapefruit and a bit of apricot coming thru. Fairly clean hoppy finish. Worth a try!
Dec 31, 2019

Reviewed by ichorNet from Massachusetts
4.03
/5
rDev
+4.1%
look: 4.5 | smell: 4 | taste: 4 | feel: 4 | overall: 4
Black Hog has done some really cool stuff in the past, so I couldn't pass up a Nelson Sauvin single-hopped triple IPA (it's only 9%, so it's really only a DIPA... this kinda thing is getting ridiculous... double digit ABV should be the minimum for TIPA). No canned on date which is an automatic penalty for the beer, but I think it's fairly fresh considering I haven't seen any reviews for it over four or so weeks old anywhere online.

The pour is a deep amber color with a coppery sheen and moderate translucence. It's not totally hazy and opaque like a NEIPA or anything, but it's not filtered either. I can see the silhouettes of my fingers through the beer if I hold it up to light, in other words. Great head formation of two-fingers of bone-white foam, nice retention with awesome legs and surprisingly good lace. It's tiered and drippy, forming excellent patterns as it sinks back down to the liquid which bore it. It's a little darker than I assumed it'd be, I think, but otherwise this is really hitting the mark! Nice stuff.

The nose is hop candy, with a big hit of candied orange peel and grapefruit with a hint of toffee, herbalness and light grassy notes. Smells like a big ol' American barleywine from back in 2011-2012 or so... maybe reminds me a bit of Maharaja by Avery in a sense. A slight whiff of ethanol and some of the tangy, white-wine like notes of Nelson in there with apricot and tangerine-like fruity elements popping out here and there. Kind of an interesting melange of things happening. I'm coming off an 8% DIPA double dry-hopped with Nelson and it's night-and-day in terms of hop expression, but the malt bill is definitely changing my perception of the hops here.

Chewy, malt-focused and slightly citrusy upon first sip... slick but not without balance in the finish. I get a lot of herbal hoppiness, light red berry and tropical fruit salad with a distinct woody spiciness in the transition from the mid-palate to the end of each sip. This is a little all-over-the-place, honestly, but it's weirdly satisfying and there's nothing actually wrong about its construction, so I find it endearing at the end of the day. Medium carbonation and heavy-set body that nevertheless drinks fairly easily for whatever reason. Fun stuff! Not a chore to drink whatsoever, which is a big fear with maltier IPAs at this strength.

Overall, Black Hog Triple Nelson doesn't seem to scream "Nelson Sauvin hops" to me, but it's not exactly a failure at featuring them either. I think, like most hops, this probably functions more apparently in certain (read: lighter, less crystal malt-focused) recipes, but this is a fun utilization of a new-school hop in a rather weirdly old-school stylistic adaptation. I probably wouldn't revisit this one, but it was enjoyable to try and consider, so I think it is a successful brew. I just wouldn't go into it expecting the crisp, tart elements of Nelson to jump out. It is definitely a maltier beer than some 9-10% "triple IPAs" so I would definitely consider that when looking to grab one (or four, if you're so inclined), but I don't think you'll be disappointed if your aim is to grab a stronger, new hoppy ale with a semi-unique approach.
Dec 15, 2018

Reviewed by brewandbbq from New Hampshire
3.64
/5
rDev
-5.9%
look: 3.75 | smell: 3.5 | taste: 3.75 | feel: 3.75 | overall: 3.5
16oz undated can.

Pours hazy copper with a minimal head or retention. Sweet malt with a hint of pineapple and grapefruit. Malty and boozy on the palate with a fairly big bitterness with some faint citrus. Finishes sweet and warming.

Not a bad Barleywines but not a IIIPA.
Dec 05, 2018

Reviewed by brewnme from Maine
3.89
/5
rDev
+0.5%
look: 4 | smell: 3.75 | taste: 4 | feel: 4 | overall: 3.75
poured a hazy orange brown color with nice off white head and nice lacing. I couldn't put my finger on the aroma but it has the aroma and taste of drankness like the onion background from Summit hops. I don't know if Summit is in here but I am willing to bet. Sounds strange with onion but don't knock it 'til you try it. A good triple from Black Hog.
Dec 05, 2018

Reviewed by GratefulBeerGuy from New Hampshire
4.41
/5
rDev
+14%
look: 4.25 | smell: 4.5 | taste: 4.5 | feel: 4.25 | overall: 4.25
This thing pours out looking really dank, bra. Deep Amber color with golden hues. it's pretty hazy with a sea-foamy , bubbly but dense foam top. The retention is excellent, and super Lacy all the way down.

Whoa. That is a seriously complex hop forward taste. Medium to heavy bodied feel, especially on the sweet malty side. The hops are layered with pineapple, dense greens and peppery earthy tones. Crisp feel, that lays down and lingers a bit heavy in the finish. A bit later on, the hops get tropical and sweet, like red berries and maybe even some blueberries in both the aroma and after taste.

Overall, it's big. Haha. Layered, Comlrx and crazy weird. Dig?!
Dec 01, 2018
Reviewed by SawDog505 from New Hampshire
3.97
/5
rDev
+2.6%
look: 4.5 | smell: 3.75 | taste: 4 | feel: 4 | overall: 4
Poured into a 16 Nordic pint glass not sure when it was canned. Pours a very attractive slightly hazy orange with a big 2 plus finger stick off white head that leaves beautiful thick rings of lace as is slowly settles. 4.

Smell is apricot, tangerine, papaya, pine, and a healthy dose of grapefruit, maybe a hint of toffee. 3.75

Taste follows apricot, guava, tangerine hit the palate first followed by pine, toffee, and grapefruit that hits the palate hard and lingers a bit. 4

Mouthfeel is big, enough life, a tad sticky and dry, and at 9% you know you are attacking a beat sip after lingering sip. 4.25

Overall I am enjoying it, if you are looking for a NE Style well this isn't your thing, but you still appreciate a bitter West Coast style then this something you should appreciate. 4
Nov 28, 2018
Triple Nelson from Black Hog Brewing Co.
Beer rating:
87
out of
100
with
11
ratings