Dismiss Notice
Extreme Beer Fest:Los Angeles
Join us December 9th in Los Angeles for the ultimate throwdown of craft beer creativity!
Learn more...
Dismiss Notice
No 42 Cream Ale
| Listermann Brewing Company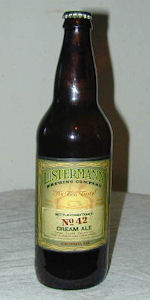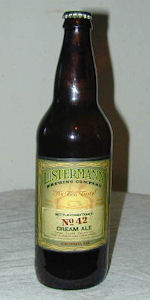 BEER INFO
Brewed by:
Listermann Brewing Company
Ohio
,
United States
listermannbrewing.com
Style:
Cream Ale
Alcohol by volume (ABV):
not listed
Availability:
Rotating
Notes / Commercial Description:
No notes at this time.
Added by Bitterbill on 02-27-2009
HISTOGRAM
Ratings: 7 | Reviews: 7
Reviews by NewGeneric:
2.83
/5
rDev
-27.1%
look: 2.5 | smell: 2 | taste: 3 | feel: 4 | overall: 3
Thanks to brew3crew for hookin it up.
Poured into a pint glass.
A: Pours a hazy, golden straw color (kinda watery) with about a finger of foam that fades quickly, leaving little lacing around the glass. Not very appetizing.
S: Smells of creamy bread and not much else. Hops are present, but barely noticeable. Kinda earthy if anything.
T: Hints of cream, vanilla, and a little bit of spice.
M: Probably the best thing this beer has to offer. Very smooth, with just a little bit of unwanted bitterness and carbonation.
D: I would drink it if poured for me, but probably would not purchase it.
596 characters
More User Reviews:
4.12
/5
rDev
+6.2%
look: 4 | smell: 4.5 | taste: 4 | feel: 4 | overall: 4
A: Bright golden color with a white head that was on the smaller side. Fairly low in carbonation
S: smells very fruity to an almost floral scent
T: Very light taste that moves to something stronger. A nice malty sweetness reminding me of almost milky fruits like blueberry and pair
M: Light body, but still very smooth.
D: Very drinkable, to me its definitely more of a summertime brew than anything else. Good beer from my local HBS though! if you're in Cincinnati check 'em out
491 characters
4.5
/5
rDev
+16%
look: 4.5 | smell: 4.5 | taste: 4.5 | feel: 4.5 | overall: 4.5
Appearance: This selection comes in a 1 pint bottle. The label is pretty good for a microbrewers and is well laid out. The lable specifically states that the brew is bottle conditioned, and a considerable amount of sediment is observed. When poured, head is thick and consistant. Color is a medium straw hue of yellow. Head retention is sustained with plentiful lacings and surface spiderwebbing. Great effort.
Aroma: Aroma is quiet and reserved but not thin. There is a yeasty bread/biscuit presence accompanied by a slightly sweet malt. Nice and delicate. The designer was not drawn into the trap of overdoing any component of the aroma curve.
Taste: Carbonation is about right. The cream ale component is noticible in the great toaste malt presence. This brew matches a nice high quality cream ale. I was raiswed on Little Kings Cream Ale, but this selection matches the palate to a higher degree. VERY impressive.
Mouthfeel: The sweet malt presence matches an expected cream ale to the n'th degree. This is an impressive design to this brew which provides for a light mouthfeel accompanied with a subtle strength that matches the flavor profile. Another great experience.
Drinkability: Very high drinkability. This brew sits light on the stomache and mouth. The flavor is not over powering and the drinker is definitely left wanting more. This is an excellent interpretation of an American Cream Ale. Awesome job Listermanns!
Prosit!
Nikki
1,448 characters

4.07
/5
rDev
+4.9%
look: 4 | smell: 4.5 | taste: 4 | feel: 3.5 | overall: 4
Disclaimer: Previous to this, another local beer, Little Kings, is the only cream ale I have knowingly tried.
Pours a crisp clear golden yellow with a frothy white head. The head dissipates quickly but keeps a nice rim around the top of the beer.
This has nice fruit and spice notes to the nose. Pear, lemongrass, a hint off some citrus maybe, and a tiny bit of corriander or some fragrant spice.
The taste is very light and crisp with nothing really jumping out at me. I get some light lemon and pear that comes through in the maltiness.I get a light hint of bitterness from hops but nothing too profound.
This is thin but highly carbonated and covers the mouth well with tingling bubbles. Highly drinkable and highly enjoyable.
This is definitely a warm weather beer. Unfortunately, its in the 40s outside right now. Definitely not to be drank with any heavy, high flavor meals as this is pretty delicate in the flavor spectrum.
937 characters

4.27
/5
rDev
+10.1%
look: 3.5 | smell: 4 | taste: 4.5 | feel: 4 | overall: 4.5
Bottle courtesy of CMitchell. Thanks Chris!
Tough tough style if you look at the ratings for it. A B+ is the highest score.
As with all beers from Listermann, this is bottle conditioned.
The pour and..I'm super surprised. To me it has the colour of a Berliner Weissbier or a Belgian Wit. A very pale, somewhat hazy yellow colour with about an inch of foam and some pretty decent lacing.
The smell is malty with more than a hint of chocolate? In a beer that is this colour? Wow. That's different. Anywho I'm also getting a nice lemon hoppiness that counter balances the maltiness nicely and also some fruitiness. I can't wait to taste this puppy as the smell has me way curious.
The taste, I have to say, is also intriguing. The malt is sweet though not at all of the chocolate variety that I sensed in the smell. Maybe that was my imagination? The lemon taste from the hops that stood out in the smell, though, is definitely here bringine a light tartness and I'm enjoy the hell out of it. The label says crisp and clean and I wil not argue with that at all. The flavours here are on the subtle side but man, subtle or not, my palate translates subtle into tasty, somehow. What a curious route to take for the style but I guess too many Cream Ales taste too similar. When/if you taste this one, you *will* be surprised.
On the low end of medium bodied with lightish carbonation..works for me.
Drinkability? Well hell, this is super easy to drink. There's no abv listed but I'd be shocked if it was over 5%abv. This is definitely, without any doubt, the most unique Cream Ale I've ever tried and I quite fancy it.
1,619 characters
4.07
/5
rDev
+4.9%
look: 3.5 | smell: 4 | taste: 4 | feel: 4 | overall: 4.5
Poured from bottle into a pint glass.
A - This head that quickly died down, slightly hazy light gold color.
S - Light sweet malty smell, not a whole lot of aroma, but to be expected for style.
T - Very light and milky flavor, malty sweetness. Not an overwhelming flavor, perfect to style.
M/D - Very creamy, very similar to the Boddington's Pub Ale I just finished for mouthfeel. However this is a perfect beer for a hot night!
432 characters
3.27
/5
rDev
-15.7%
look: 3.5 | smell: 4 | taste: 3.5 | feel: 3 | overall: 2
*Thanks to CMitchell and people at Listermann's for getting me a fresh bottle of this to re-review*
Pours an very cloudy golden color with an inch of bleach white head.
Smell has got good grain notes maybe a little malt.
Tastes got solid cream ale malt/grain taste and a good yeast quality.
Crisp finish with a quick flashing bready after-taste.
High drinkability here. Very smooth, the bready quality makes it quick through the taste buds.
441 characters
No 42 Cream Ale from Listermann Brewing Company
Beer rating:
3.88
out of
5
with
7
ratings