Stenstrand Sommar Ale
| Nynäshamns Ångbryggeri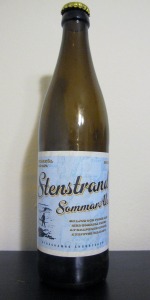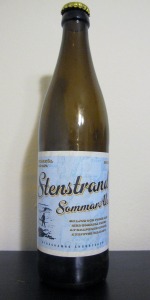 BEER INFO
Brewed by:
Nynäshamns Ångbryggeri
Sweden
angbryggeri.se
Style:
American Pale Ale (APA)
Alcohol by volume (ABV):
6.80%
Availability:
Summer
Notes / Commercial Description:
No notes at this time.
Added by AgentZero on 12-16-2010
HISTOGRAM
Ratings: 11 | Reviews: 6

4.03
/5
rDev
+21.8%
look: 4 | smell: 4 | taste: 4 | feel: 4.25 | overall: 4
3.2
/5
rDev
-3.3%
look: 3.25 | smell: 3.25 | taste: 3.25 | feel: 2.75 | overall: 3.25
3.53
/5
rDev
+6.6%
look: 3.5 | smell: 3 | taste: 4 | feel: 3 | overall: 3.5
A: The liquid is pale copper colored and slightly hazed. The one finger high head is creamy and off-white. Nice and thick lacings on the glass.
S: Pretty average in smell. Some grapefruit and orange peel. Nothing too complex.
T: Tastes a lot of red fruit like strawberries and cherries up front. Oranges and grapefruit are more present at the end. It has a pleasant and mild bitterness which is nicely balanced up by som candy tones. The aftertaste is mainly of red fruit and some honey.
M: Medium carbonation and medium body. Nothing special.
O: An American Pale Ale which had a character that I would say is more like a British Bitter than I expected. The taste is what makes this beer worth trying.
706 characters
3.17
/5
rDev
-4.2%
look: 3.5 | smell: 4 | taste: 2.5 | feel: 3 | overall: 3.5
The colour is amber (20 EBC), the finger thick head is compact and off-white. It sinks quickly, leaving some lacing.
The smell is smooth and semi-sweet. Hoppy flavours of orange and grapefruit. Some bitterness and hints of alcohol. Quite a lot of biscuits.
The taste starts off with a passing flavour of alcohol. Dry hopped flavours of oranges, bitter oranges and lime peels. It is quite bitter, but the bitterness is dry and quite raw. The malt sweetness is a bit sharp and candy-like. Medium body. The aftertaste is dry with some green berries, some unclean alcohol and a fine dry bitterness. The finish got a mild malt sweetens and a rather British earthy hop flavour.
The carbonation is medium strong with many mid-sized smooth bubbles. The liquid is mid-smooth and very dry-hoopped-dry.
A little too dry aftertaste, otherwise a pleasant APA/XPA.
857 characters

2.74
/5
rDev
-17.2%
look: 4 | smell: 2.5 | taste: 2.5 | feel: 4 | overall: 2.5
A: Pours clear copper with lots of very small bubbles in the liquid. The tan light airy head is rather small and sinks into somewhat nice lacings.
S: Sweet bisquity malt. Faint notes of mugwort, otherwise grassy and grainy. Some honey and bitter hops. Not very much floral American hops.
T: Again the malt is strong, sweet and bready. Bitter hops. Honey, still no floral hops worth writing home about.
M: Long lovely bitter aftertaste - almost like mugwort-schnaps. Body is very smooth and medium full. Carbonation quite strong but not offensive.
O: As an APA way too little American floral hops - almost none.
614 characters

3.51
/5
rDev
+6%
look: 4 | smell: 3 | taste: 3.5 | feel: 3.5 | overall: 4
Thanks Mike for this random Swedish brew. Best before January 2011. Served in a Pisgah pint glass.
A - Pours with two fingers of off-white foam that settles to a thick cap with some splotchy lacing. Lightly hazed orange body, with a stray bubbles rising upward.
S - Smells spot-on for a 6-month old American Pale Ale. Some faded floral hops, biscuit malt backbone with a kiss of honey.
T - Taste is actually a little better. Some nice orange zest mingles with a bread and toffee malt backbone.
M - This is a little overcarbonated for my liking - burns my upper lip. The 6.8% ABV is much higher than I expected, so I guess the alcohol is well-hidden. Finishes sticky, with some nice residual hop resins.
D - Goes down pretty easy, other than the bloaty carbonation. The 500ml bottle is a nice serving size for this style of beer. It's a summer ale, and probably would have been more appropriate six months ago, but at this stage it's still pretty solid. Nice to know you can get a fresh, hoppy brew in Stockholm.
1,016 characters
2.98
/5
rDev
-10%
look: 3 | smell: 2.5 | taste: 3 | feel: 3 | overall: 3.5
Bottle provided by Bosse, glad Mike finally got around to this so I could tick it...A light gold color with dark notes of orange, not much carbonation...The aroma is really bad, tons of corn and grain, at least its not skunky but what you would expect...The taste is really sweet, lots more corn with some honey notes. To sweet for me to enjoy in this style of beer, lacks any hop, really boring.
Not one worth trying.
419 characters

3.52
/5
rDev
+6.3%
look: 3 | smell: 3.5 | taste: 3.5 | feel: 3 | overall: 4
A - No real head on this one, it pours with a golden orange color. Left the sides of the glass clear throughout consumption.
S - Smells like corn and other assorted grains with some honey notes. Little bit of a grassy smell as well.
T - Honey, corn, and barley. This tastes quite sweet, the honey and corn almost give a corn-syrup like taste. Some farm and grass notes bring this one down a little bit, finishes with a little bit of phenol.
M - Light with a low amount of carbonation going on here. Don't notice this much either way.
D - Solid beer and an easy drinker. Wouldn't seek it out, but wouldn't turn it down.
630 characters
Stenstrand Sommar Ale from Nynäshamns Ångbryggeri
Beer rating:
3.31
out of
5
with
11
ratings