Total Wine & More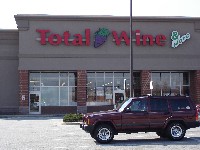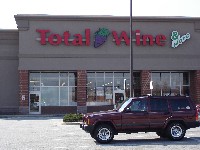 Store
3503 High Point Rd
Greensboro
,
North Carolina
, 27407-4623
United States
(336) 235-2323 |
map
totalwine.com
Notes:

3.65
/5
rDev
+1.4%
vibe: 3.25 | quality: 3 | service: 3.5 | selection: 4.75
Really good selection. I have gotten a few bad bottles (old, spoiled) here though...check the best by dates as some bottles may have set for quite awhile on the shelves.
169 characters
1.79
/5
rDev
-50.3%
vibe: 1.25 | quality: 1 | service: 1 | selection: 3.75
this place is older and needs to be maintained a little better. the selection is large but very mainstream, its hard to find rarer kinds of beer at these locations if you don't get their right as it is released. I try to avoid total wines and stay at the more neighborhood friendly beer stores!
294 characters

3.5
/5
rDev
-2.8%
Stopped in here after hitting up Darryl's for lunch. Always like to check out this chain for brews. The beer section is on the right when you walk in the store. The Seasonals are set apart which is always nice, but this specific store still carried alot of Oktos and Fall brews in the "Seasonal" section. Amongst them were some Winter releases. A few of the Fall brews were marked down, which isn't always the case at this chain, but not all of them were. I picked up some discounted Bruery Autumn Maple. Score! The rest of their selection was fair, but the TW in Winston carries a much wider selection, and doesn't have as many "freshness" issues as this one. I wouldn't go out of my way to hit this store. The one on Battleground was better IMO.
747 characters
4.3
/5
rDev
+19.4%
this is a place i have found a lot of great beers also a lot of old beers that were never rotated even had a bad samuel smiths brown ale experience from letting it age to long in they're store but other than that i have had pretty good experiences even the keg selections are good and if they dont have it chances are hey can get it even allagash, dogfish head,north coast and about anything else that is distributed in the NC region. they also have had beer tastings and the service is very good and will tell you how to get the answers if they dont know the answer
566 characters
3.55
/5
rDev
-1.4%
Stopped in here on a recent trip to Greensboro prior to the ORF release. This location was an absolute PAIN to get to due to traffic. Upon arriving I walked in and headed to my right to make my way to the beer section. There was a pretty decent selection of brews here with some local stuff and the usual suspects (Bells, Bruery, DFH, Left Hand, etc). Didn't see any rarities at all on my trip unfortunately. Overall this is a decent location to stop in and check things out, but in my opinion, the location and Battleground has a larger selection.
548 characters
3.45
/5
rDev
-4.2%
I found this one to be much better then the one on Battleground, though a bit trickier for me to find. As always beer is located in the back in its own section. Same selection of DFH, Bells, Founders, had some weeping radish which I had not had before. Saw almost all the bruery offerings minus two turtle doves. Nice mix aa six wall where I picked up some new stuff from Mother earth as well. Overall about what you would expect from total wine. Decent store, lots of choices, little rarities. But again a good stop to stock up.
529 characters

3.7
/5
rDev
+2.8%
Total Wine has a great selection, especially for the area. I would highly recommend it to anyone. The selection is quite extensive. Though the High Point Road location may not have the selection some of their other stores have, it's still pretty impressive. I love the create your own six pack option. I will definitely make Total Wine a regular stop when I'm looking for world class brews. The selection ranges from local favorites (Red Oak kegs and Duck Rabbit Brewery) to international brands (Trappistes Rochefort, etc). You really can't beat it. The prices are a little high but not too bad either.
603 characters
3.35
/5
rDev
-6.9%
I was a little less impressed with this Total Wine than the location on Battleground. It was a little dirtier, the bottles on the singles isle were in disarray at places, and certain six packs were scattered across two isles, the back wall, and near the checkout counters in no concievable system.
The service may have just been the time I was there, but it was appauling. I went there with my one year old in a shopping cart. The store was almost totally empty, yet three employees had crowed the beer isle remarking about dirty (as in somewhat obscene) pictures on beer labels (which really weren't dirty). A giant ladder was in the way also, but this I could've forgiven. The fact that I was trying to browse a vast selection of single beers while three people loudly talked about labels and darted back and forth across the isle, all while I was navigating a shopping cart around a ladder really pissed me off. Furthermore, not one of them acknowledged my presence aside from some gibberish they spoke to my son.
The selection was pretty good, mostly parallel to the other Total Wine though I was surprised to see some things I'd never seen at the other location. Nothing major, but small discrepancies that might entice me to drive over there a couple of times a month.
Anywhere from 1.50 to 3-4 dollars for singles; I felt it was a little expensive. As I've said regarding the other Total Wine, I don't have much to compare it to aside from grocery stores so my assessment of value may not be completely accurate. Dropping $20 for a sixer is always expensive though.
1,576 characters
2.75
/5
rDev
-23.6%
Good selection at this store, knowledgeable beer guy when you can find him, but there are a lot of expired bottles on the shelves here. I've brought it to the attention of the sales people, but they don't seem to care if it's 'just beer'. They are really good about getting seasonals, sometimes this is the only place I can find certain seasonals. A lot of the staff seems to be of the walmart mentality but I helped an old lady find a good pumpkin ale for her husband who had it on tap on vacation once. Bottom line- good selection, good prices, but don't buy anything without a date on the bottle because you might get burned.
628 characters

4
/5
rDev
+11.1%
During a recent trip to NC for the 7/4 holiday, we pit-stopped at Exit 217 on I-40. We cruised the strip for a place to eat, ultimately settling for Smokey Bones (not authentic NC BBQ like Hurseys, Hog Heaven, or Smithfield's but it was great nonetheless). I caught a glimpse of the Total Wine store sign and committed the exit number to memory...
Did a little recon here at BA and made the decision to stop in on the way back home. Customer Service is right near the entrance and on a lazy afternoon the store was not crowded. Told them I was a Cincy BA looking for local goodies in single form and they took me right over to the singles shelf. Clean and well-stocked, though I must admit in my exuberance I did not check for freshness dates. Those will be noted where appropriate in beer reviews, though and if problematic I'll update this.
One gal said she was a relatively new BA and though she was not a beer drinker, she had been given the label of TW beer expert. That's fine by me, provided you're in tune with which craft beers are worth stocking, right? We chatted at length about their stock, for someone who doesn't drink she had a good level of interest. Hmm, maybe a closet craftie??? ;-)
Another guy who worked there recommended some St. George brews as popular so I grabbed a few on his recommendation. Both employees were pleasant, accommodating, and patient with me. I acquired some Duck-Rabbit, Tuppers, Highland, Cottonwood, Steelhead, Terrapin, Oskar Dale and Old Chub, and Saranac pomegranate wheat beer cuz it looked interesting. Two cases of beer for $95. Roughly $2 per bottle. That's a bit much but for singles you should expect an upcharge of some kind. Still, darn near 100 bucks for two cases, whew...
Local/Regional selection is quite a bit higher than a 3.5, but their bomber selection is non-existent. With Pop the Cap in their rear-view, I was hoping to buy this year's Stone Vertical release from them as a momento of my trip but I didn't see any Stone beers. No FFF either. It's largely a matter of distribution and getting those lines set up. If they can appropriate another half-aisle for bombers and get some action there, they could become much more.
Another trip next year looks promising. If so, I'll stop in again either here or in Raleigh to see how they've developed.
2,326 characters
4.3
/5
rDev
+19.4%
I have been here numerous times and I had a positive experience here this past Saturday so it bears a beerfly heads-up. Selection on singles is great from micros to Belgians to european imports. Price is good for some big singles but some 12 oz. bottles were somewhat pricey. Cooler has a good selection/mix of micros,and imports. The NC selection was also good for singles and some in the cooler. Theresa has worked there for a while and when I asked if any seasonals from NC breweries were left, she was quick to walk with me and look. She made some recommendations, most of which I have tried. I mentioned BA and she offered me the newest copy of BA magazine which was very cool. I am also going to contact their website & newsletter to have them start sending info on NC seasonals and releases. They do it for NC wine, why not beer!! NC is growing and establishing some choice beer culture. I got their last single of Victory Storm King and an Affligem Dubbel.
964 characters

4
/5
rDev
+11.1%
Based on BA suggestions I visited here on my way to the beach. Easy to get to from the expressway! Pleasant staff. Clean well lit store. There was a wall of refrigerators for cold beer and a long full aisle for packs, singles, and make your own six packs.
I was focusing on local and east coast beers that I cannot find in KY. I purchased a variety of Duck Rabbit, Highland Kashmir and St. Therese, Tupper's Hop Pocket and Pils. Weyerbacher Hops Infusion, Brooklyn Lager, Cottonwood Endo IPA, New River IPA, Shipyard IPA, and Victory Hop Devil and Prima Pils.
I quickly picked these out and later saw that several of them were past their "best by" date, especially the Shipyard IPA dated "best before 1/05". Actually it tasted great, I suppose the bottle conditioning improved it with age!
My experience was a little rushed but I would recommend Total Wine as a good stop for craft beer, not high end rare finds. Great craft beer is exactly what I wanted--thanks for the recommendations.
998 characters
4.45
/5
rDev
+23.6%
Total Wine and More is mostly a, yes, wine store. But they do have a nice selection of beers. Actually, one of the best in the area in my opinion. Well lit aisles, knowledgable staff, good selection.
There are two aisles devoted to beer. One aisle is domestics and the other is imports. There are divisions in each with sixers and individuals; there are also macro swill available in 12 and 24 packs.
A great selection of imports and domestics are available. With the new alcohol cap limit, it seems there inventory has doubled. Imperial Stouts (no sam smith), double IPA (Rogue only), several barleywines, lots of Belgians, etc. Great selection.
Service is outstanding. Everyone who works there knows about the beers, not just the wines. They are eager to inform one of when new items will be available and sometimes even try to do "special orders", if allowed by law.
Some of the beer selections seem a bit pricey. I have seen cheaper prices in places, but since there are three of these in the area and usually have the largest selection, what can one do?
One drawback: They allow some beers to expire past the "best by" date and do not allow any kind of discount for old beers. So, the beer stays on the shelf.
Overall, a great place to buy beer.
1,270 characters

4
/5
rDev
+11.1%
Total Wine & More was the second stop in my North Carolina beer hunt and I was not disappointed. The selection was quite good for a store that concentrates on wine.
There are three beer areas in the store. The vast majority of the beer available is not refrigerated, on two aisles in the center of the store that reach from back to front. One aisle holds mainly 12-packs and cases of macros and the other has a fine selection of domestic and import craft brews. The third beer area is a small refrigerated aisle at the front of the store that contains mainly macro domestics and imports.
The selection is very good among the craft brews. I was very impressed by the number of singles available for you to build your own 6-pack. Nearly every sixer I saw had been broken into singles. I was a little overwhelmed. The number of 6-packs available was impressive as well.
All-in-all, this was a great place to end my beer hunt. I would love to go back the next time I visit Greensboro.
989 characters

3.7
/5
rDev
+2.8%
Compared to the TW on Battleground, High Point Road is beer mecca.
The aisles are wide, unfortunately they are filled with BMC. The single bottle selection is pretty good for NC. There were empty locations on the shelves if more beers needed to be added, but no dust in site and the quality appeared to be high.
The service is where this store falters. I was asked if I needed assistance, but at the register the dreaded price check rule was in effect. At TW if a beer or wine requires a price check the clerk or manager must look it up in the computer. It is a bit of a painful process. They cannot just type in a price and go, it has to be the code for that product. Three of my selections were without a UPC, so it took some time. Because of that neverending snafu the service is back down to average.
Final stop on the Greensboro Beer Run.
852 characters
Total Wine & More in Greensboro, NC
Place rating:
3.6
out of
5
with
20
ratings