Leroy Stout
| Leroy Breweries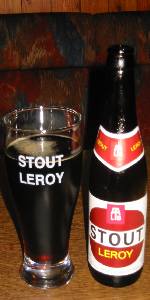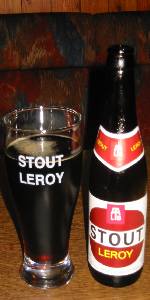 BEER INFO
Brewed by:
Leroy Breweries
Belgium
brouwerijhetsas.be
Style:
Milk / Sweet Stout
Alcohol by volume (ABV):
5.00%
Availability:
Year-round
Notes / Commercial Description:
No notes at this time.
Added by TheLongBeachBum on 05-15-2005
HISTOGRAM
Ratings: 14 | Reviews: 7
Reviews by arkanu:
2.26
/5
rDev
-6.6%
look: 3.25 | smell: 2.75 | taste: 2 | feel: 2 | overall: 2
This could have been an interesting stout, but its complexity is totally hindered by the sweetener like taste that overcomes all other notes. Quite sad and not recommended, even from someone who doesn't have anything against sweet(er) beers, like me.
Appearance: dark reddish, with not much head - it dissipates quickly anyway.
Smell: fade malty aromas, some very faint caramel like.
Taste: Sweetener like taste, like the one used by diabetes patients. I can't think of anything else up until a mild bitterness in the aftertaste. Maybe some caramel picked up here and there, but nothing else.
594 characters
More User Reviews:

1.2
/5
rDev
-50.4%
look: 3.5 | smell: 1 | taste: 1 | feel: 1.5 | overall: 1
Many years ago I had a bottle of this in Liege (Belgium), it was out of date by many years and tasted awful. I have always remembered disliking but couldn't remember why. On a resent trip to Belgium I came across the beer again, so bought one to review on here.
Brown 33cl bottle, best before 08/2009, drank 02/2009. Poured into a Forbidden Fruit chalice.
Looked great at first, deep, deep ruby red, almost black to the naked eye, but held to a light source the true colour becomes more apparent. The large tan coloured head fell away far to swiftly, but the beer still looked OK even as the head shrank.
No hints on serving temp, I think it might have been too cold at first because I couldn't smell a thing. Not even the sweetness that was about to smack into my mouth as I took the first sip of the sickliest beer I think I've ever had. Towards the end of my self imposed desire to finish off the monster the true sweetness aroma began to appear. A fairground toffe apple, candyfloss, bilious, nauseating smell filled the chalice and my nose.
Incredible and intense sweetness in the taste, more like a malty sweet nasty than a beer. I had to get some oatmeal salted biscuits to help me finish the beer (I don't chuck beer away, I perserve to the end).
Carbonisation was a bit heavy, but as I couldn't get past the sweetness does it matter?
Avoid like the plague, unless of course you are into really sweet beers, which I am not.
1,437 characters
2.68
/5
rDev
+10.7%
look: 3.5 | smell: 2.25 | taste: 2.5 | feel: 3.25 | overall: 3
2.4
/5
rDev
-0.8%
look: 3 | smell: 3 | taste: 2 | feel: 4 | overall: 1.5
Not much of a head and it leaves no lace. The color is good: Near black.
Very mild aroma.
Overly sweet, like there was brown sugar added to the beer. It's too much. There's no burnt flavors at all. The body is quite accurate for the style. Unfortunately, the sweetness is too much and it ruins the experience.
311 characters

2.3
/5
rDev
-5%
look: 3 | smell: 3 | taste: 2 | feel: 2 | overall: 2
No freshness date carved. Poors in with for a stout unbelievable big and lasting head. Nose is sweet caramel with nice green touch of fresh hops ans some caramellic malts. Roast being missed though as is any yeastinfluence. Taste is sweet as candy, thic and creamy cola like malts with hardly any bitterness and roast. (Too) high carbonisation with it make it to me more like a softdrink then a brew and IMO far from a stout but more like a dutch Oud Bruin. Drinkable but far too sweet for me.
493 characters
2.37
/5
rDev
-2.1%
look: 2 | smell: 2.5 | taste: 2.5 | feel: 2.5 | overall: 2
Presentation: Sampled from the Bottle at 't Ostens Bierhuus in the very early hours of Sunday 27th March, 2005. Arrived with its own Glass, which is reminiscent of a small curved sided Pint Glass with the words "Stout Leroy" on it. The bottle itself is rather plain in appearance, a white label with a dark red background which has the word 'STOUT' in black across it, with the word 'Leroy' underneath in yellow text, and the LB symbol of Brouwerij Leroy above it.
Appearance: Pours from the bottle with a dark black body which, when held to the light, has deep claret like ruby hints. Tan colored thickish head was moderate at first, but once in the glass it quickly relaxed, faster than a sphincter on laxative, to a rather poor looking thin covering, which eventually finished up as just a brown halo around the edges of the Glass. Had a decent level of carbonation though, surprising given the lax appearance. Still, not that inviting to the eyes to be honest.
Nose: Prunes and dark fruits, but with a sweet aspect. Like a dark chewy Bonfire toffee. Nothing "stout" in this at all. Molasses come through as it warms.
Taste: Sweet and very sugary, it coats the mouth. Simple lightly roasted, maybe even better described as toasted, malts. Uncomplicated dark malts drown in a sickly sweet burnt sugary middle and finish.
Mouthfeel: Like a highly charged Sweet Sugary Soda; it fools the senses given the flat appearance. Uncomfortably fizzy on the tongue, the conditioning is finely attenuated, the bubbles are small, but there are simply too many of them in each mouthful.
Drinkability: Surprisingly refreshing at first, and easy to drink, yet it quickly becomes a tiring beer on the senses, and the sweet sugary character, whilst not necessarily a bad influence, is too much for me in the long run.
Overall: It probably been about 5 or 6 years since I tried this one, and it is often referred to as a "West Flanders Stout", whatever that means. Nevertheless, I was keen to try I again, as I expected though, it was more for 'shits & giggles' late at night rather than because I expected this to be good. Still, it's good to try these "weird" beers from Belgium once in a while though, if not for any other reason than to be reminded that not even Belgium libations fall neatly into style categories.
One of those "Weird Belgian" Beers, which you have to try at least once.
2,418 characters

3.25
/5
rDev
+34.3%
look: 3.5 | smell: 3.5 | taste: 3 | feel: 3 | overall: 3.5
Beer bottle (33 cl.) purchased at La Cervoiserie, and tasted in 2011.
Appearence : dark brown color with tan foamy head.
Smell : malty aromas.
Taste and mouthfeel : very sweet malty flavours, w/o any bitterness.
Drinkability : average beer in the style sweet Stout, but too sweet.
281 characters

3.25
/5
rDev
+34.3%
look: 3.75 | smell: 3 | taste: 3.25 | feel: 3.5 | overall: 3.25

1.65
/5
rDev
-31.8%
look: 3 | smell: 3 | taste: 1 | feel: 1.5 | overall: 1
Pours pitch black with a frothy tan head and some minimal lacing. Smells of dark fruit and light caramel aromas.
If I had a blind tasting of this beer, I would never pick it out as a stout. It tastes like a sweet brown ale. Tons of caramel flavor, no hint of roastiness or sweetness you would expect for black patent...but sickly sweet and overwhelming caramel flavors that don't mesh with a distinct fruitiness in this ale. Very carbonated, distractingly so. Unpleasant astringent finish and a lingering cloying sweetness in the aftertaste.
It's not good. At all.
566 characters
Leroy Stout from Leroy Breweries
Beer rating:
2.42
out of
5
with
14
ratings