Holger Bier
| Brouwerij Martens NV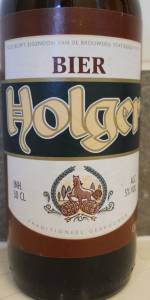 BEER INFO
Brewed by:
Brouwerij Martens NV
Belgium
martens.be
Style:
Czech Pilsener
Alcohol by volume (ABV):
5.00%
Availability:
Year-round
Notes / Commercial Description:
No notes at this time.
Added by RuudJH on 09-11-2011
Reviews: 3 | Ratings: 7
2.68
/5
rDev
-6.3%
look: 3 | smell: 2.5 | taste: 2.5 | feel: 4 | overall: 2.5
We pour a dusty goldenrod colored brew. It holds a one finger head of crisp white bubbles. This dissipates quickly, leaving a film across the liquid, and a thick, bubbly sheet of lacing along the glass. Carbonation appears active, and no haze or sediment is noted. The nose is adjuncty and cooling. There is corn and flour, tin, yeast, and a white sugar quality. There is a fresh sting of booze to the back of the nostrils, which helps to cut the big grain throughout. Our first impression is that this guy is pretty bitter, leaving you quite puckered. As we sip, huge drying metallics, adjuncty grain, and yeast hit up front. These instantly dry the mouth, sucking all moisture from it. The middle peaks with a wild bitterness of grain, and more tin and metallics. A dry, floury grassiness permeates the finish, merely adding to an already bittering note of hearty, adjuncty grain. As in the nose, booze hits right at the last second. The aftertaste breathes of intense bitterness, thick musk and dust, mineral, metals, grass, and adjuncty grain. The body is lighter, and the carbonation is medium. There is nice sip, slurp, and gulp to each sip, and a nice froth slips around the mouth. The mouth is supremely dried, despite the foam. The abv is appropriate, and the beer drinks on the slower side.
Overall, what we enjoyed most about this brew was the mouthfeel. They struck a nice balance between keeping the beer very slurpable and foamy, while making sure the mouth was eventually left bone dry, per the style. The flavoring was just a bit too bitter for our liking, but it did even up at the end, as just enough sweetness comes in to cut that insane bitterness.
1,669 characters

3.13
/5
rDev
+9.4%
look: 3.5 | smell: 3 | taste: 3 | feel: 3 | overall: 3.5
Really cheap beer that cost me only 19 cents.pours a light golden yellow colour, with a one finger head with average retrntion. Lots of activity in the glass. Not bad appearance at all.
Aroma is your average pilsener smell, some malts and nothing extra ordinary.
Taste is bitter and actually quite good. Not really special, but I've drunk other more expensive pilseners that they were lacking any taste.
On the body is thick and it has an above average carbonation.
Overall and taking the price into consideration, I could grow accustomed into this one.
553 characters
2.8
/5
rDev
-2.1%
look: 3 | smell: 3 | taste: 2.5 | feel: 3 | overall: 3
Private label brew from the 'Brouwerij Bocholt'. I was a bit confused once more, since there are 2 towns called Bocholt near the dutch border, one in Belgium and one in Germany. 'Superunie', the company who ordered this particular brew, added to this on purpose, giving the beer a distinct german name, even though it's brewed in Belgium.
I've sampled their pilsner before, with another name, but for the record here's the review of the Holger.
Pale golden, thin head, ok carbonation. Smell and taste mildly bitter, grassy, mainly malty though.
Refreshing carbonation.
All in all, very easy drinkable. Typical pilsner from a large brewery: very mainstream, nothing special.
676 characters
Holger Bier from Brouwerij Martens NV
2.86
out of
5
based on
7
ratings.