Dismiss Notice
Dismiss Notice
Boerken (For Den Ouden Advocaat)
| De Proefbrouwerij (bvba Andelot)
BA SCORE
83
good
11
Reviews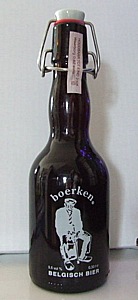 BEER INFO
Brewed by:
De Proefbrouwerij (bvba Andelot)
Belgium
|
website
Style:
Belgian Strong Dark Ale
Alcohol by volume (ABV):
9.50%
Availability:
Year-round
Notes / Commercial Description:
No notes at this time.
Added by Hobbz on 11-16-2005
Reviews: 11 | Ratings: 20
4
/5
rDev
+10.2%
look: 4 | smell: 4 | taste: 4 | feel: 4 | overall: 4
A "Strong brew with sweetish aftertaste" Dark brown brew that is hard to see through. Really nice heavy barley malt flavor. The tan head has some major sticky lacing. The roasted character comes through nicely with a surprisingly noble hop spicy finish. A really nice beer that I wouldn't mind having again. This was a decent find at a pub in Bruges with a ton of beers to pick from.
★
383 characters

2.84
/5
rDev
-21.8%
look: 4.5 | smell: 3 | taste: 3 | feel: 1.5 | overall: 2.5
"Boerken" (farmer) bottle served into Boerken stem-tulip at a bar in Belgium. 9.5% ABV confirmed. Cost was 3.00 euro. Reviewed from notes taken June 2010.
A: Pours a four finger head of soft delicate cream - very fluffy - excellent thickness, and amazing retention. Colour is a dark amber-red. Nontransparent.
Sm: Very hoppy, actually. Peach fruit esters. A moderate strength aroma. Pleasant and inviting.
T: Peach fruit esters, floral hops, caramelized malt. Rather complex and pleasant. Some vanilla and cream, even. A bit imbalanced, but built well.
Mf: Thick - overly so. Coarse and wet. Not at all suitable for the flavours, unfortunately.
Dr: Priced excellently. Drinks decently and is of fair quality. Give her a spin, but don't expect greatness. Hides its ABV well.
C
★
785 characters

4.22
/5
rDev
+16.3%
look: 4 | smell: 4.5 | taste: 4 | feel: 4 | overall: 4.5
Very nice 33 cl bottel poured into my cantillon tulip glas
A :Dark reddish brown colour with brief, beige head.
S : Malty nose with notes of dried fruit, caramel and dark cherries. T :Malty sweet taste with caramel, dark bread, dried fruit, raisins, prunes and a bready, bittersweet finish.
M : More than medium body, fairly dry. Well balanced and tasty. Nearly no alcohol in the taste ( 9.5 alc ???? )
Very nice beer !!! Well done !
★
436 characters
3.97
/5
rDev
+9.4%
look: 3.5 | smell: 4 | taste: 4 | feel: 4 | overall: 4
Pours a dark rich brown into a tulip glass, from a stopper topped bottle, that opened with an audible "pop". Great big amount of head with liberal lacing.
Aroma is rich and malty, keeping with the color.
Taste is surprisingly mild, with a good bit of oak in it. A lot of reviewers find it bitter, but I did not.
Feels very good in the mouth, nice balance between carbonation and thickness, goes down very easily, which could be dangerous at this abv.
★
453 characters
4.35
/5
rDev
+19.8%
look: 4.5 | smell: 4.5 | taste: 4 | feel: 4 | overall: 5
tastes like a rochefort 8 but smooth and a little less complex. I love rochefort but this beer is more drinkable - not a sipper. Not sure why the other review are not that great - could have been the batch my bottle came from. I really liked like this beer and it is more complex than your dubbel and more in line with a west 8 or roche 8.
★
339 characters
2.56
/5
rDev
-29.5%
look: 3.5 | smell: 2.5 | taste: 2.5 | feel: 2.5 | overall: 2.5
Very dark brown color, with a beige, compact, abundant head.
Very fruity smell, ripe, with an hint of solvent. Sweet note of dry plums.
Malty taste, dark malts, candy sugar, again ripe fruit, and tropical fruit. Maybe a hint of liquorice in the background.
Sugary-type beer. It could be worse, but it also could be a lot better.
Again sweetness in the aftertaste, malty, and some alcoholic note, that it is quite well hidden in the taste.
★
438 characters
3.88
/5
rDev
+6.9%
look: 4 | smell: 3.5 | taste: 4 | feel: 4 | overall: 4
BB 19/09/2009, served mildly chilled in Westmalle's branded broad-rimmed goblet.
A: dark ruby in colour, coming with only very light haze, mild carbonation, and topped with a light beige creamy froth that lasts pretty well throughout the drink.
S: yeasty, syrupy and tremendously fruity - most prominent are the salty-sweet fruit esters featuring prunes, dried Sharon fruits and dried hawthorn fruits. Malts are very light, if not negligible, on the overall balance. All in all, yeasty and enjoyable.
T: like a true Dubbel, the flavour comes both richly/densely fruity and spicy, showing lots of influence of the exotic yeasts. Besides the savoury-sweet flavour exactly like what's predicted on the nose, the malt entry is light with only a touch of dark sugar, some sweetened Chinese red beans, oxidised honey, sweet yet spicy olives, followed by a lightly dry bitter finish as witness to the hop weight, but only just. The finish is lightly chewy, perfect to round off the whole palate.
M&D: the carbonation is perfect, just marvellously tuned to sooth the palate with softest bubbles, while the body is moderate and not a faintest trace of alc. is detected on the tongue apart from a semi-rich palate. I'd say that this is in line with a "Dubbel" style dark ale, delivering a pleasant and quite complex yeasty touch of fruitiness while remaining quite light in the malt department. Quite enjoyable!
★
1,402 characters

3.26
/5
rDev
-10.2%
look: 4.5 | smell: 3.5 | taste: 3 | feel: 3.5 | overall: 3
The ceramic stopper pops with a force that swings it around and showers the area (and my face) with a fine mist of beer. Tasty beer so its all good. It pours black with a creamy off-white head that laces like a grandma on crack. Smells of carob and malt, with a hint of spice. Simple but appealing. Taste is sharp spice, fruit, and a smoky aftertaste. Good but a tad harsh. Mouthfeel is soft, viscous, and only a tad carbonated. Drinkability is not bad for such a high abv. It hides it well, but the smoky aftertaste is a touch harsh for me.
★
541 characters

4
/5
rDev
+10.2%
look: 4 | smell: 4 | taste: 4 | feel: 4 | overall: 4
Beer bottle (33cl.), tasted in 2007.
Appearance : brown color, with a huge tan foam head (persistent).
Smell : malty, roasted liquor notes.
Taste and mouthfeel : sweetness, a very slight bitterness and roasted flavours.
Drinkability : a good beer in the style Belgian strong dark ale.
★
286 characters
4
/5
rDev
+10.2%
look: 4 | smell: 4 | taste: 4 | feel: 4 | overall: 4
Pours a huge beige head, that last for a while, but no so long as its sister Boerinneken. Leaves a lot of lace, that makes a pretty drawing on the glass. Subtle smell of chocolate, cherries, toffee and fruits, with some pepper. Flavor is mostly sweet. Taste of chocolate, fruits, peepr and coriander, port wine like. Enjoyable beer.
★
332 characters
3.55
/5
rDev
-2.2%
look: 3.5 | smell: 3.5 | taste: 3.5 | feel: 4 | overall: 3.5
BB end 2006. Nice presentation with nice head and quiet dark but with amber shine beer. Nose is very malty, litle sweetish and green malty like but overal quiet good having also litle porty/oaky nose. Taste is sweet chocolate and alcoholic with bitter aftertate. Maybe litle heavy but overal quiet well balanced and carbonisation freshes mouthfeel even litle more up. Well drinkable beer but take it as a night cap or something after dinner IMO.
★
445 characters
Boerken (For Den Ouden Advocaat) from De Proefbrouwerij (bvba Andelot)
83
out of
100
based on
11
ratings.