De Proef Flemish Primitive Wild Ale - 2008 Special Vintage Reserve
| De Proefbrouwerij (bvba Andelot)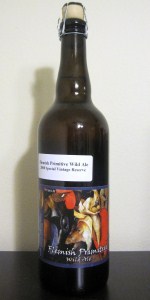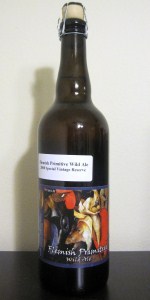 BEER INFO
Brewed by:
De Proefbrouwerij (bvba Andelot)
Belgium
proefbrouwerij.com
Style:
Scottish Gruit / Ancient Herbed Ale
Alcohol by volume (ABV):
9.00%
Availability:
Limited (brewed once)
Notes / Commercial Description:
This was mislabeled as Rat Rider, but an additional sticker explains that it is actually a smoked gruit with wild yeast.
Added by mwilbur on 03-02-2010
This beer is retired; no longer brewed.
HISTOGRAM
Ratings: 12 | Reviews: 7
Reviews by wschmit:
3.92
/5
rDev
+17%
look: 3.5 | smell: 4 | taste: 4 | feel: 3.5 | overall: 4
Picked this up randomly at West Lakeview...looked interesting. .75L into my Duvel tulip.
A: Pours a hazy bronze body with plenty of soda pop carbonation making a quickly-fading white head that leaves a bit of a ring about the top and a few stray patches. Lots of floaties, and not much apparent carbonation in the body. Perhaps a bit too dark to really be Pale, but I won't ding it for that.
S: Pretty nice mix of tart and funk, but a bit too much bread yeast character. A bit of rose petal and some lemon come through. Overall good, once I got used to the bread yeast--a very intriguing wild profile.
T: Sweet and very reminiscent of cider, or even mead, up front, it quickly dries out into a full, mildly farmhouse sip. I make many references to Orval in my reviews because I adore it. Thus: this reminds me of Orval mixed with some cider. Nice brett tones, and even a touch of hop bite, with a sweet/tart aspect. Good stuff. More caramel notes than Orval, easily.
M: Thicker than I anticipated, but given the sweetness, that's to be expected. Some more carbonation might be good, as this is a bit flat. I can't pick out the alcohol at all. Still, coats the mouth nicely.
O: An interesting beer, and commendable for its "primitive" wild yeasting. It's very impressive that they managed to get this quality of wild yeast expression without many off flavors. It was only 12 bucks for the big bottle, too, which I feel is quite fair for such a brew. Good stuff.
1,468 characters
More User Reviews:
4.03
/5
rDev
+20.3%
look: 4.5 | smell: 4 | taste: 4 | feel: 4 | overall: 4
After enjoying the Flemish Primitive series, and occasionally wishing the best ones were still around, the '08 Special Vintage shows up. Smoked malts, wild Gruit ale... ok i'm intrigued.
Into a tapered pint it pours a hazy deep gold. Persistent foam and copious lacing. Retention and color are nice. Sweaty aroma of horsehair, wet hay, cloves (smoke?). Any actual smoke impression is minimal, the clove note only suggests at it. Smells pretty wild with Brett in full bloom.
Flavors of honey and herbs blend with funkier leather, saddle, and cheese rind elements. There's a good dose of drying alcohol that surfaces sharply at one point. Minimal malt character, any smoke is barely there, vaguely peaty. Carbonation is moderate, finish is super dry. Glad this bottle was shared, it would be a task to finish it alone. While I enjoyed this vintage, it didn't wow me as much as others in the series did.
904 characters
4.32
/5
rDev
+29%
look: 4 | smell: 4.5 | taste: 4.5 | feel: 4 | overall: 4
A: It's yellowish-brown in color and somewhat hazy. It poured with very little head and just a few bubbles form a ring around the edge of the glass.
S: The aroma started out rather sour but the smell mainly becomes spicy as the beer begins to warm up. There are also some notes of citrus and honey.
T: There is a lot of complexity in the taste, which overwhelms your taste buds given the multitude of spices that are perceptible. Overall, it tastes like a hybrid of a gruit and a gueuze.
M: It feels medium-bodied on the palate and all of the spices leave a prickly sensation on the tongue in the finish.
D: I found this relatively easy to drink because the alcohol was well masked.
682 characters

4.94
/5
rDev
+47.5%
look: 4 | smell: 5 | taste: 5 | feel: 5 | overall: 5
After the original 6 beers in this series, a 7th was created, mislabeled (has the Rat Rider label), and cellared. The main differences from the others in the series: 5% of the malts were smoked and 25% of the finishing hops were replaced with a gruit mixture. The result is a Belgian strong, lightly smoked, wild gruit ale. Say that ten times fast.
Poured from 750 mL bottle into tulip. Brewed in January 2008. Obtained from RBC.
A: Pours a fairly clear yellow-golden with high carbonation producing a 2-3 inch frothy-bubbly white head. Good retention and lacing. Very nice.
S: Wonderful and contained brett aroma...a hint of which can be appreciated a few feet away and immediately upon opening the bottle. Soft lemon, crisp citrus, hint of cinnamon and pepper, and the bare faintest whiff of wood smoke. There are certainly more spices here than I am picking up. Wonderfully complex.
T: Soft melon, mild citrus hops, spicy black pepper, and in the background are the smoked malts. The funk of Brett is less prevalent here than in the aroma...but still nicely present. As this warms, floral notes emerge along with mint, tobacco, earthy lemon, and a hint of spruce/juniper. You can tell this has softened with age...and that's a good thing here. Excellent balance. Serve at 50-55 for best enjoyment.
M: Initially soft and full feel. This gives way to a flatter, more smooth feel with a hint of bitterness. Finishes and lingers nicely with a slow transition to more sour and organic bitter root notes as it fades.
D: Highly drinkable. Drinks like a 4.5 ABV even though it is double that. Wonderfully complex as most of De Proef's brews are...The Professor is a frickin' genius. This will take you the entire 750 mL to completely enjoy...but share it you must...spread the joy. Highly recommended.
1,804 characters

3.28
/5
rDev
-2.1%
look: 3.75 | smell: 3.75 | taste: 3 | feel: 3 | overall: 3.25


3.78
/5
rDev
+12.8%
look: 4.5 | smell: 4 | taste: 4 | feel: 3.5 | overall: 3
Thanks Bryna for this Xmas gift. Served in a Kuhnhenn tulip.
A - Pours with two fingers of white foam that settles to a thick collar and nearly solid cap, leaving behind solid lacing. The body is a hazy golden honey color.
S - Musty brett, some light pineapple, vinous grapes and apple skins, light smoked malt, and some caramel. Pretty funky, but not particularly acetic.
T - The taste is far smoother, perhaps the mellowness is from the cellaring before release. As it warms some lemon and other citrus character comes out, as well as notes of underripe berries. Malt character is fairly pronounced - this is a funky Belgian Strong Pale, and not a malty "wild ale". There's some light peat and smoke in the finish that is vaguely reminiscent of Raftman. Slightly medicinal. There's some light tannic oak, but I'm not sure if this is barrel-aged or if that is just coming from smoked malts and juniper twigs. Not as good as the nose - probably a 3.75 for me.
M - Medium body, medium-low carbonation. Drinks like a 6-7% beer, as the alcohol is extremely well-hidden. Finishes more slimy than sticky, which is unfortunate.
D - This is definitely a unique and very odd beer. The smoke and gruit character are present, but thankfully well-attenuated. Still, the flavor profile is somewhat fatiguing and it'd be a struggle to split this any less than three ways. I'm curious how different this is from the other beers in the series.
1,433 characters

2.6
/5
rDev
-22.4%
look: 4 | smell: 4 | taste: 1.5 | feel: 3 | overall: 2.5
750ml bottle into my Rochefort glass...a slight darker than expected honey gold with a white head. The head is very light and watery, fades quickly, light lacing...The aroma is medium in strength, a little too light for what I want in a sour and little too one noted. Mostly acidic tartness with lots of oak on the finish, a little too plain. The oak is fresh with a chemical tint to it...The taste is horrendous! I was expecting a tempation/santification gold wild. Instead I get a sour that is mixed with a saison and tea. Similar to lambrucha in the tea taste and feel. Musky, sour, grass and juniper finish. Juniper dominates and make this way to medicinal. This is just bad.
Wow, this is bad, super excited to it, but this is a mess. the brewer had too much going on, next time stick to one thing.
803 characters
3.59
/5
rDev
+7.2%
look: 3.25 | smell: 3.5 | taste: 3.75 | feel: 3.5 | overall: 3.5
Had as Reinaert Wild Ale. Strong aroma is fruity and yeasty, mainly apple with a hint of banana; I got a whiff of caramel as well. Pours a clear, bubbly amber with a thick and fluffy, if not too persistent, ivory head. Fruity flavor has yeasty, malty and subtle hoppy notes, a little sweet, a little bitter, quite drinkable. Smooth, lively texture has plenty of body and fizz. An ale by any other name would taste just as good!
427 characters
De Proef Flemish Primitive Wild Ale - 2008 Special Vintage Reserve from De Proefbrouwerij (bvba Andelot)
Beer rating:
3.35
out of
5
with
12
ratings