Abbotsford Invalid Stout
| Carlton & United Breweries, Ltd.
BA SCORE
79
okay
14
Reviews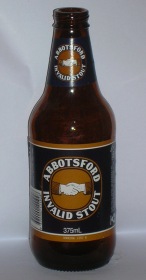 BEER INFO
Brewed by:
Carlton & United Breweries, Ltd.
Australia
fosters.com.au
Style:
Milk / Sweet Stout
Alcohol by volume (ABV):
5.60%
Availability:
Year-round
Notes / Commercial Description:
No notes at this time.
Added by BeerAdvocate on 08-26-2003
Reviews: 14 | Ratings: 17

2.8
/5
rDev
-14.9%
look: 3.5 | smell: 3.5 | taste: 2.5 | feel: 2 | overall: 2.75
This is something of a surprise packet, we all see CUB and instantly become adverse to the liquid that sits before us but give it a chance.
The Invalid stout pours a charcoal black,very appealing to the stout advocate, the scent is that of burnt coffee with a hint of smokiness.
That smokiness comes through in the flavour, while it has a borderline shockingly soft front it builds into a flavorsome mid-palate, that smokiness coming through, with roasted malts and a hint of coffee notes.
Sadly for this Carlton relic, it is quiet thin in the mouth and the creamy head that it pours dissipates quickly. However despite these flaws it drinks surprisingly well for an entry level stout.
690 characters
3.23
/5
rDev
-1.8%
look: 3 | smell: 3 | taste: 3.25 | feel: 3.25 | overall: 3.5
A: Pours a black color with a decent tan head that fades quickly to some lacing.
S: Aroma is a bit muted with roasted malt, bit of chocolate and coffee.
T: Taste of some roasted malt, chocolate, coffee and bit of malt sweetness. Decent bitterness and a fairly clean finish.
F: Fairly moderate body, not a creamy as I hoped.
O: Fairly decent stout, but nothing to get excited about.
388 characters

3.9
/5
rDev
+18.5%
look: 3.5 | smell: 4 | taste: 4 | feel: 3.75 | overall: 3.75
When most of us hear the words 'Carlton & United', we immediately think of the unforgivable excuses for beer they've produced over the years. Several of us would rather chug a pint of cat urine than punish our tastebuds with a stubby of VB or Carlton. Henceforth, when a good mate of mine told me that CUB brew a stout that is remarkably decent, I immediately thought "bollocks". However, he is indeed right - beneath the sea of fizzy discharge produced by the Australian brewing giant, there is an undercurrent of stout that is thoroughly enjoyable for its price range.
Appearance: A slow pour into a 375ml glass produces just over 1 cm of beige head, which remains for quite a while. The beer is very dark, though not completely opaque. Holding it up to the light reveals a ruby red darkness.
Smell: Roasted malts and coffee are dominant, with a subtle sweetness not dissimilar to milk. It's neither offensive nor overwhelming to smell this stout, and the smell is highly reminiscent of the flavour.
Taste: Sweetness is immediately apparent upon the first sip with milk, chocolate and toffee ubiquitously present, followed by a bitter malt finish. It tastes remarkably light for a stout and is more sessionable as a result. Those unaccustomed to heavy Imperial stouts could use the Invalid as a transition from dark ale to stout as the roasted malt remains gentle on the tongue and not too bitter or dark.
Mouthfeel: Thin for a stout and moderately bubbly. Seasoned stout drinkers might feel a little uneasy with this given the contrast between stout flavour and thin mouthfeel, although this only serves to make it more approachable to the casual drinker.
Overall: I am simply gobsmacked that CUB have produced a beer that I actually enjoyed. Its sweetness and thin body make it approachable to your casual lager or pale ale drinker, whilst the deep roasted tones ensure that legitimate stout drinkers will be satisfied as well. At the measly price of AU $14 a sixer, it now remains my stock-standard go-to stout when I'm a little strapped for cash. This stout will challenge your perceptions of CUB with its unexpectedly enjoyable taste, affordable price and overall enjoyable drinking experience.
2,206 characters
4.53
/5
rDev
+37.7%
look: 4.5 | smell: 4 | taste: 5 | feel: 4 | overall: 4.5
Poured from a 750ml Longneck into a Pint glass.
Big mocha coloured head that surprisingly took a LONG time to dissipate.
Smells lightly of chocolate/cocoa and has a subtle sweet aromas.
Tastes of Chocolate and roasted malts. Very nice for a CUB brewed beer. Reminds me of a Double Tooheys Old or Carlton Black. Very nice.
Moderate carbonation far from offensive! Perfect.
Overall this IS a very nice Stout.
It surprised me as the CUB is disappointing for it's shit over produced standards. I feel sorry for all the people who still drink VB and Carlton Draught when they could (for the same price) be drinking this.
622 characters
3.42
/5
rDev
+4%
look: 3 | smell: 3.5 | taste: 3.5 | feel: 3 | overall: 3.5
Pours black with a large tan head.
Nose shows milk chocolate, cocoa and roasted malt. Not bad.
Flavours are a bit light on but show roasted malt and some cocoa.
Could use more carbonation, body seems a little watery.
Nice, easy-drinking stuff, pretty moreish.
263 characters
3.67
/5
rDev
+11.6%
look: 3.5 | smell: 4 | taste: 3.5 | feel: 3 | overall: 4
It has a decent tan head, thats slightly lighter around the edges certainly looks alright. The head stays for the duration that I slowly drank the beer, suprising considering the brewer.
A sweet smell, almost like condensed milk comes through as well as the dark malts. Much better than I expected!
The taste is nice and roasty, with a hint of sweetness at the back, maybe a bit of vanilla in there at the end.
Mouthfeel is light for a stout without being too thin. Regardless, the flavours linger around which is what I love in a stout.
This is by far the best CUB Beer I've ever tried. Doesn't have that skunkiness that we all know so well. Good value.
658 characters
2.4
/5
rDev
-27.1%
look: 3 | smell: 3 | taste: 2 | feel: 2 | overall: 2.5
Dark brown to black, 'clean looking'. Weak head, very thin on pouring and not surprisingly disappears in no time. A bit of non-descript sweetness on the nose but well backed some some darker roasted notes. Fizzed up in the mouth (CUB are so bloody predictable) which makes it tough for any real stout flavours to come through. Some roasted malty sweetness came through eventually but doesn't really carry the beer. I've definately had better so to be fair I'll revisit in due course.
493 characters
4.09
/5
rDev
+24.3%
look: 3.5 | smell: 4.5 | taste: 4 | feel: 4 | overall: 4
This pours black with a decent beige head which drops away to leave just a little covering.
I love the milk chocolate nose. A little bit of toffee in there as well. And some coffee. This is what I love in dark beers.
Dark roasted malts dominate the palate. Coffee comes through as well.
A decent mouth feel from a medium to high carbonation.
This is my "always in the cupboard" stout. It is interesting that CUB have no mention of it on their website. Ironic given that it is their only decent beer.
503 characters

1.93
/5
rDev
-41.3%
look: 3.5 | smell: 3 | taste: 1.5 | feel: 1 | overall: 1.5
I'm probably being a bit unfair to this brew by reviewing it straight after Murray's Wild Thing Imperial Stout, but then I can't think of anything Carlton & United have done to deserve a fair break, so screw them. Yes, I'm biased - piss off.
Pours a blackish brown colour which is definitely umber around the edges when held up to the light. Head is generous but not very dense and disappears very quickly leaving a flat-topped beer in the glass. Fair bit of lacing but not very sticky. Really, not much more than I'd expect from a beer calling itself a stout.
Nose is quite pleasant, with a creamy kind of character actually dominating any burnt, coffee aspect. This of course could mean that it's less potent on the palate, but I'll reserve judgement on that because really it's certainly not an unpleasant smell. It quite reminds me of the What's Brewing? stout, which I tried on the same day as buying this bottle. Yeah, it's a nose like coffee cream, with a slight treacle edge, rather sweet with not much sour or burnt character. Quite nice, but nice in the way that a scrawny kid with braces who'll do your homework for you is nice.
Eck. Ghastly mouthfeel. It's hard even to get the flavours as it just slips like a cold, floundering herring down your throat. What flavours I can get are pretty much par for the stout course - a bit of a roasted malt character and the slightest hint of vanilla or something, but seriously, it's so thin and watery that it's hard to tell. I might as well take this beer intravenously for all the pleasure my mouth is getting from it. In fact it's really quite astounding that it holds its own for so long in appearance and smell and then just sinks so catastrophically on the taste. I just don't understand how you can get as much (viz: not that much anyway) character on the nose with such a dull and insipid drinking beer.
Sure, as far as dark beers to scull in the back alleys of Footscray while wrapping your knuckles in barbed wire, this one is right up there. But it's comprehensively shit anywhere else. Congratulations, CUB, another wart on the arse of Australian macrobrewing.
2,130 characters
3.46
/5
rDev
+5.2%
look: 4 | smell: 3 | taste: 3.5 | feel: 4 | overall: 3.5
A: nice & opaque...beautiful rocky head...dissipated a little quickly for my liking but lacing was good.
S: Not that strong at all...dark malts, but not that smokey aroma as with dark ales...
T: For a very mainstream stout this faired very nicely...& without that yucko Carlton (CUB) chemical metallic taste. Roasted malts again, with a little smokiness & sweetness but what I like about this was not too much of anything, not too sweet, not too smoky or roasty, & not too bittery (but it did linger)
M: Good, a little warming & defintaly felt like a stout - a little heavier & thicker...yum.
D: Yep, I am very pleased considering its one of the cheapest if not the cheapest stout going around...I will definately buy more...
LOVE the look of the lacing all the way down the mug...
781 characters
3.88
/5
rDev
+17.9%
look: 4.5 | smell: 4 | taste: 4 | feel: 3.5 | overall: 3.5
Longneck purchased a few months ago in Melbourne. Can't buy this in NSW - our CUB stout is Sheaf Stout. Haven't had Sheaf in a while actually - would be interesting to compare them directly.
Appearance: Looks mighty in my Schneider Weisse glass. Black and completely opaque fading to mahogany/nut brown at the thinner sections of the glass. Poured with a rocky off-white to tan head, which dissipated to a quite-acceptable 1cm or so sitting comfortably on top of the ale. Lacing is everywhere - fairly bubbly and labyrinthine, like a hedge maze.
Smell: All aromas are focused in the coffee/chocolate region of the spectrum - not too varied (no bizarre flavours unusual to the style). What is there I like, though. Rich dark coffee and cocoa, and something that reminds me of Yorkshire... maybe blackberry, it smells thorny. Good, anyway. No adjuncts - hardly ever seen in this brewery's stable.
Taste: Potent. Ground dark coffee, DARK chocolate (it's the raw cocoa/bitter flavour that comes across), burnt toffee maybe?, some kind of berry, maybe blackberry - or maybe even tea made from blackberry plants. There's an earthy, leafy flavour to it which belies its CUB origins. (It's hard not to be cynical about this brewer, but this beer is actually pretty good). Bitter aftertaste, somewhat medicinal. I'm pleased with this brew. Still, it's not the most action-packed stout I've ever come across. But it's flavoursome.
Mouthfeel: Not as creamy as you'd expect from a milk stout, but not dull. Carbonation is quite big, but not too distracting.
Drinkability: The previous beer's alcohol has affected my objective analysis of this brew. I initially thought it was this beer's punch, but it's only 5.2%, which is less than I expected. It's OK, but since you can't get it north of the Victorian border, there's no chance I'll be having this any time soon.
Next time I'm in Melbourne I'll bring some back for a side-by-side comparison with Sheaf Stout. I seem to remember Sheaf Stout having more bite, and being a bit harsher on the palate. But it's been a long time since I've had any stout, and I don't know how valid my ratings are in line with your average stout out there. Still, I enjoyed this beer, now, and I guess that's the point of these reviews.
(By the way, it's now 5.2% according to the bottle. I know they discontinued brewing for a while in the early 90s, maybe the recipe's changed).
2,419 characters
3.59
/5
rDev
+9.1%
look: 3 | smell: 4 | taste: 3.5 | feel: 3.5 | overall: 3.5
Well if you're going to drink a Carlton United beer, this is one of your better (if not best) choices. Pours dark, with an evident chocolate malt nose. The taste is similar, but without the usual Carlton metallic aftertaste. Mouthfeel is fairly thin. Don't drink a whole lot of these because just a few give me a hangover. I don't think it's the purest beer in the world. Worth a try for one, though.
400 characters
2.85
/5
rDev
-13.4%
look: 4 | smell: 1.5 | taste: 3.5 | feel: 3.5 | overall: 2.5
Dense purple to black in colour the presentation is spoilt by the loosely bubbled head.
I could not get a smell from it.
It starts off sweet and melon like and finishes with a long bitter kick.
It has a gentle tingle in the mouth
Could not sit down and drink a lot of it but its a value for money stout.
308 characters

3.5
/5
rDev
+6.4%
look: 3.5 | smell: 3.5 | taste: 3.5 | feel: 3.5 | overall: 3.5
extra! extra! read all about it! carltons stouts are actually not too bad! shocked BA's cant believe it!!! not the best stout in the country by a long shot, this is still a pretty handy alround stout that has been called for on occasion when ive been a bit hard up for cash and needed something semi decent. maybe thats where the name invalid comes from?
thick and oily looking with a very dark brown head thats surprisingly creamy, its simliar in its darkness to coopers best extra. the nose has a strong whiff of roasted coffee beans, with the slight hints of orchard fruits. has a very robust roasted flavor with smokey elements and the taste of coffee and chocolate, theres some continued fruitiness to it thats hiding in the shadows. it rounds out with a quite powerful dry finish thats along the lines of sheaf stout. aftertaste resembles a flat black and its not as oily in the mouth as it looks. pretty well balanced all up.
carlton brewed this from their ballarat operation till recently (it was the only beer they brewed there), and seems to have been able to maintain the standard, which i do find a little surprising. its nowhere near the best stout going around, but as a cheap little tide me over till payday, abbots invalid does the job in a tidy fashion.
1,276 characters
Abbotsford Invalid Stout from Carlton & United Breweries, Ltd.
3.29
out of
5
based on
17
ratings.