Bilbo's Pizza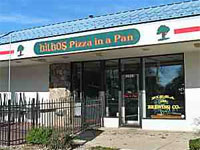 PLACE INFO
Type:
Brewery, Eatery
3307 Stadium Dr
Kalamazoo
,
Michigan
, 49008
United States
(269) 382-5544 |
map
bilbospizza.com
Notes:
No notes at this time.
Added by BeerAdvocate
Reviews: 12 | Ratings: 20

2.85
/5
rDev
-17.2%
vibe: 3 | quality: 2 | service: 4 | selection: 3 | food: 2
I hate to say this but it feels like Bilbo's has gone downhill, fast. Their food was never spectacular, but decent enough. On my last visit, however, it felt like work just finishing my slices—bland, flavorless dough and toppings just don't cut it. Avoid their house beers, as they were also undrinkable.
310 characters
2.4
/5
rDev
-30.2%
vibe: 2 | quality: 2 | service: 3 | selection: 2 | food: 3.5
I'll begin by saying the pizza actually wasn't bad. Had a pan spinach pizza and it was passible. The beer however was horrible. If we hadn't tried four of them I would have said it was an infected batch or somebody just screwing up. Tough to say that when all four were unfinishable. I had an feeling that the beer was going to be bad and almost just grabbed a two hearted but I mistakenly decided to try theirs.
There's enough good beer in Kalamazoo, skip this place. Unless you want a decent pizza, then just order beer from somewhere else.
543 characters
3.89
/5
rDev
+13.1%
vibe: 3.75 | quality: 4 | service: 3.75 | selection: 3.5 | food: 5
Over all a great place after any kind of event. You might see children, college kids, lunch time business professionals and evening social crowd. It can be a little expensive so just check the coupon section of he paper for deals. Plus the house beer is good but you really can't find a bar in Kalamazoo that doesn't serve good beer on tap.
340 characters
2.98
/5
rDev
-13.4%
vibe: 3 | quality: 2.5 | service: 4 | selection: 2.5
Stopped by here for a quick beer but did'nt try any food. Locsted in a strip mall this palce is not very inviting. Looks to hold a few hundred diners. Has a cheap plastic sign out by the road with the name on it. Foremost it is like an Applebees. I think they had about 4 of their beers on tap. Just average beer. With so many other choices for good beer in Kalamazoo I'm not sure why they even bother making their own beer. Not really a place I would stop at again. Just wanted to see what it was about.
504 characters
3.8
/5
rDev
+10.5%
vibe: 4 | quality: 4 | service: 3.5 | selection: 3.5 | food: 4.5
Bilbo's is a fun place to go on occasion. This would not be one of my top places to go, but I always enjoy myself here. Occasionally the crowd is overwhelmingly full of college kids and I find myself rather annoyed when that is the situation, but usually it is at least tolerable and most of the time it is quite enjoyable.
The food is easily the highlight, however, there is nothing to really complain about. They brew their own beers which are decent. I've had many different items on the menu and find that each is just as tasty as the next. Perhaps the only thing I'm not thrilled about is how close to campus they are which attracts the college kids.
656 characters
2.3
/5
rDev
-33.1%
vibe: 3 | quality: 2 | service: 1 | selection: 3 | food: 4
I found this brewpub while driving back to my hotel. When I asked about it, I was told it was a local favorite, for the pizza. The next day I went back to try out their brews. The brewpub has a Lord of the Rings theme. They had five different beers on tap the day I was there; Duff, Sledgehammer, Return of the King, Dragon Red Ale and Wizard Wheat.
We sat at the bar and ordered drinks. The manager was our bartender and service was excellent.
I had three of their beers (duff, Return of the King and Sledgehammer). To be honest all three looked very similar to each other. There also wasn't much different to their taste. They also had other beers on tap from Miller and Bud to Guinness and Bass. They also had some micro brews, including Bell's which is made in a neighboring town.
My wife ordered a pizza, and it was really good.
Update:I just returned from here over the weekend, this place has really gone down hill. We showed up and sat down it took 15 minutes before a bartender would give us a list of beers, the list didn't describe any of the beers and based on the Lord of the Rings style names it uses for the beers, you can't tell what the beer styles are. Finally after we got the list, I was so annoyed at the complete lack of service I requested a manager. The manager never came to talk to us, so I ended up leaving and going to a better brewpub for beer.
I will never go back here again as talking to others at the same event I was at stated they had the same issues there.
1,501 characters
2.25
/5
rDev
-34.6%
vibe: 3 | quality: 2.5 | service: 1 | selection: 3 | food: 2
It may be that I was a little jaded after having visited many great brewpubs in Chicago. But after stopping at Bilbo's on my way back home, I don't think I ever want to come back.
It wasn't really the venue; it's big, clean and nice. There's nothing to set it apart from any other chain behemoth restaurant like Max & Erma's or Outback, but there's nothing to drag it down to the level of Applebee's, either.
It wasn't really the beer, either. The honey porter was decent enough to keep me happy and satisfied. The IPA wasn't great and the red wasn't bad. I only tried three, so it's hard to really give a good grade, but it was average.
And it wasn't really the food that left a bad taste in my mouth. The whole wheat pizza is thick and the crust is flavorful. The pesto chicken toppings were on target. I did enjoy the entrée.
The problem was the service. We had a (I'm assuming) new waitress who didn't know a thing about beer. She wasn't even old enough to drink it. Poor choice for a brewpub if it wants me to think it takes its beer seriously. That I can look past, but she also claimed that they didn't have a sampler option just before offering me "tasters" of half-filled double-shot glasses that she subsequently charged $2.00 each for. I'm sure they were supposed to be fully-filled samples, and maybe I should have complained about paying for them, but she was still an idiot. Also, we ordered a pesto cheesy bread thing as a side dish. It was exactly the same thing as the pizza but without the chicken or mushrooms. Any server who'd ever worked more than a day would have warned us that we ordered the same dish twice. Finally, it took about 10 minutes between her dropping off the check and coming back to run my card. I don't know where she disappeared to, but a fellow employee came back from behind the scenes with her with a goofy grin on his face. Just sayin'.
1,886 characters
3.65
/5
rDev
+6.1%
vibe: 3.5 | quality: 3.5 | service: 4 | selection: 3 | food: 5
Bilbo's is a great hangout to go with a group of friends. The atmosphere is not bad and I have never seen the place too busy. The pizza is a favorite of everyone and is the reason that most people come there. I would also recommend the bread sticks with dill sauce, those with pizza and one of their beers will make a good combination for a night out.
That brings me to their brews, or homebrews as we call them. Most people do no go there for them, but they are what you want to get when you go there. There is nothing special about any of them and none of them set them self apart from the others. A big mug for around 4 dollars though is not a bad deal and if you are a BA then you indeed love giving new beers a try anyway so why not. Like i said the beers are nothing exceptional but it is always nice to give local beers support, and they aren't bad either.
865 characters

3.6
/5
rDev
+4.7%
vibe: 4 | quality: 3.5 | service: 4 | selection: 3 | food: 4
Multi rooms, friendly staff (they could use some more beer training, as the brew I was interested in was said to be "one of our hardest (?) beers) Quality beer consisted of the four they brew, and a Bells selection on tap. Besides that the taps were flowing with the likes of Guiness, Bass and the rest of that crew. Food was reasonably priced and tasty, we tried a few sandwedges and salads, but the pizza we saw walking by looked quite tasty. Dont go for any beer highlights, seemed like a decent place for an inexpensive, casual and hearty meal in a friendly, low key environment
582 characters
3.75
/5
rDev
+9%
vibe: 4 | quality: 4 | service: 3.5 | selection: 3.5 | food: 4
Great little place located in a strip-mall right next to WMU campus. Dark, wood interior done up in the loTR's theme although this place was around way before the movies. Their pizza is the reason to go there, try the wheat crust as it makes all the difference. Very bohemian crowd with live music most nights of the week. There beer selection is limited with about three of their own beers on tap. Good specials for the college crowd. I think the last time I was there I got a quart of Guinness for like $3.75.
511 characters

3.83
/5
rDev
+11.3%
vibe: 3 | quality: 4 | service: 4.5 | selection: 3 | food: 4.5
Bilbo's old location on W.Michigan is now closed, and the brand new building just opened in late May 2006 on Stadium drive (near Sweetwater's and BW3). The new building is ok, but very sanitary and corporate. Right inside the door are the circular stained glass windows depicting Hobbit scenes, which helps to keep a little of the charm of the old Bilbo's. The left half of the building is the restaurant, with wood panelling and dark green paint, while to the right is the bar/smoking area. They listed three beers: Wizard Wheat, Sledgehammer, and Dragon Red Ale. However, I was informed that none of these were available yet at the new location. Instead, they had a decent selection of other local brews on tap such as New Holland's Mad Hatter, Bell's Oberon and Amber, and about 10 "nicer" macros such as Harp and Bass. The service was very friendly and attentive. The pizza is top notch, easily the best in Southwest Michigan. I just can't help but miss the wonderful downstairs dark all-wood bar that the old location had.
*edit* As of December 2006, Bilbo's is brewing again, and offering six different beers.
1,118 characters
4.08
/5
rDev
+18.6%
vibe: 4.5 | quality: 4.5 | service: 4 | selection: 3.5 | food: 4
Bilbo's has been around in Kalamazoo for far longer than the LotR phenomenon has been in the theatres, the original location being near Western Michigan campus while a satellite exists up in Portage on Westnedge Ave.
The original store is where it's at though, as the theme is much more prevelent, and the lights dimmer. Bilbo's is mainly known for it's delicious pizzas (available in wheat crust, make sure to try it if you try anything there) with the standard toppings.
Service is usually quite good in my experience, but that's probably because I'm usually there with a large group, kind of hard to ignore 8 people at once :-)
Bilbo's also has a variety of house beers with appropriately 'cute' names such as "Wizard Wheat" and so forth in addition to many locals on tap if you'd rather stick with a stand-by.
Overall highly recommended though, their pizza is the best in Kazoo, and the unique beer is another nice bonus.
937 characters
Bilbo's Pizza in Kalamazoo, MI
3.05
out of
5
based on
27
ratings.