Winterloper Baltic Porter

Bauhaus Brew Labs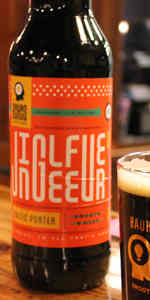 Write a Review
Beer Geek Stats:
| Print Shelf Talker
Style:

ABV:

8%

Score:

Avg:

3.93

| pDev:

8.14%

Reviews:

11

Ratings:

From:

Avail:

Winter

Wants

Gots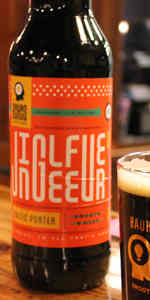 Notes: Formerly Jingle Fever
4.35
/5
rDev
+10.7%
look: 4.25 | smell: 4.25 | taste: 4.5 | feel: 4.25 | overall: 4.25
This beer pours a dark brown with an average head. The aroma features chocolate, graham crackers, marshmallow, gunpowder, dry coffee, and pepper flesh. The flavor is moderate and soft, with chocolate, vanilla, nougat, fudge, raisin, and a hint of soy sauce at the end. The mouthfeel is soft, with gentle foamy carbonation. Overall this is a really excellent beer, complex, yet drinkable, it comes across as a beautifully smooth porter, more toward the creamy and fruity than the roasty end.
490 characters
4.35
/5
rDev
+10.7%
look: 4.25 | smell: 4.25 | taste: 4.5 | feel: 4.25 | overall: 4.25
Wow is this solid. Nice toasty, roasty taste with a nice bits of sharpness at times. I'm guessing a lager yeast as there is a nice clean feel. Body is big enough and a good softness and fullness to the carbonation. Hits of sweetness at times, but it's not a dominant flavor.
Great looking. Dark brown with tan head.
Roasty and toasty aroma too with hints of chocolate. Like a good brown ale.
Doesn't have the darker fruit of many in this style. But I like this very much as it is.
490 characters
3.97
/5
rDev
+1%
look: 4.5 | smell: 4.25 | taste: 3.75 | feel: 3.75 | overall: 4
L: drops bright deep dark brown kicking up a 2.5" blanket of tan foam with a very fine bead and good retention
S: mild roasted malt aromas that blend rich lightly roasted grainy malts with light roasted coffee, chocolate and dark fruit
T: Bittersweet chocolate and a light coffee roast are up front supported by biscuit and other more lightly roasted malts and lightly sweetened by caramel. Dark dried fruits, mostly fig, add flavor and character. The beer is mildly sweet with a moderate touch of hops.
F: smooth with a rich full body and medium soft carbonation
O: rich and luscious
588 characters

3.71
/5
rDev
-5.6%
look: 4 | smell: 3.5 | taste: 3.75 | feel: 3.75 | overall: 3.75
dark black with a tan head that dissipates fully.
roasty notes up front, but once it warms a touch, the alcohol completely took over for me. molasses at the end.
mouth was nice - a bit creamy and thick.
not the best representation of the style for me. ok, but not one i'd seek out again.
292 characters

3.75
/5
rDev
-4.6%
look: 3.75 | smell: 3.75 | taste: 3.75 | feel: 3.75 | overall: 3.75
On tap. Tan head. Black in color.
Roasted malts, molasses, caramel, toffee and chocolate. Dark fruits. Cherries. Light tobacco.
Medium to full bodied. Roasty and creamy.
Solid Baltic porter from a local brewery.
214 characters

3.97
/5
rDev
+1%
look: 4.25 | smell: 3.5 | taste: 4.25 | feel: 3.75 | overall: 4
A pitch black porter from an undated bomber. Nice head which calms down and sticks around. Light aroma of roasted grain. Very nice....a shade less than dry but not sweet. Pleasant depth of tastes, rich roasted malt, dark chocolate and anise notes with the bitterness (35 IBU) coming in later. Light carbonation and not heavy on the tongue. As it warms, expect flavors of pumpernickel and roasted nuts. I'll seek this one out for those long winter nights up here on the tundra. Recommended for those who can get their hands on one.
537 characters
3.64
/5
rDev
-7.4%
look: 3.75 | smell: 3.5 | taste: 3.75 | feel: 3.75 | overall: 3.5
Bauhaus Brewlabs Jingle Fever. 8% Alcohol by Volume. 35 IBU. 22 fluid ounces. Baltic Porter. Limited Release. Bomber for $7.50 at Lake Wine & Spirits. So glad to find a bomber for under $10.
Appearance: dark brown, with bright shining crimson highlights peeking through, slim brown head.
Aroma: Earthy, malty, lightly spicy.
Taste: Got to tell ya, parts one and two didn't thrill me. Part three, once it's in the mouth, it's a wonderful thing. Delicious. Sweet, sweet dark malt. Caramel and toffee. Gingerbread. Toasty and tasty. Medium-bodied, long, sweetish finish. Low bitterness, just enough for balance.
I wonder what the label can tell us? Got to get the glasses out…"Smooth & silky." "A toast to all that's good in life!" "Gemutlichkeit!" "When the fluffy white stuff starts falling, this Baltic Porter is all you need to get into the holiday spirit. Jingle Fever has a rich, complex blend of malt flavors expressing caramel and dried fruit with an oh-so-smooth roasty finish. One sip will have you coming back for more."
Great to see another Baltic Porter being locally brewed. I hate to disappoint them, but this brew won't achieve it's goal of giving me "jingle fever." That's never been my style. It is a hearty remedy for wintry maladies, though.
1,265 characters

3.36
/5
rDev
-14.5%
look: 3 | smell: 4.5 | taste: 3 | feel: 3 | overall: 3
I am hearing good things about this brewery (& about that Napoleon Dynamite movie too, so obviously the masses know shit – that was beyond awful) so figured I ought to take a gander. 22 oz. bottle complete with a side of Commodore 64 inspired graphics split with my wife.
The pour is black, or close enough to make no mind, carbonation is minimal. The nose makes me sit up & pull on my big boy pants: decadently rich chocolate, caramel, fall maple syrup with a little brown sugar sprinkled on top. Damn!
Jingle Fever peaks sharply with the nose (my friends used to say that about one of my girlfriends back in the summer of '88) and the taste can't back up that promise. My first impression is one of clashing colors: the sharpness of the yeast & bitterness of the chocolate give me a good eight or nine minutes of confused face. Behind the melee is a 35 waist smokiness, roast that sets a different set of teeth on edge, subtle sweetness. A bit thin, & I'm glad my wife is on hand to pick up half of this one. To be fair, she's enjoying it quite a bit more.
Overall this one just doesn't gel for me. The kick-ass nose descended into a mosh pit of clashing flavors that caused a semi-permanent furrow in my brow. Not bad, but this one either needs more time, less time, or a different recipe. I'm not sure which, & not curious enough to ever find out. Mediocre describes but doesn't encompass this one.
1,424 characters

4.35
/5
rDev
+10.7%
look: 3.75 | smell: 4.25 | taste: 4.5 | feel: 4.5 | overall: 4.25
Tasted 23 December 2014.
Pours deep brown, mostly clear but dark enough that little light gets through. One finger of medium brownish-tan head, good retention, okay lacing.
Smell is super rich and mildly sweet. Has a fruity fullness that reminds me of pumpkin. Also some brown sugar, a little almost-charred roast. Complex and inviting.
Taste is a lot like the smell. It's still got that pumpkin-like squashy juiciness, and it's still got the brown sugar sweetness. In the taste, those two elements blend together perfectly, with the darker roast just providing a bit of a sharp-edged complement. Excellent.
Feel is impressive. It's much fuller than I expected, almost like it's got lactose or oats in it. Fluffy carbonation that swells up like a wave of foam.
I really like this beer. It's very much on the sweet side, but there's enough variety to keep me interested. Tasty stuff.
887 characters

3.76
/5
rDev
-4.3%
look: 4.25 | smell: 3.75 | taste: 3.75 | feel: 3.5 | overall: 3.75
Appearance: Dark brown with ruby highlights, good head.
Smell: Sweet, roasty, black olives.
Taste: Starts sweet, then the roasted malt takes over. Some coffee flavor with sugar. Light feel for a big porter.
Overall: Picked up a bottle from this local. It's a pretty good beer, feels a little more like a standard porter than an amped-up baltic, but is tasty and seems to be well made. Worth a try.
408 characters
4.05
/5
rDev
+3.1%
look: 4 | smell: 4 | taste: 4 | feel: 4 | overall: 4.25
Poured from a 22 oz. bottle into a chalice.
Appearance: Pours a dark blackish brown with a hint of amber. Lots of bubbles and a slight tan head that quickly fades away.
Smell: A roasty and fairly sweet dark malt forward aroma with hints of chocolate, toast, and caramel. Dark roasted barley malt with hints of dark chocolate, slight coffee, toast, biscuit, caramel, yeast, and slight smoke. Sweet hints of brown sugar and cream. Hops are very light. A pretty laid back aroma for a big Porter but what's there smells good.
Taste: Like it smells, a laid back but nice taste of dark chocolate malt and caramel. Dark roasted barley malt with notes of dark chocolate, coffee, biscuit, toast, caramel, smoke, and yeast. Some sweet notes of brown sugar, milk, and cream. Can't really detect any hops. Again the roasty flavors are subtle but taste good. Kind of tastes like a milk/cream stout.
Mouthfeel: Medium bodied with a carbonation level on the heavier side of medium. Very silky and smooth. Thin for an 8% brew but the alcohol isn't really noticeable.
Overall: A nice dark brew but kind of underwhelming as a bigger Baltic Porter. The dark roast flavors are surprisingly subtle but what's there is good. You would have no idea it's an 8% Baltic Porter without the label. As a lighter porter its pretty nice and smooth.
1,337 characters
Winterloper Baltic Porter from Bauhaus Brew Labs
Beer rating:
88
out of
100
with
56
ratings