Old Ale
| Highgate Brewery Ltd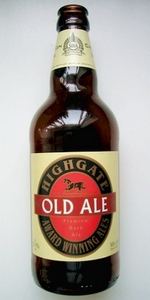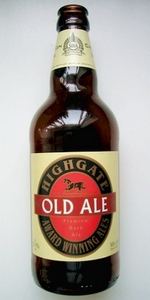 BEER INFO
Brewed by:
Highgate Brewery Ltd
England
,
United Kingdom
highgatebrewery.com
Style:
Old Ale
Alcohol by volume (ABV):
5.10%
Availability:
Year-round
Notes / Commercial Description:
No notes at this time.
Added by BeerAdvocate on 11-19-2003
HISTOGRAM
Ratings: 8 | Reviews: 7
Reviews by GreenCard:
3.88
/5
rDev
-2%
look: 4 | smell: 3.5 | taste: 4 | feel: 4 | overall: 4
Appearance: dark mahogany, good clarity, opaque, thick layer of tan creamy foam, great head retention
Aroma: malt loaf, prunes, cola, fresh cream
Flavor: rich maltiness with hints of leather, roast, burnt caramel, pipe tobacco, and herbal hop flavor; finishes semisweet with a smooth aftertaste
Mouthfeel: medium body, pert carbonation, soft texture
Other comments: A pretty tasty ales, perfect for a cold, rainy afternoon in England.
438 characters
More User Reviews:
3.88
/5
rDev
-2%
look: 4 | smell: 3.5 | taste: 4 | feel: 4 | overall: 4
Dark 'mild' style beer but with higher alcohol content, so leaning towards a porter style of beer. Rich malty aroma matched by the taste, which also hints at burnt caramel and slight bitterness of hops, though not as heavily textured as some old ales. Reasonable body, not too heavy, so makes it relatively easy to drink. One for the colder months! Not tried in the bottle, but cask conditioned is very nice.
John W
Bham UK Dec 2005
438 characters
3.91
/5
rDev
-1.3%
look: 4.5 | smell: 3.5 | taste: 4 | feel: 4 | overall: 4
I enjoyed this bottle, poured into a Gordon's Thistle glass (twice because of the bottle size). It looked great, dark, very dark brown, with a thick light brown foaming head. Sadly the head shrank away very swiftly.
Burnt caramel and chocolate aroma, which carried on into the taste and mouthfeel. Tasted just like a good quality, strong brown ale, but without the sweetness often found in browns.
At £1.09 for the 500ml bottle, it is well worth seeking out.
465 characters
3.78
/5
rDev
-4.5%
look: 4.5 | smell: 4 | taste: 3.5 | feel: 3.5 | overall: 4
A - Dark mahogany or cola black/brown color. Large, thick creamy and frothy beige head. Good retention and a thick, creamy lacing left over.
S - Full of roasted caramel malt and dark fruit (date, prune, raisin). A bit more in the background there is some burnt brown sugar and some roasted earthy smells. Just a hint of chocolate and coffee, but not much. Overall it has a nice roasted smell that combines with a bit of tart and earthy aromas.
T - Pretty close to the aroma. The very first thing that I got when it touched my tongue was the dark fruit. This quickly gave way to the roasted caramel malt along with a touch of toasted bread taste. Mid sip, more of the chocolate and coffee flavors come out along with a slight tobacco smokiness. Toward the finish some toasted nutty and other earthy flavors comes out more providing a bit more bitterness. Then the dark fruit makes one last push to linger a bit after the sip. Just a slightly bitter tasting beer with a bit of tart taste. All this is a bit thin though.
M - On the lighter side of medium body with above average carbonation. Fairly smooth but a little too light and watery for the flavors.
D - Easy to drink beer with some nice flavors that don't overpower your palate. Nice session like beer that provides some darker (roasted, etc.) flavors.
Notes: ABV = 5.3%. This was a nice easy to drink beer that was quite enjoyable. The taste for me was a little lighter than I wanted but for a lower ABV it was nice. Really it fell somewhere between 3.5 and 4. An enjoyable beer. It's not really unique or mind blowing, but a solid easy to drink offering. Definitely worth a try if you see it around.
1,662 characters

4.2
/5
rDev
+6.1%
look: 4 | smell: 4 | taste: 4.5 | feel: 4 | overall: 4
500ml bottle bought from The Vintage, Antrim...
Poured a deep dark mahogany brown colour... creamy mocha head poured small but tight, thick and foamy then faded fairly quickly to patchy covering with thick edging... some light strands of lacing...
Aroma - Lots of rich toasted toffee and caramel maltiness mixed with dark fruits (dates, prunes, fig and raisins), toasted bready (mainly fruit loaf) malts, burnt sugar, leathery, nutmeg, sweet toasted nuttiness, light citrus, dark chocolate, faint trace of (cigar?) smoke..
Taste... Treacle and dark fruits (strong raisin notes), some light smokiness comes through, light sourness, toasted bready malts, faint liquorice, vinous fruit, light grassy hop btterness, some toffee apple...
Feel - Fairly smooth with a little sharpness underneath... medium bodied... Drinkability is very good - a sessionable old ale ?
Overall - An excellent (and very drinkable) Old Ale... definitely recommended...
947 characters
4.22
/5
rDev
+6.6%
look: 4 | smell: 4.5 | taste: 4 | feel: 4 | overall: 4.5
I recieved this as a gift from a friend in the UK. I was plesently surprised by this beer. It poured well into the glass, leaving a slightly smaller head for the style, but was pleased by it's rich, dark copper color and slightly fruity, malty nose. The taste is very well balanced for the style, I enjoyed the noticable malt flavor with a light touch of kent goldings(?) hops. Great mouthfeel and pleasent aftertaste.
I wish this beer was imported in the States, it would easily become a favorite!
501 characters
3.85
/5
rDev
-2.8%
look: 4 | smell: 4 | taste: 4 | feel: 3.5 | overall: 3.5
Revisited, this time the alc. strength is 5.3%abv.; BB 06/2009, served cool in a straight imperial pint glass. The neck of the bottle bears a mark "SIBA National Champion 2004".
A: pours an ultra-elegant dark brown hue with mahogany glows when seen against light; the dark beige frothy head retains the 1.5cm thickness well, leaving even sheets of lacing.
S: predominantly fruity-malty on the nose, featuring black prunes/raisins and semi-sweet brown-sugary malts; a swirl brings out a fine aroma of hops and nutty hints of brown malts, laced by a light tinge of stale-ale-like winey sourness. Understated but very nice for an old ale.
T: as soon as the initial spritzy swallow settles, the fruity elements expand with plentiful dark stone-fruits, underlined by lightly roasty hints of dark malts, spicy-earthy bitterness of English hops, and a semi-sticky palate of rich malt-sugary and jammy elements; gradually and seamlessly turning rather dry (dry-hopped like) in the aftertaste, but always intertwined with a lingering nutty aroma from malts and a mysterious sourness (maybe) an aged ale comes naturally with. Rounded and well balanced finish.
M&D: slightly hyper/sharp on the carbonation which is a level too much for my palate (gave it 30 minutes and all was then fine) and also for the quiet flavour profile - does it have the cask-conditioned version, btw? Three years since the last encounter, the label has changed, the alc. level has been tuned up a bit, but the overall impression remains the same. This is a medium-bodied, solid old ale designed for drinkers that can "tolerat"e the balance of a beer~~
* Tasting Date: 05/07/06
500ml brown bottle presentation, filtered (+pasteurised?). BB May 2007, served cool in a straight imperial-pint glass.
4.5 A: pours a mahogany hue with bright ruby hints when seen against light; the beer head gradually builds up to a 2cm thick and pretty beige froth, then settling at a slow pace to a very thin layer of foam that sustains throughout the drink; lively carbonation.
4 S: a intense note of black plum-preserve, dried black dates, treacles, and lightly-burned brown-sugar forms the core, wrapped by a coating of floating but thick, sour-sweet fruity note and a much milder hay-ish hoppyness; the stale aroma of aged ale comes quite mild actually, as compared with other stronger old ales.
3.5 T: a semi-rich dark-fruity and sweet-ish dark malty flavour prevails upfront, mixed with a mild tinge of medium-sweet dark chocolates; smoothly proceeding to a thin-ish, sour-sweet raisiny and slightly dryish-sweet aftertaste of licorice-syrup, while a mildly roasty edge of black malts as well as a brown-sugary flavour linger for a short while at the rear of the tongue.
3 M&3.5 D: surprisingly light in texture, the body sort-of "disintegrates" not long before the palate climbs over the mid-point and becomes somewhat thin in the end... I'm not sure whether a thicker body should be expected of an old ale, but this filtered bottle might well have be taken of its soul through the bottling process. I could be wrong, or biased. But the flavour has shown some promises for a good ale, which is why I'm determined to try its cask-version next time I see it, maybe luckily this coming winter~~
3,249 characters
Old Ale from Highgate Brewery Ltd
Beer rating:
3.96
out of
5
with
8
ratings