Wheat King Ale
| Baird Brewing Company / Fishmarket Taproom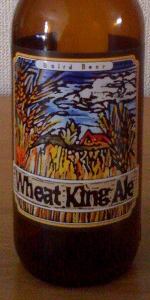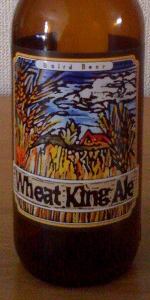 BEER INFO
Brewed by:
Baird Brewing Company / Fishmarket Taproom
Japan
bairdbeer.com
Style:
American Pale Wheat Ale
Alcohol by volume (ABV):
4.80%
Availability:
Summer
Notes / Commercial Description:
Brewer's Notes: The wheat beer world, stylistically, is both broad and deep. Most familiar to the Japan beer enthusiast, perhaps, are German-style Weiss beers and Belgian-style Wit beers. While both of these types are wheat based, their signature flavor characteristics stem from special yeast selection. Baird Wheat King Ale is neither a Weiss nor a Wit; rather, it could best be categorized as an American-style Wheat Ale. The yeast used is our standard house ale yeast, making the fermentation clean and neutral and leaving the spotlight to shine on the flavor contributions of wheat.
Added by UncleJimbo on 03-01-2005
HISTOGRAM
Ratings: 10 | Reviews: 5


3.63
/5
rDev
+11%
look: 4 | smell: 3.5 | taste: 3.5 | feel: 3.5 | overall: 4
360ml bottle, 4% ABV, discerned from the few Latin characters on the base label. Gots to dig up that old Tragically Hip tune to go with this, maybe. Or maybe not.
This beer pours a cloudy medium golden straw hue, with two fingers of puffy, foamy, bubbly off-white head, which leaves a roiling seascape of lace around the glass as it evenly subsides.
It smells of grainy, somewhat sweet wheat malt, mild lemon pepper, and leafy, musty hops. The taste is edgy, grainy wheat, more back 40 than breakfast bowl, lemon rind, a muddled savoury spiciness, and earthy, fruity hops.
The carbonation is present, accounted for, and easily dismissed for just capably doing its job, the body medium-light in weight, and smooth in a slightly tacky, low grade sense. It finishes just off-dry, the sweetness of the wheat mostly burnt off, as the subtly tangy spice notes and lingering hops tug away.
An agreeable wheat ale, from a brewery, nay, a nation (sorry?) that has previously left me with the blahs, especially in this style. This, this I could have at least a few of, as the beguiling (read: hard to figure out) spice and stolid hops go far in finally pulling me into the fold. Kanpai!
1,180 characters
2.63
/5
rDev
-19.6%
look: 3.5 | smell: 3 | taste: 2.5 | feel: 2 | overall: 2.5
On tap at the new-ish Baird Nakameguro taproom
A - Sort of a cloudy honey lemonade color. Very very little head, some lacing very little carbonation
S - Initial yeast, wheat, sweet smells. Like a plain un-glazed donut. Later smells even more borring. Weak, a tiny bit of sweet malt residue smell
T - Beginning flavors were a so-so mild yeast and wheat malt taste that weren't that impressive. After taste was a strong hop sting plus a sour lemon yeast taste.
M - Watery, low body, a bit of mouth froth.
D - The yeast hop flavor is dominate. I need some more body and some more malt to get into this beer. Balance seemed off.
The brewer's notes are accurate: "Baird Wheat King Ale is neither a Weiss nor a Wit; rather, it could best be categorized as an American-style Wheat Ale." But this compromise leaves it disappointing as both styles
844 characters
3.41
/5
rDev
+4.3%
look: 4 | smell: 3 | taste: 3.5 | feel: 3.5 | overall: 3.5
Wheat King Ale
Appearance:Poured from glass bottle into pint glass. Poured a large head which fell quickly into a small foam layer. The cloudiness turns it into about a 12 SRM. Looks quite appetising.
Smell: Got a sweet aroma off the big head, but now that that has dissipated, not that much except a slighly sweet aroma of the wheat malts.
Taste: The dominating characteristic in the first few sips was the hops. The malted wheat was very much a background taste. After a few sips though the sweetness of the wheat comes through a little more. As advertises there is also a bit of sourness to the taste. I can taste the malts a little in the finish but the hops come through fairly strong.
Mouthfeel: Tastes very light, not much carbonation or alcohol so no bite. Not watery but super smooth.
Drinkability: A decent beer. I think I would be looking for a little more complexity if I was in the mood, but for a summer day, as a nice light beer would be quite nice.
969 characters
3
/5
rDev
-8.3%
look: 3 | smell: 3 | taste: 3 | feel: 3 | overall: 3
Hazy lager colored ale with lots of rough head.
Restrained wheat aroma, the faintest hint of bubble gum.
Definately a west coast wheat and a very average one. Flavor is mostly malt, and not wheat, and it is pretty assertively hopped, even for an american style wheat.
Lagery mouth feel
I love the baird brewery, but this offering doesnt do it for me.
354 characters
3.06
/5
rDev
-6.4%
look: 4 | smell: 3 | taste: 3 | feel: 3 | overall: 3
On tap at Beer Club Popeye in Ryogoku, Tokyo.
Probably the beer I least enjoyed on this night at Popeye's. Decent colouring, but very little flavour, almost no detectable wheat presence, and boring flavour otherwise. Reminds me a lot of the macrobrewery 'wheat ales' in the US and Canada... nice idea, but generally poorly executed.
335 characters
Wheat King Ale from Baird Brewing Company / Fishmarket Taproom
Beer rating:
3.27
out of
5
with
10
ratings