Ganko Oyaji Barley Wine 2012
| Baird Brewing Company / Fishmarket Taproom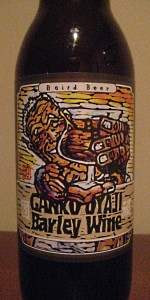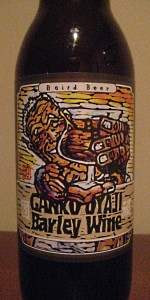 BEER INFO
Brewed by:
Baird Brewing Company / Fishmarket Taproom
Japan
bairdbeer.com
Style:
American Barleywine
Alcohol by volume (ABV):
10.50%
Availability:
Winter
Notes / Commercial Description:
"Brewed and packaged back in June 2011, Ganko Oyaji 2012 sports the same grist bill as previous versions, consisting of floor-malted Maris Otter and Bohemian Pils, as well as British crystal malt and 10% Japanese red (akato) sugar. Once again we increased our hop bittering slightly (up to 80 IBU from last year's 75) and we changed our blend of hops, this year including Magnum, Galena, Nugget, Glacier and Santiam. Most importantly, though, we returned to full fermentation (primary and secondary) with our house Scottish ale yeast strain while also increasing the attenuative potential of our wort by both lowering mash temperature and lengthening mash duration. The result is a more highly attenuated, drier and stronger finished beer. Ganko Oyaji is an ideal after-dinner or before-bed restorative; it might even be delicious at breakfast too! It promises to condition nicely for months and years to come."
Added by UncleJimbo on 02-01-2012
HISTOGRAM
Ratings: 12 | Reviews: 3

3.53
/5
rDev
-8.8%
look: 3.5 | smell: 3.5 | taste: 3.5 | feel: 3.75 | overall: 3.5
3.44
/5
rDev
-11.1%
look: 3.75 | smell: 3.5 | taste: 3.5 | feel: 3.25 | overall: 3.25
4
/5
rDev
+3.4%
look: 4 | smell: 4 | taste: 4 | feel: 4 | overall: 4
3.5
/5
rDev
-9.6%
look: 3.5 | smell: 3.5 | taste: 3.5 | feel: 3.5 | overall: 3.5

3.5
/5
rDev
-9.6%
look: 3.5 | smell: 3.5 | taste: 3.5 | feel: 3.5 | overall: 3.5
3.89
/5
rDev
+0.5%
look: 3.75 | smell: 4 | taste: 3.75 | feel: 4 | overall: 4
330ml bottle, no vintage date on this one, but it was packaged on November 8, 2014. Apparently the name means 'Stubborn Old Man' - yeah, I can grok that.
This beer pours a cloudy, murky dark brownish-orange colour, with a thin cap of wispy and bubbly dirty white head, which leaves a few examples of ocean spray snapshot lace around the glass as things slowly abate.
It smells of musty caramel malt, butter toffee, aged sugary rum, faint earthy spices, overripe black orchard fruit, and soft leafy, weedy hops. The taste is bready caramel malt, weird dusty toffee candy, buttered popcorn, subtle savoury spice, muted dark raisins and prunes, demarara sugar, and a gently burbling, but hardly close to boiling over alcohol warming.
The bubbles are quite low-fi in their plainly supportive and barely tickling frothiness, the body a solid medium weight, and mostly smooth, a small creaminess wading its way through the still very gentlemanly booziness. It finishes sweet, but moderated just enough to keep me from scraping my tongue with my finger.
Yup, no way in hell that this is an American-style barleywine, at least not anymore. It's got many of the hallmarks of the old-world English style, ones that I don't need to re-iterate here, and it just simply isn't hoppy, which should be the death knell of calling it the former. Ok, that said, I've scored this as the British version, and by the by, it does fairly well by that metric - especially that sneaky, hard to pin-down ABV.
1,490 characters

3.5
/5
rDev
-9.6%
look: 3.5 | smell: 3.5 | taste: 3.5 | feel: 3.5 | overall: 3.5
4.27
/5
rDev
+10.3%
look: 4.5 | smell: 4.25 | taste: 4.25 | feel: 4.25 | overall: 4.25

4.02
/5
rDev
+3.9%
look: 4.25 | smell: 4 | taste: 4 | feel: 4 | overall: 4
I've been sitting on this bottle for ages, for some reason, and never really thought of a reason to crack it. So I cracked it tonight for no reason whatsoever. 633ml tall bottle purchased from Slowbeer.
Pours a fine but heavy reddish amber hue, with a very solid hazing. Head forms a smattering of tessellated large bubbles across the top of the glass, leaving a sheen of yellow-white. Minimal lacing apart from the specks of a few of those broken bubbles. Carbonation is wonderful: blissfully fine and powdery, and the body is thick enough to make it near-static on tilting. Overall, it looks very good.
Nose is spicy and boozy almost from the very start. Rich, rummy sugar notes, with a heady waft of vaporous alcohol. Slight corky hints of oxidation, but only mild, and oddly suited to this style of beer. Fruity notes evolve from the booze: raisins and currants come to mind, along with a prickly cherry astringency. Overall, it's very potent but quite good.
Taste is less immediately sharp and boozy: instead, there's a tempered sweetness which coats the tongue, allowing the spicy, volatile components to warm and evanesce until you're practically smelling them anyway. More rum-like booze, sweeter notes of the sultana fruitiness, and a warming finish like cognac. Hops are probably there, adding their own subtleties to the spice, but this is more about body and booze than anything else.
Feel is smooth and silky, and perhaps not as chewy as I expected. This has a lightness to it despite its depth.
It's interesting to see a brewer play with some of the lesser-appreciated aspects of the beer flavour spectrum—here is a noticeably boozetacular barleywine that still manages to stay remarkably balanced and approachable.
1,736 characters
4.23
/5
rDev
+9.3%
look: 4 | smell: 3.5 | taste: 4.5 | feel: 4.5 | overall: 4.5
I have tried this at both Nakameguro and Baschamichi Taprooms, (and have drank bottled as well).Color is cloudy amber to amber, depending upon where in the keg it is taped from??? Though the alcohol percentage is high, the notes and initial taste are refreshing without being too young, after which, the complexity of the brew shines through. This is the best Baird Beer I've tried, and I've tried many. I'm looking forward to next year when they open the bigger brewery.
I love Barley Wines, in Japan most are WAY too young, this is different! すげい!すごく おいしいかた!今飲む だから うれしい!
624 characters
Ganko Oyaji Barley Wine 2012 from Baird Brewing Company / Fishmarket Taproom
Beer rating:
3.87
out of
5
with
12
ratings