Bosun's Black Porter
| Maritime Pacific Brewing Company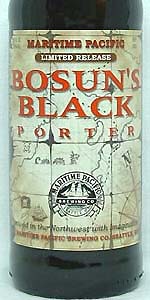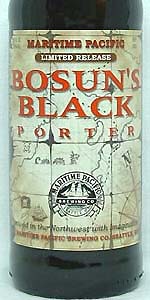 BEER INFO
Brewed by:
Maritime Pacific Brewing Company
Washington
,
United States
maritimebrewery.com
Style:
American Porter
Alcohol by volume (ABV):
5.20%
Availability:
Year-round
Notes / Commercial Description:
No notes at this time.
Added by BeerAdvocate on 05-26-2003
HISTOGRAM
Ratings: 11 | Reviews: 7
Reviews by BillyB:
3.7
/5
rDev
-3.6%
look: 3.5 | smell: 3.5 | taste: 4 | feel: 3.5 | overall: 3.5
Tried this one on tap at Floyd's in the Queen Anne section of Seattle.
Pours a dark brown, almost black color with a thick two fingered beige head.
Aromas of dark, sweet chocolate, roasted coffee, licorice and some toffee.
The taste is a bit on the sweet side from the chocolate malt but I believe the chocolate also accounts for the slight bitterness. A bit sweet for a porter (stylistically speaking) but pleasant nonetheless. Chocolate, toffee and coffee are the predominant tastes. Maybe a bit of brown sugar.
The sweetness didn't really bother me. I guess it depends on the mood I'm in but I had no problem downing three of these at the bar.
The sweetness didn't really bother me.
700 characters
More User Reviews:

3.77
/5
rDev
-1.8%
look: 4.5 | smell: 3.75 | taste: 3.75 | feel: 3.5 | overall: 3.75
Serving on tap at the Pine Box. This version is randalled with Bing cherries and oak. That makes it different from the base beer, but it doesn't seem worth making a whole new listing for the variant.
The beer pours very dark, with a big foamy tan head, and lacing that lasts and lasts. The smell is typical roasted malts, together with a bit of cherry. The cherry is more noticeable in the taste, where there also is some cocoa.
The one negative for me in this beer is that it is surprisingly thin, almost watery. This affects the mouthfeel, of course, but also the taste, quite a bit. Too bad, because otherwise it's got a lot of merit.
648 characters

3.64
/5
rDev
-5.2%
look: 3.5 | smell: 3.75 | taste: 3.75 | feel: 3.25 | overall: 3.5

3.83
/5
rDev
-0.3%
look: 4.5 | smell: 4 | taste: 4 | feel: 3 | overall: 3.5
Pint had at The Elk in Spokane for $3.75, amid many carbo-loading Bloomies. Bet they didn't sell many Ultras tonight.
Poured a very dark brown with a big tan head that left lots of lace.
Smell is of roast coffee and dark chocolate.
Taste is similar to the smell, but with an odd brown sugar-like sweetness. It didn't make the beer unpleasant to drink, it was just odd for a porter. Anyone afraid of a dark beer might find this an easy introduction to porters.
Mouthfeel was rather thin for a porter. It struck me as more akin to what I'd expect from a dark lager. I'd prefer a little more thickness in a porter.
While I didn't mind drinking a pint of this, and could easily have had another, I think the sweetness would have gotten a little annoying after that. Another basically good but uneven beer from
Maritime Pacific.
839 characters
3.88
/5
rDev
+1%
look: 4 | smell: 3.5 | taste: 4 | feel: 4 | overall: 4
I had this at a Restauraunt in the Seattle area. The beer pours a good dark color. A fair, tan colored head. The aroma is fairly typical of a porter. There is some coffee, chocolate and roastiness to it. The taste is on the same lines of roastiness and chocolate. There is a bit of sweetness to it. A bit of bitterness in the after-taste. Overall, a decent brew!
362 characters


4.27
/5
rDev
+11.2%
look: 4 | smell: 4.5 | taste: 4 | feel: 4.5 | overall: 4.5
Had this on cask at Brouwers in Seattle while I was visiting this past weekend. I hadn't heard of it before but it was a cask porter so I had to give it a try.
Nice typical porter appearance, black in color with deep garnet showing through around the edges when held up to the light. It had a nice finger of creamy tan head.
Great aroma on this beer, it begs you to inhale deeply every time you bring the glass up for a drink. Big chocolate and roasted malt aromas, with a hint of coffee like bitterness and a hint of dark fruits. Not a huge amount of depth but the aroma is just so good that it scores extra points there.
The taste doesn't disappoint either, though its not quite as robust as the aroma. There are many similarities to the aroma here with a big wall of dark chocolate and roasted malts, with a hint of sweetened blackberries in the center, and a nice bitter and slightly dry coffee finish. Like the aroma, the depth on this beer isn't huge but its very well balanced and extremely tasty.
Being from a cask, the mouth feel on this pint was amazing, super creamy and smooth but not cloying at all. The drinkability was also superb, especially for a porter and I could have easily downed several pints with ease. I'd definitely have this beer again.
1,277 characters
4
/5
rDev
+4.2%
look: 4 | smell: 4 | taste: 4 | feel: 4 | overall: 4
A: Poured a dark brown with plenty of tannish bubbles
S: Roasted notes, coffee, cocoa, some wood
T: Taste follows nose pretty closely. Cocoa, roasted malt, coffee, some vanila and wood at times. Lots of flavor for such a low ABV beer
M: Thinner at times but it kept a good rpesence on the palate when it came to taste and holding on.
D: Good
345 characters
4.17
/5
rDev
+8.6%
look: 4 | smell: 4.5 | taste: 4 | feel: 4.5 | overall: 4
This was the second time I've tried a cask-conditioned ale at Maritime, and the second time I've been served a short pour. I don't know if this is just my bad luck or whether the servers don't know any better, but cask-conditioning does not excuse a shy pint. The fact that Bosun's Black is an excellent porter is all the more reason to get a full pint of it.
That bountiful sand-colored head came pitted like a lunar landscape with large aerated bubbles resembling ocean surf. But the excessive, rocky suds couldn't inhibit the roasted fragrance, which was impressive in its potency and carried through to the taste. Coffee-mocha flavors were also abundant.
Bosun's is brewed with a small measure of wheat and is listed on the Jolly Roger's menu as offered "when available." The cask-conditioned version has a satin body of defiant black. If you're a pale ale drinker unaccustomed to dark ales with strong flavor, then stay away. But if you're looking for a high-energy porter, you've found it.
1,000 characters
Bosun's Black Porter from Maritime Pacific Brewing Company
Beer rating:
3.84
out of
5
with
11
ratings