Arclight Brewing Company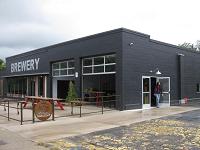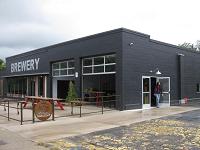 Brewery, Bar, Beer-to-go
544 N Main St
Watervliet
,
Michigan
, 49098-9797
United States
(269) 447-4555 |
map
arclightbrewing.com
Notes:
Penguins66 from Illinois
3.99
/5
rDev
-6.8%
vibe: 4 | quality: 3.75 | service: 4.25 | selection: 4
A nice, unpretentious, tap room with a warehouse vibe, very long bar, long tables, and one of the biggest ceiling fans you will ever see. My wife and I came to Arclight on a cold and windy Monday afternoon, not long after they had opened. We each tried 2 beers, all of which were good. The real standout, in our opinion, was the strawberry rhubarb sour. It had just the right balance of sour and sweet, with a fairly intense strawberry flavor. The only real disappointment was the nonalcoholic root beer, which had way too much vanilla flavor.
Prices were very reasonable and the lone bartender was pleasant and fairly chatty. They do not serve any food beyond various snacks but you are free to bring your own.
We plan to make this a regular stop during our annual tours of Michigan breweries.
Nov 04, 2017

Dactrius from Wisconsin
3.96
/5
rDev
-7.5%
vibe: 3 | quality: 4.25 | service: 3.5 | selection: 4.5
I showed up during off hours which probably contributed to the weird vibe. Nice big space but a bit odd when it's just you and a couple employees, one of which is standing in front of you looking at his phone most of the time instead of making any attempt to be friendly/improve his tip.
That said, they make tasty beer and had a good variety on tap including an impressive Flanders Red for a relatively new brewery. I wish they did flights or pours smaller than 6oz though.
Feb 02, 2017

JasonR1975 from Michigan
4.45
/5
rDev
+4%
vibe: 4 | quality: 4.75 | service: 4.5 | selection: 4.25
Typical small brewery vibe, video games, board games, etc... Plain tables and bar area with open view to brewhouse. Fantastic beers, particularly the sours. Service was excellent as they handled a rather large bottle release and multiple people asking for pours with ease. More varied than typical draft selection as this brewery handles sours very well. Recommend.
Dec 14, 2016

hardysf from Michigan
4.61
/5
rDev
+7.7%
vibe: 4.25 | quality: 4.5 | service: 4.5 | selection: 5
Stopped in here on a Monday at three oclock, so I couldnt get a real sense of the vibe. Big bar with lot of inside tables for seating. Could hold the entire town of watervilet probably. Lots of different beers on tap and lots of styles. They sell 6 oz pours of everything so I had quite the assortment but was able to safely drive as well. I had pours of the Cherry Kriek, Black Mere through a coffee randall, a pale ale, and a red ipa. everything was good with the Kriek being excellent. I brought home some cans of the citracation and fornication which were also excellent. Bought some bottles of BBA Hail to the darkness but haven't tried yet.
The owner Dave was a nice guy and very personable. WIsh i lived closer as I would be back a lot.
No food other than snacks but they let you bring outside food in.
Jan 16, 2016
Sexton from Michigan
3.7
/5
rDev
-13.6%
vibe: 4.25 | quality: 4.25 | service: 2.5 | selection: 4
The owners were drinking behind the bar and not helping anyone. I sat there waiting to pay my bill while the sat there. I waited for 12 min just to pay and I was the only one trying to pay. The place was slammed and the only help I saw them give was to help themselves to pour another beer for themselves. The bar tenders were trying there best and the beer was good but that rubbed me the wrong way.
Jul 26, 2015

BlackBeerPirate from Illinois
4.22
/5
rDev
-1.4%
vibe: 4 | quality: 4.25 | service: 4.25 | selection: 4.25
Owner was full of good info about how he checks the water for brewing to using good local ingredients. Its was an old garage, but know has lots of character. This stouts were very tasty, the homemade sodas were excellent.
Jul 15, 2015
theautumn from Michigan
5
/5
rDev
+16.8%
This place is awesome. They do not have a kitchen, so they offer local business menus and you can get food delivered to their location. Not only is this brewery adding to the appeal of the town, but it is supporting the businesses that surround it.
I was very impressed with the beer and the overall atmosphere.
My husband and I are already planning a group trip back next month for their newer beer release.
I have NO qualms suggesting this brewery to everyone I know.
Oct 26, 2014

PapaGoose03 from Michigan
4.11
/5
rDev
-4%
vibe: 3.75 | quality: 4 | service: 4 | selection: 4.5
Since my last visit was in Sept, 2014, which was shortly after this brewery opened, I felt a need for a return visit since I've read so much good stuff about the brewery's beers (mostly the sours) in the BA forums. So here's an update:
Wow! Things have changed with their beers, and for the better. They now have a full compliment of standard beers plus some great sours on tap. (14 standards plus 6 sours) Since I had read so much about the sours I ordered a flight of all six. One standard beer caught my eye, a Cherry Wit, so I ordered a small pour of it too. All of the sours were very good, but notable were the Kriek and the Black Raspberry. The peach was close behind. Unfortunately the Cherry Wit was not to my liking because the cherry flavor was not very good, but I can't use one beer to downgrade the other 13 standard beers.
No other changes of significance were noted since my original review below, other than I'll mention that I noticed that a schedule was posted on the wall for food truck visits. It ran from Feb to Nov, 2019, and most weekends were listed. Some days during the week were also scheduled during the summer months. Also, some of the brewery's popular beers are bottled in 22 oz. or 750 ml. formats for to-go sales. Only one sour was available at the time of my visit, and I was told that the popular ones sell out quickly after their release.
***********************************************************************************************
My wife and I stopped at this newly-opened brewery on a Sunday afternoon to try out their beers. The brewery just opened in late July, and is located at the north edge of town in a gray-painted concrete block building with two large garage doors on the front that lead to a patio with some tables there. The interior of the building has half of the space as the tap room, and a divider wall with a full row of windows that allows a view of the brewing equipment in the other side of the building. A long bar that is made from concrete is situated in front of these windows.
There were 6 beers on tap, plus two other taps/beers that were sold out. There was also a Kombucha drink (0.5 ABV) along with three flavors of Shandy. The brewery does not offer a sampler flight of the beers (free tastes are available), but has 6-, 10- and 14-ounce pours for most of them, plus a 20-ounce serving for the Blonde Ale (5.4% ABV). We wanted to try as many beers as possible so we ordered a 6-oz. pour of 4 of the beers. Each of them was brewed right to style, and two of them scored a B- in our grading system. The other two were a C grade. (One of them was a Snicker Doodle Porter that smelled and tasted pretty much like a Snicker Doodle cookie like it was listed on the beer menu, so we gave it a C grade because of it hitting its descriptive target, although we didn't really enjoy those flavors in a beer.)
There is no food served here, but some salty snacks are available. There were also some fresh-baked cupcakes for sale. The place is food friendly.
It's kind of amazing that a brewery would open in this very small community, but the beers are good, so I hope the key drawing card is there to keep the customers coming. The brewery is only a mile or so off of the interstate, and it is well worth the time to visit. I think the potential is there, so we'll come back again when we travel through this area. (There were also 4 former bourbon barrels from Heaven Hill sitting in the taproom, and they had airlocks in the bungs, so presumably something BBA is going to show up on the beer menu in the near future.
Sep 22, 2014
Arclight Brewing Company in Watervliet, MI
Brewery rating:
4.26
out of
5
with
288
ratings