Dismiss Notice
Dismiss Notice
Kuchlbauer Alte Liebe Dunkle Weisse
| Weissbierbrauerei Kuchlbauer
BA SCORE
80
good
13
Reviews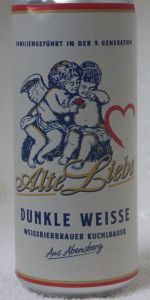 BEER INFO
Brewed by:
Weissbierbrauerei Kuchlbauer
Germany
|
website
Style:
Dunkelweizen
Alcohol by volume (ABV):
5.20%
Availability:
Year-round
Notes / Commercial Description:
No notes at this time.
Added by BeerAdvocate on 03-11-2003
Reviews: 13 | Ratings: 21

3.83
/5
rDev
+13.6%
look: 4.25 | smell: 3.75 | taste: 3.75 | feel: 3.75 | overall: 4
Slightly disappointed According beer, expecting more, bland taste and smell, are lacking in saturation, the only thing which is nice, it's color, but I think this little, apparently to look better than it actually is
★
216 characters
3.52
/5
rDev
+4.5%
look: 4 | smell: 3.25 | taste: 3.5 | feel: 3.5 | overall: 3.75
Bought in Bad Aibling. Poured into Weiss glass.
Look: Copper with nice, thick and foamy head.
Smell: Typical Dunkelweizen. Nothing great or special.
Taste: Good and malty.
Feel: Very smooth.
Overall: Not bad. Probably not my favorite, but a decent example of the style.
★
269 characters
3.62
/5
rDev
+7.4%
look: 3.75 | smell: 3.5 | taste: 3.75 | feel: 3.5 | overall: 3.5
Amber-reddish colour, dark red to the light, big head that last all the beer, with a good lace. Smell of cloves, bananas, roasted notes, spices. Body is a bit laight, even watery,, good carbonation. TAste of cloves, bananas, fruits, spices, hints of vinegar. Good.
★
264 characters

3.33
/5
rDev
-1.2%
look: 3.5 | smell: 3.5 | taste: 3.25 | feel: 3.25 | overall: 3.25
Picked this up at a great beer shop in Darmstadt, Germany, Maruhn Welt der Getränke. Cloudy amber-mahogany pour with a two finger beige head with decent retention and lacing. The nose is malt forward with hints of caramel, clove, brown sugar, and a distinct sourness emerged as it warmed. The taste is malty as well with hints of copper pennies, clove, caramel, subtle cocoa, and a touch of balsamic vinegar and sour cherries. The mouthfeel is a bit thin for the style with medium carbonation and a somewhat sour finish. Overall, the sourness was a bit unusual for the style and it didn't really stand out.
★
612 characters

3.47
/5
rDev
+3%
look: 3.5 | smell: 3.25 | taste: 3.5 | feel: 3.75 | overall: 3.5
500 ml bottle poured into a Weizen glass
Appearance... black beer with head colour beige of 2 fingers
Aroma... yeast and malt. Fresh and not too strong smell
Taste... malty, then a touch of vinegar who lasts ,
Mouthfeel... medium body and medium/soft carbonation
Overall... a decent dunkel-weissbier, bitterness is present in a light style, refreshing too.
★
358 characters
3.06
/5
rDev
-9.2%
look: 2.75 | smell: 3 | taste: 3.25 | feel: 2.75 | overall: 3
Some chocolate in the aroma, pours dark brown, but was noticing a lack of thick head. Roast grains and more chocolate in the flavor, then some metallic tinge in the aftertaste. Mouth feel also seems a little watery for what should be a heavier beer. Right in the middle of the pack...
★
284 characters
3.03
/5
rDev
-10.1%
look: 3.5 | smell: 3 | taste: 3 | feel: 3 | overall: 3
This beer pours with almost no head but little bit is does have has a lot of staying power. The body is a light brown with a red hue. The aroma is that of toffee and banana. The taste is about the same toffee tone with some banana and clove. It is about an average beer all around. There is quite of bit of carbonation to the medium body.
★
338 characters
3
/5
rDev
-11%
look: 3 | smell: 3 | taste: 3 | feel: 3 | overall: 3
No BB date indication but brought home directly from Germany therefore supposedly fresh. Pour into the tulip creates light-tan head that completely dissipates atop of marooney, hazed body. The nose exhibits Munich malt qualities, clove and malted wheat sweetness. The flavor is on the sweet side, doughy and phenolic (clove) with mild citric tartness towards the finish. Light-medium bodied. Not memorable.
★
406 characters
3.63
/5
rDev
+7.7%
look: 4 | smell: 3.5 | taste: 3.5 | feel: 3.5 | overall: 4
Coming in a 500ml slim brown bottle, BB DEC 08, served lightly chilled in a weizen glass. Question: is it just me or the German word "dunkel" is mis-spelt as "dunkle"?
A: pours a murky dark russet brown hue with constant flows of tiny carbonation, topped with a moderately thick dark beige fluffy head that lasts relatively well. Decent.
S: sweet sour taste of dried mango slices at presence with a lighter contribution of caramely malts and mild spicy touch of cloves in the background. A swirl gives rise to an underlying stream of caramelised nuttiness that lifts up the aroma to a different, rather enticing, level.
T: sour-sweet fruity touch underlines the more pronounced burned nuttiness with a milder edge of cocoa powder, then the bitterness from burned malts and hops creeps down the palate with a wee bit of clove-ish spice, but only just a hint. Overall, this beer tastes more like a traditional Munich dunkel lager mixed with weizen bier, hence the gravity gears towards the roast-nutty side and lacks the more wheat-ish, spicy and fruit-estery edge of a hefe-weizen - but just as tasty this way!
M&D: the texture is slightly too fizzy and not fluffy-soft enough as far as a weizen is concerned, and the unconventional taste for a dunkel weizen might put some traditional drinkers off... not for me. I like it as it is, and the lighter touch of wheat beer on top of really decent nut-malty edge of a Dunkel does make the end product a safer choice than many counterparts that simply fail to put the balance right.
★
1,527 characters
2.6
/5
rDev
-22.8%
look: 2.5 | smell: 2.5 | taste: 2.5 | feel: 2.5 | overall: 3
Chestnut brown, quite dark. A bubbley foam, light brown.
Wheat, yeast, some caramel at the nose.
The taste is carameled, too, but not too sweet and cloying. Honest, drinkable. Maybe just a little too carbonated. And a bit anonimous.
Average to light body.
Caramel in the aftertaste, hazelnut. A bit too light.
★
309 characters
3.4
/5
rDev
+0.9%
look: 3.5 | smell: 3.5 | taste: 3 | feel: 3.5 | overall: 4
Just like it's lighter brother this beer poured a huge head. The light brown head faded slowly leaving some nice open lace. Murky brown colored beer with a light glow. Cocoa and caramel popcorn (yes popcorn) in the aroma along with an herby undertone. Cocoa and caramel (no popcorn this time, sorry) carry over into the flavor, but are very subdued and almost watery. A bit of tangy cherry joins in the finish. The cocoa is dominant all though the flavor is not very strong. The dryness of the flavor and the cocoa remind me more of a Brown Ale then and Dunkel Weizen. There is nothing really wrong with this beer, but it seams to be missing something.
★
652 characters
2.59
/5
rDev
-23.1%
look: 4 | smell: 2.5 | taste: 2.5 | feel: 2.5 | overall: 2.5
Nice lightbrown head and a dark beercollor. Nose is lots of yeast autolysation giving it a kind of soapy nose next to the good caramel and banana aromes. Taste shows good maltyness with good wheaty carracter, lots of darkmaltaromes in an overall dry styled beer. Fine carbonisation but this peppered soapyness of the autolysation keeps on bothering and makes mouthfeel not to the cleanest. Drinkable beer but there are better examples of good darkweizen's that I prefer above this one.
★
485 characters
3.73
/5
rDev
+10.7%
look: 4.5 | smell: 4 | taste: 3.5 | feel: 4 | overall: 3.5
Another 0.5l bottle sampled at the Brauerei. Has a cloudy, deep dark mahogany color. Atop the liquid sits a thick, fluffy beige head, which lasts and lasts, in addition to sticking up the glass nicely. Comes forth with a decent choco aroma, though not overly strong, plus a hint of clove. Found it to be medium-smooth on the tongue, and the owner of a medium body to boot.
Taste is wheaty and crisp; choco is definitely there, but it seems to have a slight tartness present from the finishing hop characteristics. Very dry overall; no lingering aftertastes. Not bad, in general.
Zum Wohl!!
overall: 3.85
appearance: 4.5 | smell: 4 | taste: 3.5 | mouthfeel: 4 | drinkability: 3.5
847
★
686 characters
Kuchlbauer Alte Liebe Dunkle Weisse from Weissbierbrauerei Kuchlbauer
80
out of
100
based on
13
ratings.