Imperial Stout
| Micro-Brasserie L'Alchimiste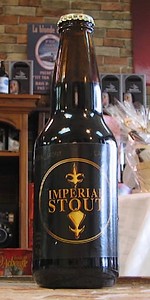 BEER INFO
Brewed by:
Micro-Brasserie L'Alchimiste
Quebec
,
Canada
lalchimiste.ca
Style:
American Double / Imperial Stout
Alcohol by volume (ABV):
7.90%
Availability:
Year-round
Notes / Commercial Description:
No notes at this time.
Added by ZorPrime on 04-10-2010
Reviews: 9 | Ratings: 23

4.1
/5
rDev
+7%
look: 4 | smell: 4 | taste: 4.25 | feel: 4 | overall: 4
Deep black with a dark brown head and good retention. Smells of cocoa, roast, and coffee. A bit of warming alcohol on the end of the sip, which becomes more pronounced as the beer warms. Dry and definately not sticky sweet - a trait I hate in RISs. Creamy mouth feel. Pretty good stuff overall; I would like if there were more examples of RIS's like this.
355 characters
2.92
/5
rDev
-23.8%
look: 3.25 | smell: 3 | taste: 3 | feel: 2 | overall: 3
Pours jet black and leaves a thick film on the glass while forming a little mocha head. Can't discern much from the nose. Definitely follows through with the roasted malts and is quite bitter. The mouth feel is where this brew completely lost me. It's very viscous and leaves an incredibly oily feel in your mouth.
314 characters
4.11
/5
rDev
+7.3%
look: 4.5 | smell: 3.5 | taste: 4.5 | feel: 4 | overall: 4
Got this one at Depanneur Peluso in Montreal.
From a bottle into a snifter
APPEARANCE: Pours out thick black and produces a one finger, medium-thick looking, mocha colored head with good retention. Head slowly fades to a splotchy wisp and a bubbly ring. Pitch black body with zero carbonation evident. A wisp and ring remain until the end but leave no lacing down the glass. This is a thick, black, good looking stout. A bit of lacing would make this a perfect score.
SMELL: Roasted malts, leather, dark chocoalte and touches of smoked meat. A light note of vanilla is in there as well. Pretty bold stuff.
TASTE: Roasted malts, leather and licorice flavors up front, then some sweet caramel, cream and vanilla at the swallow. A big, bold and persistent aftertaste of roasted malts, sweet cream and dark chocolate bitterness is quite complex and flavorful. This is quality, quality stuff.
PALATE: Medium body and medium levels of carbonation. Creamy smooth on the palate, oily as well, goes down smooth and finishes slightly sticky on the palate. Nice feel.
OVERALL: This was an absolute treat. Great look, very complex and flavorful, with a solid feel to boot. A great imperial stout; a much better brew than their IPA. If you happen to find this one, stock up on it, as it's one of the best in Quebec. Highly recommended.
1,332 characters

4.1
/5
rDev
+7%
look: 4 | smell: 4 | taste: 4 | feel: 4 | overall: 4.5
One of the last remaining bottles from my big Quebec haul.
A- Poured into a snifter with a pitch black body. Dark mocha head forms with a silky texture and has decent retention. Creamy ring remains leaving a few spots of lace.
S- Huge chocolate note up front with a big roasty malt profile. Some dark fruit behind it.
T- Heavy dark roast malt forward with a nice cocoa powder note. Hints of dark fruit, coffee, caramel and cereal grain round it all out quite nicely.
MF- Foamy body with a thick feel. Roasty bitterness on the palate in the finish.
Overall this is just straight up chocolate and roast malt goodness. Not the biggest Imperial Stout but nice and flavorful.
675 characters

4.11
/5
rDev
+7.3%
look: 5 | smell: 4 | taste: 4 | feel: 4.5 | overall: 4
Poured from a 341mL bottle into a pint glass.
A - Pours a pitch black color with a very creamy, brownish head which disappears after about one minute, leaving a nice lacing on the glass.
S - A lot of chocolate up front! I pick out some roasted malt, herbal and strawberry notes besides. The general blend is actually quite close to soy sauce, in a good way!
T - Very gently malt sweetness! Nice herbal and coffee notes. Hops at the end add a good balance to this beer.
M - Perfect carbonation and a very generous body.
O - A perfectly balanced beer which, without showing an terrific complexity, is really tasty! It is a solid brew I would definately recommend!
666 characters

3.5
/5
rDev
-8.6%
look: 3.5 | smell: 3.5 | taste: 3.5 | feel: 3.5 | overall: 3.5
Pours inky black with a minimal milk chocolate colored head.
The aroma is roast, raisins and dark chocolate.
The taste follows with a roasty, slightly charcoal dryness pitted against a very round, fruity dried dark fruit sweetness. Coffee grinds lurk about in the background like wallflowers who never fully join the party until the end as the linger in the finish in a slightly astringent fashion. The alcohol is well masked.
Mouthfeel is medium, a bit light for an imperial stout. Carbonation seems low.
A decent enough Imperial stout but not an overly inspiring one.
573 characters
3.5
/5
rDev
-8.6%
look: 3.5 | smell: 3.5 | taste: 3.5 | feel: 3.5 | overall: 3.5
Bottle: Poured a deep black color stout with a medium dirty brown foamy head with good retention and some lacing. Aroma of dry coffee and black chocolate is dominating though nothing particularly exciting to notice. Taste is also a nice enough mix between some black chocolate notes with a dry coffee finish. Body is about average with good carbonation and no apparent alcohol. Middle of the road imperial stout with no major flaws.
432 characters
4.16
/5
rDev
+8.6%
look: 3 | smell: 4.5 | taste: 4 | feel: 4 | overall: 4.5
341 mL bottle into a Duvel glass.
A - Half finger of dark brown head that got outta here fast. Pitch black with medium carbonation. If the head had stuck around this would have been alot better to look at.
S - Tons of roasted malts and chocolate. First time I've been able to pick out chocolate in a beer this strong. Smells slightly sweet and there's a little bit of coffee in there. Really, really nice aroma.
T - Lot's of malty sweetness but not too much. Taste lingers for a long time on the tongue with some bitterness. Chocolately. Quite delicious.
M - Medium body. Slightly thin but just enough body to not be watery. Sort of velvetty. Coats the tongue really nice. Small amount of carbonation keeps it interesting.
D - This would keep me coming back for more. Reasonably low abv for an impy stout and no single aspect overpowering another. Balance lends itself to repetition.
888 characters

3.95
/5
rDev
+3.1%
look: 4 | smell: 4 | taste: 4 | feel: 4.5 | overall: 3.5
A new bottle offering from L'Alchimiste. An imperial stout also, which is a surprise for me since usually they are doing more straight beers.
Beer pours very dark black color with a nice brown head, not very thick however. The aroma is coffee, chocolate and some licorice in the back. A very good aroma but however it is of medium intensity. On the taste, I get some coffee beans. The bitterness is typical of espresso coffee. Nice thing is that in lingers in the mouth for a good amount of time. A very nice mouthfeel, almost perfect for an imperial stout in bottle. On tap, this one should be pretty awesome.
The alcohol level is hidden here, and could make this beer very dangerous.
This is a good imperial stout, it is robust and tasty. Something I'm not use to with this brewery but it is a welcome... more tasty, is better in my opinion.
852 characters
Imperial Stout from Micro-Brasserie L'Alchimiste
3.83
out of
5
based on
23
ratings.