Dismiss Notice
Le Jos Monferrand
| Microbrasserie du Lièvre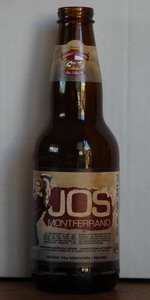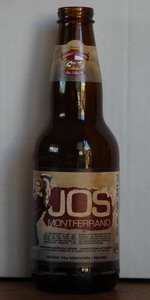 BEER INFO
Brewed by:
Microbrasserie du Lièvre
Quebec
,
Canada
microdulievre.com
Style:
Belgian Pale Ale
Alcohol by volume (ABV):
5.10%
Availability:
Rotating
Notes / Commercial Description:
No notes at this time.
Added by francisweizen on 03-07-2005
HISTOGRAM
Ratings: 10 | Reviews: 9
Reviews by Molson2000:
More User Reviews:
2.68
/5
rDev
-5%
look: 3.5 | smell: 3 | taste: 2.5 | feel: 2.5 | overall: 2.5
Some lagerish , high carbonated brew with initial malt flavour settling into vegetable gumminess. Sparks of metal in finish. No suitable aftertaste though not a drainpourer. Not the worst beer I have ever had, but certainly not doing it for me. Marginally better than your macrobeer. Initially foamy pour, and slightly amberish.
328 characters
3.2
/5
rDev
+13.5%
look: 3 | smell: 3 | taste: 3 | feel: 4 | overall: 3.5
A- Dirty white loose bubble head over a dark copper. Some bubbles rising.
S- Smells a bit like cola fresco. Ripe grapes and other dark fruit. Reminds me of a barleywine. Natas (Portuguese desert). Caramel malt.
T- Also tastes like natas which contains eggs and lemon (I think). Nothing very deep, a bit seltzer like.
M- My first reflex was saying this is a thin mouthfeel, but I think I'm having trouble dissociating taste and mouthfeel. It's actually a medium mouthfeel with high carbonation and a semi dry finish.
D- Good. At a party and someone's got a keg of this, I'll drink it all night, but given the choice, I'll never buy this okay quality but less than ordinary beer. Left me bloated but still hungry for flavor.
Most of it spells good, but I just don't like it.
777 characters
1.06
/5
rDev
-62.4%
look: 2 | smell: 1 | taste: 1 | feel: 1 | overall: 1
Bottle: Poured a clear brown looking ale with a super huge head comprised of large bubbles. Aroma is hard to grasp with the head covering much of the glass and only faint smell of yeast and malt are discernable. Taste is absolutely disastrous – light malt taste with some sourness at the end. This was probably infected as much of their bottles are. No pity here, this just plain sucks…
388 characters
2.38
/5
rDev
-15.6%
look: 3 | smell: 2.5 | taste: 2.5 | feel: 2 | overall: 2
Bottle courtesy of HogtownHarry! Thanks buddy! Pours deep, deep dark copper/red with a heavily laced frothy white cap. I'm getting sour grapes, sugar, malts, some milk chocolate, and lots of spoiled yeast in the aroma, which unfortunately cover up the hops, which otherwise would give this a killer aroma. Tart, malty, brown sugar taste is front and centre, with grapey-hoppy bitterness and sour milk towards the finish. Lingering sour malt caps the event. It looked great, and went downhill from there. Thanks Harry!
517 characters

3.19
/5
rDev
+13.1%
look: 3.5 | smell: 3.25 | taste: 3.25 | feel: 3 | overall: 3
I've become accustomed to seeing the Quebecois term "bière rousse" but "bière ambrée", as used to describe Jos Montferrand by its brewer, is much more accurate; not really red at all, this ale's chromatic complexion falls right between yellow and copper, hitting virtually every tone in between. Its head is off-white and has the same kind of polyped texture as coral.
Microbrasserie du Lièvre has a lineup that includes offerings brewed with absinthe, clover honey, jalapeno peppers, wild blueberries, ginger, and carrots, but Jos Monferrand is one of their more "normal" beers. It certainly smells straightforward: lightly toasty and caramelly amber malt, perhaps a faint whiff of resinous hops. Nothing else, and nothing all that interesting.
The taste, likewise, is standard and predictable for a 5% Amber Ale - not that there's anything wrong with that (as just mentioned, this brewery certainly provides a diverse and creative array of brands). Jos Monferrand, however, is about as conventional as they come. Medium-bodied and lightly flavoured, this fits right in with most mass-produced examples of the style.
In fairness though, there's no impression of corn syrup or artificial caramel substitutes; this one doesn't get carried away with sweetness. What little biscuity-sweet notes it has are earned the old fashioned way: nicely kilned crystal malts. The grain bill far more resembles toasted nuts than it does butterscotch pudding - and that suits my tastes far better.
Jos Montferrand is a nice beer, of which I don't have many nice things to say about. What can I tell you? It's very agreeable and shows much more integrity (and slightly better flavour) than most commercial examples of the style, but at the same time fails to stimulate or separate itself from the rest. It is a safe bet, a decent transitional ale best suited to those just discovering craft beer.
1,891 characters
2.94
/5
rDev
+4.3%
look: 3 | smell: 4 | taste: 2.5 | feel: 3 | overall: 2.5
This was my second bottle of Jos, just to be sure I didn't get a bad bottle the first time.
I don't like a thick head on my brew, so I poured gently enough to keep it down. the colour is a clean deep amber to copper red.
The smell is big. A large aroma leads the charge. Malt, caramel, yeast, spice.
Taste is something else. This one has a strange, sour, unusual malt that seems somewhat watered down. Still, it has more flavour than most ambers or reds. It's just not a great taste.
Mouthfeel is thin, but easy.
Drinkability is so-so. This is not my favourite, and I won't go for a third try.
The story behind the name is good. Jos (pronounced Joe) Montferrand was a real, legendary lumberjack in the 1800's in the Ottawa Valley. Equate him to Paul Bunyan. A quick computer search will give you lots more.
Great character with a mediocre beer.
852 characters
3.03
/5
rDev
+7.4%
look: 3.5 | smell: 3 | taste: 3 | feel: 3 | overall: 3
bouteille brune de 341ml. achetée à la SAQ.
bière de couleur ambrée foncée, trouble, mousse qui disparait assez rapidement, au nez elle se présente discrète, léger arome de malt et caramel. goût léger de caramel, agréable, finale courte. bonne sans plus.
266 characters

3.5
/5
rDev
+24.1%
look: 3.5 | smell: 3.5 | taste: 3.5 | feel: 3.5 | overall: 3.5
Slightly veiled amber color with storming activity. Faintly frothy beige 2-3 finger head, lasting around 5-10 minutes, with weak lacing. Flavors of cinnamon, caramel, ginger, roasted grains, citrus, herbal spices. A dash of bready sweetness coupled with zesty lemony sharpness. Creamy medium body with crispy spices. Light finish, but well intensified, lingering butterscotch and citrus feel, with faint leafy hops. Good freshness and balance. More like a red ale. Tasty and filling. Overall good quality craft.
511 characters
2.68
/5
rDev
-5%
look: 3.5 | smell: 3 | taste: 2.5 | feel: 2.5 | overall: 2.5
Pours a slightly hazy copper with some rocky, coarse foam. Nose is green and leafy, with some earth, dark fruit and floral hops. Quite acidic. Notes of licorice, apple and pear, vegetal notes and caramel. Mouthfeel is ok, but on the astringent side. Rough, disjoint flavours in this. Not great.
294 characters
Le Jos Monferrand from Microbrasserie du Lièvre
Beer rating:
2.82
out of
5
with
10
ratings