Belgh Brasse Taïga
| Brasserie Belgh Brasse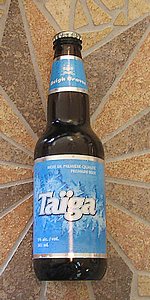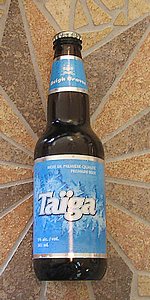 BEER INFO
Brewed by:
Brasserie Belgh Brasse
Quebec
,
Canada
monsbeer.com
Style:
American Adjunct Lager
Alcohol by volume (ABV):
5.00%
Availability:
Year-round
Notes / Commercial Description:
No notes at this time.
Added by Phyl21ca on 11-24-2005
This beer is retired; no longer brewed.
HISTOGRAM
Ratings: 9 | Reviews: 6
Reviews by Ralphus:
2.82
/5
rDev
+17.5%
look: 2.5 | smell: 3 | taste: 3 | feel: 2.5 | overall: 2.5
Taiga is apparently French for swamp or tundra. My bottle was given to me by a coworker.. and even though it's not my cup of tea - you have got to enjoy entering the work place and being handed a bomber of any kind of beer. Cheers Glen!
It pours a pale yellow with a white carbonated head that dissapears rapidly. Left is a liquid that resembles apple juice if not for the small stream of bubbles rising towards the surface.
Smellwise there is some typical sweet malts and vegetable flavours. It's not something you want to be sticking your nose in regularly for a whiff. The taste is quite sweet, reminding me of Alpine or other sweeter macro lagers. It also reads a very steady zero on the complexometer, content to provide sweetness and lots of carbonated water.
Mouthfeel is unsurprisingly watery. Unfortunately even when you're in need of refreshment - and I had just finished two hours of tennis beforehand - this beer doesn't really deliver. I think it's the residual sweetness that slows you down.
Drinkability is poor. A sad tale, especially for free work place beer. *sniff*
1,088 characters
More User Reviews:
2.94
/5
rDev
+22.5%
look: 1.5 | smell: 2.5 | taste: 3 | feel: 3.5 | overall: 3.5
Never trusted this beer. Thought it looked like a terrible cheap macro. I then learned they were in fact a micro (I think) and noticed they had their very own kiosk at the Mondial de Montréal Still don't expect much of it but I'm more inclined to try it. There's also the fact that I found it priced at 2$ for a 650ml bottle at Fromagerie du Marché Atwater.
Label states a bunch of stuff : That it's a Premium beer, that it's cold filtered, that thanks to esker water Taïga acheives perfection and that all beers contain 95% water and Taîga is made with the ''best water in the world'' All this talk reminds me of lots of big dirty beer companies. Anyways.
A- Ordinary American adjunct head quickly fizzed out of sight. Light, lifeless golden.
S- Smells like a bunch of others in the style. Light but still dirty burnt, sweet grain and artificial alcohol. Smells so tame, it's hard for it to offend.
T- Not as dirty as I expected. Pretty sure I like it better than Molson EX, Labatt Bleue, Budweiser. Definitely like it better than Pabst. I mean I find it hard to deferentiate most American Adjunct Lagers but I think this one has less of that dirty chemical taste I hate so much about the style.
M- High carbonation. Pretty smooth. Full mouthfeel especially considering how light tasting it is. Not very dry.
D-Good for the style. Tastes cleaner than most of them. You could probably drink tons at an event or something. Right now, sitting at home I'm looking at half this bottle I've got left and am kind of grossed out.
All in all: Looks bad, very little taste and aroma which also means very little dirty aromas, nice mouthfeel and good drinkability.
Pretty close to what I was expecting. Slightly superior to the style's classics. I don't know why they bothered making this. And I'm not talking about making this style. I just think it could be done better or is ''more flavor'', "less dirty" not in line with style guidelines?
1,947 characters
1
/5
rDev
-58.3%
look: 1 | smell: 1 | taste: 1 | feel: 1 | overall: 1
Bottle: Poured a light yellowish color beer with a small white bubbly head with minimal retention. Weak aroma of corn and most probably adjunct with very little else. Taste is also full of adjunct with a thin body and watery aftertaste. While I understand that they are not looking to attract the micros beer lover, I believe there is way to do something a bit tastier without scaring away your BMC crowd.
405 characters
2.86
/5
rDev
+19.2%
look: 4 | smell: 3 | taste: 2.5 | feel: 3 | overall: 3
Tonight I wanted to try some "general public" beers, so I grabed a couple of qc macro lagers...
Pours a soft yellow, lively carbonation and good head and head retention, a rather faint aroma of apple peel and malt. Falvor, well, a faint note of malt but very close to water, a easy drinking beer, flawlessly boring.
Beats "miller genuine draft" only because its the only microbrewery in my remote region of abitibi.
417 characters

2.96
/5
rDev
+23.3%
look: 3.5 | smell: 2.5 | taste: 3 | feel: 2.5 | overall: 3.5
341 ml bottle.
A- Very bubbly. Big foamy head. Clear, very pale yellow. Not bad for the style.
S- Very faint lemon. Maybe a tough of grain as it warms. Very mild, it barely has an aroma.
T- Faint flash of citrussy hops bitterness followed by a middle that can only be described as water. A little sweetness in the water but fairly clean (without the vegetable and metallic tastes often found in the style). A little more sweetness and citrus comes through as it warms.
MF- Very light. Drying astringency in the finish. High carbonation gives it some harshness.
D- Easy and inoffensive, but also very boring. Sort of what you would expect from a beer whose label focusses on the quality of the water used "Water from the Eskers".
733 characters

1.98
/5
rDev
-17.5%
look: 2 | smell: 1.5 | taste: 2 | feel: 2 | overall: 2.5
Bottle:
Pale piss yellow, too clear, not much head and virtually no aroma at all.
The surprise here is that it tastes way better than it looks and smells ( and that isn't saying much" but id does have a light fruity spritzy almost cidery ale like taste...dry and light...inoffensive no off tastes but not a whole lot to distinguish it either.
345 characters
Belgh Brasse Taïga from Brasserie Belgh Brasse
Beer rating:
2.4
out of
5
with
9
ratings