Viking Oud Bruin
| Nørrebro Bryghus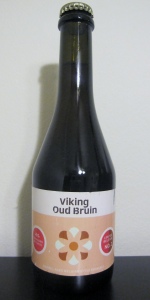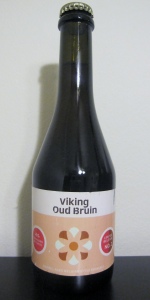 BEER INFO
Brewed by:
Nørrebro Bryghus
Denmark
noerrebrobryghus.dk
Style:
Flanders Oud Bruin
Alcohol by volume (ABV):
6.50%
Availability:
Limited (brewed once)
Notes / Commercial Description:
No notes at this time.
Added by ricke on 11-01-2009
This beer is retired; no longer brewed.
HISTOGRAM
Ratings: 11 | Reviews: 7
Reviews by Skrip:

3.98
/5
rDev
+5.3%
look: 4 | smell: 4 | taste: 4 | feel: 3.75 | overall: 4
375ml bottle poured into a Teku.
A~ fading from light to darker brown with a reddish hue. nice big head but no lacing.
S~ lemony acidic caramel malt...? a little basement/old book and some black pepper as well.
T~ not as acidic as the nose would make you believe... thankfully! subdued lemony tartness, otherwise it follows the nose with more earthy/herbal notes here
M~ nice carb but a little thin and watery.
O~ knowing this was suppose to be the worst of the bunch and way past its prime i have to say i was really surprised! still extremely drinkable and no real off flavors. if you like old books like me... haha! but it definitely tasted way older than it is.
oh yeah and its a Shaun Hill brew!
707 characters
More User Reviews:
3.34
/5
rDev
-11.6%
look: 3 | smell: 4 | taste: 3 | feel: 3 | overall: 3.5
A: A very murky brown color with a small tanned head that leaves some lacings.
S: The smell is quite acidic with plenty of aromas of oak barrel and funky but clean brett. Notes of vanilla and tart berries. Hints of lemon, malts and vanilla. Interesting, but more in line of an American wild ale than a Belgian Oud bruin.
T: The taste is not as good as the smell. Some Oud bruin-like malt flavors, but the somewhat caramel-like sweetness I associate with good Oud bruins is clearly restrained in favor of mild tartness and funky brett notes. Notes of sour cherries, lemon and oak barrel. The finish is surprisingly mild and one-sided with a mild but noticeable bitterness to it and notes of oak and malts.
M: Moderate body with soft carbonation.
D: A decent beer. But it's really more reminiscent of an American dark wild ale than an Oud bruin.
855 characters


2.68
/5
rDev
-29.1%
look: 3.5 | smell: 3.5 | taste: 2.25 | feel: 2.25 | overall: 2.5
4.21
/5
rDev
+11.4%
look: 4.5 | smell: 3.5 | taste: 4.5 | feel: 4 | overall: 4.5
Thanks Svend for hooking me up with this rare one, only 428 bottles. Lots that I like: brett and Lactobacillus, wine barrel ageing, the style, the look (reddish with crowning thick white head of about 3/8 inch head and lacey)
a complex set of aromas, the temparillo wine barrel, the brett, some balsamic vinegar, farm. Smooth almost creamy mouthfeel, the sourness only taps the lips and leaves a lasting but lovely solid impression in the aftertaste.
You only live once with this one, so drink up.
497 characters
4.17
/5
rDev
+10.3%
look: 4 | smell: 4.5 | taste: 4 | feel: 4.5 | overall: 4
from notes...
Shared a bottle with hopdog, and another bottle with grassrootsVT the night we found out this beer won a medal at the World Beer Cup.
Appears a hazy light amber with an orange hue when held up to the light. A small white head slowly fades into a mild cap. Tiny spots of lacing are left around the glass.
Smell is of tart cherries, light vinegar, graham crackers, vanilla cream, oak, and grapes.
Taste is of the aromas with a touch of grapes, obvious wine, and freshly cooked rhubarb.
Mouthfeel is medium bodied, refreshing, lightly sweet, and tart
562 characters



4.22
/5
rDev
+11.6%
look: 4.5 | smell: 5 | taste: 4 | feel: 3.5 | overall: 4
Thanks to Papsø for this one. Served, somewhat appropriately, in a Hill Farmstead glass.
A - A couple fingers of tan foam settle to a thick cap, leaving behind splotchy lace. Murky light brown color. It's somewhat hard to make this style look sexy, but this beer does a fairly decent job of it.
S - Absolutely superb aroma. Lactic acidity, funky brett, oak, red wine vinegar, hint of vanilla, a bit of sweet caramel malts - all of which are working in perfect balance. One of the beers that smells so good you feel guilty drinking it.
T - The taste is unfortunately not as exciting. Much less complexity, with large quantities of vanilla, sweet malts, and light tropical funkiness. There's a bit of oak and acidity in the finish, but this isn't greatly tart or sour.
M - Slightly thin, but not excessively so for the lower ABV. Active carbonation, with some dry tannic character in the finish.
D - If this had lived up to the aroma, it wouldn't have been a slam-dunk A+. Unfortunately, it's merely an enjoyable Flanders. I'm not convinced this will age well either, so if you want to try this beer do it soon. Hopefully Shaun will make something similar stateside.
1,170 characters
4.15
/5
rDev
+9.8%
look: 3.75 | smell: 4.25 | taste: 4.25 | feel: 4 | overall: 4
Shared by Alex at the Tasting to Sink All Sea Shepherds, just after the Saison Lambic Pinot Noir.
A: Pours cloudy, red/brown with almost no head.
S: Smell is focused on lactic acid and fruity flavors (red fruits).
T: Taste is also lactic acid, with strawberries and vinous flavours. Not much caramel malts or distinctive oud bruin flavours except from the oakiness.
M: Medium body, soft carbonation, lacks a little bit of body for the style.
O: Quite enjoyable, not very fit to the style but it has held well. Thx for sharing, Alex!
532 characters

3.32
/5
rDev
-12.2%
look: 3 | smell: 3.5 | taste: 3.5 | feel: 3 | overall: 3
Decent old bruin. Pour is a murky amber-grown with a small white head. Smell is of tart cherries, vinegar, brown sugar, oak, vanilla and molasses. Taste is similar to that, but with a bit of funky brett. Mouthfeel is a bit thin; it is easy drinking enough. A bit on the edge of the style, I was expecting something more traditional. Solidly average offering.
358 characters
Viking Oud Bruin from Nørrebro Bryghus
Beer rating:
3.78
out of
5
with
11
ratings