Total Eclipse
| Lunar Brewing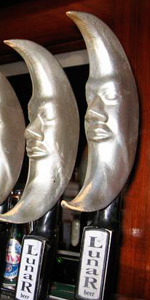 BEER INFO
Brewed by:
Lunar Brewing
Illinois
,
United States
Style:
Oatmeal Stout
Alcohol by volume (ABV):
6.00%
Availability:
Year-round
Notes / Commercial Description:
No notes at this time.
Added by BrewAskew on 04-26-2004
Reviews: 10 | Ratings: 21

3.92
/5
rDev
+3.7%
look: 4.25 | smell: 4 | taste: 4 | feel: 3.5 | overall: 3.75
BLACK thick body, light tan dense head, spotty lacing. Aroma contains big chocolate fudge, lactose sugar, toffee, and roasted malt. Inviting. Taste is initially a bit watered down, but picks up with roasty malt, mild floral/piney hop character, with a great finish of chocolate brownie. Mostly dry. Feel is light-medium body, nearly flat but more smooth, compliments of the nitro pour.
Damn tasty, just wish the feel matched the thick chocolate brownie batter nose and flavor.
476 characters

4.17
/5
rDev
+10.3%
look: 4 | smell: 4.5 | taste: 4 | feel: 3.5 | overall: 4.5
On-tap at the brewpub; served in a shaker pint.
A: Pours a deep, dark chocolate brown with a latte-coloured head.
S: Smells very rich and complex. Caramel-filled milk chocolate bars come to mind. There is also a bit of honey aroma.
T: Sweet and smooth. Taste is Whoppers and sweet and condensed milk. The hops are only enough to balance out the sweetness and keep the brew from tipping its equilibrium.
D: The mouthfeel is actually a little thin for an oatmeal stout, but what it lacks in mouthfeel it nails in drinkability. This is one of those beers where you have to make a conscious effort to slow down; otherwise you are liable to down the whole pint in >5 minutes.
Overall: Another great beer from Lunar. This one seems to be on tap pretty frequently, so its definitely a brew to try. Not many flaws. Its dark enough for the cold weather, low-ABV enough for the heat, cheap, complex, and unavailable anywhere else. Get some!
938 characters

4.08
/5
rDev
+7.9%
look: 4.5 | smell: 4 | taste: 4 | feel: 4.5 | overall: 4
Served in a shaker pint glass at the brewpub.
I will resist the urge to make a Bonnie Tyler joke here. Maybe next time. This brew pours a a lovely onyx topped by a finger of ecru foam. The nose comprises coffee, roasted malts, light smoke, and chocolate syrup. The taste holds notes of light roasted malts, light cocoa powder, and a nice vein of vanilla. The body is a solid medium, with a straightforward nitrogenation and a consequently ridiculously smooth feel. Overall, a very nice bit o' stout, nice and simple and really getting the most out of the nitro tap.
566 characters
3.66
/5
rDev
-3.2%
look: 4.5 | smell: 3.5 | taste: 3.5 | feel: 3.5 | overall: 4
Served in a pint glass at Lunar
This is a nice dark stout and being that it was on nitro only added to it's beauty. I went in for a whiff to find that there really wasn't much of anything there. I got hints of some caramel, but it was weak at best. The taste was pretty good there were hints of coffee in the background along with a slight oat taste, but just like the nose it was pretty vacant. The mouthfeel was a bit watery I assume from the fact that it was on nitro. Despite all of that it went down easier than most beers I've had. It's still a pretty good brew.
569 characters
3.38
/5
rDev
-10.6%
look: 4 | smell: 3.5 | taste: 3.5 | feel: 3 | overall: 3
A: Dark and opaque, as a stout should be
S: The tipoff that this beer isn't what it should be: a barely discernible roasty malt. Not a typical stout aroma.
T: Thin, thin, thin. Not at all the smoothness and sweetness you'd expect from an oatmeal stout. The flavor is that of underbrewed coffee.
M: Not so good because that maltiness is missing.
D: I wouldn't recommend it. I didn't finish it.
I just wonder if what I had was the dregs of the keg. It was really a bit of a shock to taste it and find it like a really small beer.
532 characters
4.5
/5
rDev
+19%
look: 4 | smell: 4 | taste: 4.5 | feel: 5 | overall: 5
A - Pitch black with a big creamy head of tan foam. Looks pretty damn tempting.
S - Black bread, nice yeast notes, milk chocolate, and chocolate candies. This smells really smooth and sweet.
T - Chocolate milk and milk chocolate. Some really nice roasted grains and oatmeal flavors are present, along with some sweet chocolate syrup notes too. This is really tasty stuff, and it's sweeter than a lot of other stouts...that scores big points in my book.
M - Super creamy and smooth! This is FULL BODIED in a big way. The carbonation is silky and the finish is more like dark chocolate than the milk chocolate flavors present at first sip.
D - This is a killer brew! I was completely impressed with this one.
710 characters
3.13
/5
rDev
-17.2%
look: 3.5 | smell: 3 | taste: 3 | feel: 3 | overall: 3.5
(Served in an American pint glass)
Not served on nitro as described on menu and also called an oatmeal export style stout.
A- This beer has a jet black body with a thick creamy dark tan head and no sign of carbonation. The head turns bubbly and fades after a bit.
S- This beer has a soft aroma of black roasted malt with a hint of some darker roasted malt notes and a prune hint to it.
T- This beer has a roasted coffee malt flavor with a taste of stale dark malt to follow. There is a soft soapy hint finished by an odd tanginess that might be from oats.
M- This beer has a medium-full mouthfeel with a very soft astringency in the tang at the finish.
D- This beer has a bit of an odd flavor and is pretty light on the complexity. Most of the flavors that are there are ok.
783 characters
3.63
/5
rDev
-4%
look: 4 | smell: 3.5 | taste: 3.5 | feel: 3.5 | overall: 4
Found this little brewpub while driving down a street I've been using for years and had never seen it. Boy am I glad I found it. The Total Eclipse Oatmeal Stout was the first sample I had of Lunar beer and it was a pleasant introduction.
Pours like most nitro-taps a brown rolling cascade of beauty at about 2 1/2 fingers that eventually settles into a fine lacing that sticks around almost throughout the entire beer.
Like most nitro injected brews I find that the smell really suffers with the metalic smell of the nitro almost overpowering the natural aromas. This one, however, was not so bad and I could detect some fruity, tangy hops paired with roasted malts and toasted oats.
Has a good taste to it, though not as strong in this department as I had hoped for. Sure, there is the roasted malts and the addition of a sweeter hop is actually quite nice and refreshing during the aftertaste, but I personally like a more complex flavoring with maybe some lighter-cooked malts to help balance it out. Still good, though.
Actually thinner than I would like, but the nitro helps pick up the slack, which is why I guess many brewers love this stuff. It's hard to have a bad mouthfeel with the nitros.
I could drink these babies all night. Even if its not my favorite stout in the world, its fresh from the brewerie, baby! Sitting in the place where it is brewed I look to the food/beer people and say that beer is still served best with a side of love. Thanks Lunar!
1,481 characters
3.88
/5
rDev
+2.6%
look: 4.5 | smell: 4 | taste: 4 | feel: 3.5 | overall: 3.5
Appearance- Watched the bartender pour me my drink. Lovee to watch that great swirl of cream light brown sediment suspension float around and then settle to a black consistency. Maintained a two finger head for about two minutes after taking first sip, then receded to a filmy foam.
Smell- Some roasty/toasty malts hits the snoot first. But then turn into a more creamy slash biscuity bouqet.
Taste- Creamy malts start, then the malts start to roast a little in the middle, then the hops take stage and change the ovcerall sweet, grainy flavors to almost a vinous finish.
Mouthfeel- Starts out a thick and creamy, with a little water running through the palate. But then ends slightly vinous.
704 characters
3.95
/5
rDev
+4.5%
look: 4 | smell: 4 | taste: 4 | feel: 3.5 | overall: 4
Brown-black color with generous tan head. Fruity and roasty aroma. Flavor is dominated by roasted, coffeelike notes balanced with ample amounts of crystal malts. Finishes roasty and with pleasant lingering bitterness. Mouthfeel is a bit thin. Overall, it is a very enjoyable stout.
281 characters
Total Eclipse from Lunar Brewing
3.78
out of
5
based on
21
ratings.