Van Pur Premium
| Browar Van Pur S.A. (Brau Union Polska)
BA SCORE
78
okay
14
Reviews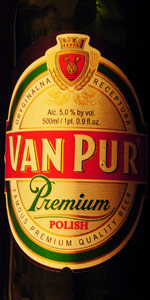 BEER INFO
Brewed by:
Browar Van Pur S.A. (Brau Union Polska)
Poland
vanpur.com.pl
Style:
Euro Pale Lager
Alcohol by volume (ABV):
5.00%
Availability:
Year-round
Notes / Commercial Description:
No notes at this time.
Added by Redrover on 05-26-2003
Reviews: 14 | Ratings: 21
2.71
/5
rDev
-14.8%
look: 3.25 | smell: 2.75 | taste: 2.75 | feel: 2.5 | overall: 2.5
Golden color with a thick two fingers head with medium retention and leaving a wall of laces.
Aroma of bread malt, grains and fresh grass. Not as faint as one would expect.
Flavor with notes of mineral somewhat oxidized, grass and noble hops, sweet malt, gummy bears and some Lager chalkiness. Dry aftertaste with a mild bitterness.
Light body with good carbonation.
It is a bit too sweet, but it has noticeable hops, though I did not like its mineral light skunky profile. Not bad, but it is not something I would be craving to revisit.
537 characters

2.89
/5
rDev
-9.1%
look: 3.25 | smell: 3 | taste: 2.75 | feel: 2.75 | overall: 3
Pours clear yellow beer with good white head, ok retention, significantly fizzy. Smell of grain, shit and even hops (a bit). Flavour of pale malts, somewhat fruity (or honey?), no bitterness. High carbonation, medium body. Not recommended for wide layer of the proletariat.
273 characters

3.87
/5
rDev
+21.7%
look: 4 | smell: 3.75 | taste: 4 | feel: 3.75 | overall: 3.75
Poured rich golden with a very thin head. Smells sweet & grassy with a decent amount of hop for the style . No sign of that harsh hop you get with cheap "premium epl's" Bold almost rye like spiciness. Carb is nice and sharp for some lawn mowing thirst. Got this for $1.59 at a discount/food salvage store in a green bottle 5 months past date. Anticipated light strike & stale. What I got was fresh and not a skunk in sight. This was great. I'd get it again on discount or full price. Note to self: great with swiss cheese and mustard.
534 characters
3.43
/5
rDev
+7.9%
look: 4 | smell: 3.5 | taste: 3.5 | feel: 3.5 | overall: 3
It pours a nice golden colour with a thin foamy head.
Grassy hops and faint graininess come through in the aroma. There is also some faint skunkyness, but not in a bad way.
The flavour is grassy hops up front, and then the malt starts to develop. The malt character is light, and perhaps underdeveloped. The hops come through in the finish.
Overall, I feel like this beer is bordering on a pilsner. Not bad, but nothing unique either.
437 characters
3.53
/5
rDev
+11%
look: 4 | smell: 3.5 | taste: 3.5 | feel: 3.5 | overall: 3.5
500ml bottle, no 'Polish' label indicator necessary for my 'hood...
This beer pours a crystal clear pale golden hue, with one finger of soapy, fizzy white head, which leaves a very sparse array of random lace around the glass as it recedes. It smells of thin pale grainy malt, some aged lemon juice, and mild floral hops. The taste is semi-sweet pale bready, grainy malt, more musty lemon, and weedy, floral hops. The carbonation is average, the body medium-light, a bit zingy, but smooth enough. It finishes off-dry, some mildly skunky hops playing off the latent cracker-like grain.
A slightly above average Euro-lager, with some decent grain and fruitiness in plain evidence, I wouldn't turn down another, especially given the frugal shelf price.
751 characters
3.16
/5
rDev
-0.6%
look: 3.5 | smell: 2.5 | taste: 3 | feel: 3.5 | overall: 4
500ml green bottle.
It pours a clear pale gold with a fizzy white head.
The smell is at first skunked, then it is a mildly grainy brew with slight hops/typical polish epl fare.
The flavor isn't skunky. It is sweet with a hint of metallic flavor and a kiss of bitter hops in the finish. Like most Polish beers it has a little more sweetness than the average EPL and it does down smoothly.
I would suggest other polish EPLs mainly because this one comes int he green bottle.
476 characters
3.5
/5
rDev
+10.1%
look: 3 | smell: 3 | taste: 3.5 | feel: 3 | overall: 4.5
Poured from the 500mL can into a tall pilsner glass.
A: The beer is a pure golden color with little carbonation within, topped with a pure white, large head with ok retention.
S: Citrusy, with lemon dominant. A few floral hops come through. Refreshing.
T: Floral and citrusy again with a lightly drying character. Balancing malt is grainy and is just there enough to provide a taste that is perfect for easy drinking. This is a pretty pleasant and balanced beer. unexpected, since Van Pur has created some of the worst beers I have experienced. This one seems to have hit right on style though, with a welcome taste on a hot summer night.
F: Lightly carbonated, a nice "spritz" to lighten up the humidity.
Overall: This was a good surprise, though there are more widely available beers that are equally as refreshing and nice. It's a good choice in a pinch, but among others, just ok.
891 characters

3.12
/5
rDev
-1.9%
look: 3.5 | smell: 1.5 | taste: 3.5 | feel: 3.5 | overall: 4
I found this 500ml green glass bottle at Sal's in Addison, IL for $1.49. I was happy to see a freshness date on a Euro beer. This one was marked Sept. 17, 2010 and this is only May of 2010, so I should be reviewing a fresh bottle.
The beer poured a clear gold color and made a 1 finger bubbly white head that lasted a little over a minute before fading. Surprisingly, it left a good amount of lacing on the glass with each sip.
The second I opened this beer it was if I had let a skunk out of the bottle. Holding it up to my nose was almost unbearable, but it did die down some or else I just got used to it in about 30 seconds. Behind the skunk I could pick up some grain and even some hops, but still can't rate it very high in the nose department.
Thankfully, the taste was much better than the smell. Pleasant grainy malt flavor that isn't overly sweet, and enough hops used for balance but not so much to make it bitter. It's mot very complex but it does have a decent enough flavor for what it is.
I found this beer closer to medium in body than thin, but it is so highly carbonated that it seems extra crisp and spritzy.
This is an easy drinking beer that is not too sweet and not too bitter, and at just 5% abv, you can enjoy more than just one at a time.
1,268 characters
2.71
/5
rDev
-14.8%
look: 4 | smell: 3 | taste: 2.5 | feel: 2.5 | overall: 2.5
Sunny goldenrod with racing carbonation that slips below the speed limit long before the one minute mark. The beer's best feature (with respect to appearance) is two fingers of eggshell colored foam that has impressive firm-creamy texture and is doing a good job laying down lace.
The nose is similar to any Euro pale lager you'd care to name. Pungent skunk greeted me on cap cracking (thanks to the green glass bottle) and is now simmering beneath the surface of the usual grain and grassy-musky hops.
Van Pur Premium tastes like you would expect it to taste if you've tasted beer of this style before. It's a little more bitter than most and has a slight fusel alcohol quality that should definitely not be present at an ABV of 5.0%.
Like I said above, untoasted grain combines with Saaz hops to produce a flavor that most Europeans must love, because there are literally hundreds of breweries churning out beer like this day after day, month after month, year after year. Then again, who are we to talk, given the popularity of Budweiser, Miller and Coors?
The mouthfeel doesn't quite reach average because of its thinness. The carbonation has a sparkle that stops just short of being biting. Not bad, not good.
This Brower Van Pur product is 'exihibit A' in support of my theory that beer with the word Premium on the label (especially those from Europe) is anything but premium. It's better than 'The King of Beers', but that isn't saying much. Sorry, not worth your time or your money.
1,496 characters
3.38
/5
rDev
+6.3%
look: 3.5 | smell: 3 | taste: 3.5 | feel: 3.5 | overall: 3.5
Van Pur Premium single from Gene's sausage shop in Chicago. BBD: 08.07.10
Green bottle, not expecting much. It pours a golden amber, with good retention. Aroma of honey, grassy noble hops, biscuit.
Aftertaste of honey, faint biscuit. Pretty watery with a fizzy wet feel. Taste is pretty basic, euro pils. Eh. Grassy hop is the redeeming factor here, but it's mostly a bland and sterile euro lager. Crisp and better than some. Not something i'd voluntarily revisit, but it's drinkable.
Distribution is weird for this, from the locations of the BA reviews. Chicago, Alberta, Washington, Nebraska...
600 characters

2.58
/5
rDev
-18.9%
look: 2.5 | smell: 2 | taste: 3 | feel: 1.5 | overall: 3
Received this as a sample, let's give it a shot!
Golden pilsner body with a bubbly, thin, white head.
Faintly floral, inoffensive hoppy nose. Nothing to roar about.
Unexciting on the palate but very very smooth. The hops in the aroma are even fainter on the tongue.
Amazingly quaffable beer with uninspiring flavor. Leaves a gummy worm flavor on the far back end, which is kind of cool.
392 characters

3
/5
rDev
-5.7%
look: 3 | smell: 3 | taste: 3 | feel: 3 | overall: 3
Thanks to Jim at Sherbrooke for giving me this sample. From a green 500 ml bottle, pours out a clear deep golden hue, practically a light amber. Tall frothy, foamy white head with decent retention.
Crisp grainy malt on the nose, a bit bready, metallic and slightly wet grassy hops.
Grainy and bready malt up front, crisp metallic middle, light herbal finish, a bit spicy.
Mouthfeel suits the style but isn't anything overly notable either. Light, with slight carbonation, more wet than crisp on the finish.
Plain Jane across the board, nothing offensive about this Polish Euro lager, nothing much to sell it above most of the others of its kind either. If priced reasonably enough worth picking up compared to most domestic macro lagers though.
748 characters
2
/5
rDev
-37.1%
look: 2 | smell: 2 | taste: 2 | feel: 1 | overall: 2.5
Poured from a 500ml green bottle into a tall, slim pilsner-type glass which resulted in a 2.5 cm white head. Smelled of malts and of musk; little hop detection. It's the kind of smell that reminds you of cheap beer. Heck it was only $1.79 here. Anyway, taste was sweet. No hops detected at all and thus the finish was clean and not bitter. The beer was really flat for me. Very little carbonation. I'd highly not recommend this beer.
433 characters
3.15
/5
rDev
-0.9%
look: 3 | smell: 3 | taste: 3 | feel: 3.5 | overall: 3.5
16.9 oz brown bottle no freshness date. Classic simple label.
Beer pours a straw yellow with decent head. As the beer sits, some of the foam forms large clots that float on the rest of the head (not really attractive), but once you drink the clsots reform into the head. Nice lacing.
Smell is decent, but a little faint. Clear hints of hops, spice & some grass.
Taste says"Euro" pilsner. A little like a slightly weaker Bittburger or Warstiner. Needs to have the hops punched up a bit. Carbonation could also be a little better. Having said this, it is still not bad and is easy drinking. No apparent adjuncts. Smooth enough to have several.
Not sure I would search this one out, but I wouldn't refuse one either.
728 characters
Van Pur Premium from Browar Van Pur S.A. (Brau Union Polska)
3.18
out of
5
based on
21
ratings.