Eske's Brew Pub & Eatery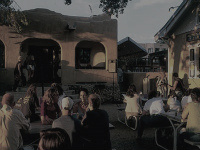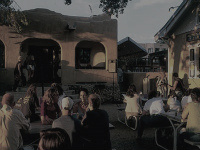 PLACE INFO
Type:
Brewery, Bar, Eatery
106 Des Georges Ln
Taos
,
New Mexico
, 87571-6179
United States
(505) 758-1517 |
map
eskesbrewpub.com
Notes:
No notes at this time.
Added by BeerGlassesCollector
HISTOGRAM
View: Beers | Place Reviews
Ratings: 15 | Reviews: 9

3
/5
rDev
-18%
vibe: 3 | quality: 3 | service: 3 | selection: 3 | food: 3
3.43
/5
rDev
-6.3%
vibe: 4.25 | quality: 4 | service: 2.5 | selection: 3.5 | food: 3
4.13
/5
rDev
+12.8%
vibe: 4.25 | quality: 4.25 | service: 4 | selection: 4 | food: 4.25

3.9
/5
rDev
+6.6%
vibe: 4 | quality: 4 | service: 4 | selection: 4 | food: 3
I first discovered this place in July of 2002. It's ten years later and the place is much like I remember it.
It's a small place in Taos but has excellent beers. There is ample open courtyard seating outside, a few tables on a narrow porch, and two smallish rooms inside.
The food selection is standard pub fare and reasonably priced.
Service is top-notch. Friendly and casual, very helpful when inquiring about the beers.
My waitress told me they're celebrating 20 years in business come August. You don't survive that long unless you have a good business model and give the beer drinking public quality goods and services. Well worth checking out if you find yourself in the Taos, New Mexico area.
703 characters
3.14
/5
rDev
-14.2%
vibe: 3 | quality: 3 | service: 3.5 | selection: 3
Dropped in here on 1 Feb 2011 on the first full day of our 'record low temps and no natural gas Taos ski trip Bobby where the heck are your pants?! cold and flu fest 2011'.
So apparently for some reason in Taos sushi is a well represented cuisine on the restaurant scene. We saw more than a few places advertising it, including Eske's. And people even claimed it was really good. But I'm pretty sure we only saw two Asian people our whole trip (well four if you count the under 8 year olds), and they were all with our group, so I know for a fact that there weren't any competent chefs behind the counter rolling the nori and what not. Although judging from some of the other places in town, I bet a lot of nori rolling gets done around here. Yes that's a cheap marijuana reference.
So anyway, we go to Eske's for lunch. Or try to anyway. Cause it turns out that Eskes' isn't open for lunch on weekdays. What kind of restaurant in a tourist town isn't open for lunch on a weekday during tourist season? This kind, that's what. So we roll on over to the oldest restaurant in Taos, or the oldest building in Taos with a restaurant, or the second oldest continuously operating restaurant in an old building in Taos, or something like that. It's Mexican, sort of, and old, sort of, a block or so off the square, and probably the best thing about it is the large skylight over the middle of the dining room. Oh, and also it's earth tone adobe. You can't miss it.
The kids had something cheesy with carbohydrates, the adults had various New Mexico type plates. I had the green chili (decent) and a cup of coffee (below average). They had one or two local beers to choose from as well. A couple of locals were in the place having drinks. I think they were hippies. Or possibly new agers. I can't tell the difference sometimes.
So then we go to the toy store next door to the Mexican place. I am old and have no kids, so naturally I was pumped about spending two hours here waiting for Eske's to open. They better have some damn good beers.
The toy store is, as far as I could tell, a co-op of hippies selling toys made by hippies to hippies with a lot of disposable income. Which seems to be par for the course in Taos. How do they afford these overpriced toys, all that patchouli, and their massive collections of bongs, all while being unemployed/unemployable? Apparently they are on something. I mean, on to something...
On the plus side, the toy store did have an outdoor play area, which would have been perfect except for the fact that is was approximately 5 degrees above absolute zero and the kids immediately stuck to the giant chair and boat.
After chipping the kids out, we headed back over to Eske's. Somehow we managed to enter through the employee's entrance without realizing it, and so we sat down in what we later learned was the steerage section. So we are seated between a cash register, the employee coat rack, and a sous chef who is prepping the previously mentioned sushi. Or at least, cleaning fish. Possibly tuna, but I didn't get a good look.
We ordered five of their beers as a sampler. A couple of porters, scottish ale, schwartz bier and a chile beer. The chile beer was not disgusting, which is pretty good for a chile beer. If you want to know how the rest of the beers were read my reviews on them coming soon because this is getting overly long as is.
I also forgot to mention that somehow when we were seated we chose the table closest to the (unisex) bathroom. How the heck that happened is beyond me. Fortunately, nothing too stomach churning happened in there while we were drinking.
So about the sushi... We are in the middle of New freaking Mexico, who orders sushi here? Seriously, how long has that fish been on a truck? Well that, plus I had already eaten, so I wasn't hungry.
Bottom line, beers are okay, but I was expecting something a bit more from a place that's been around well over a decade. Although, maybe the sushi is good...
3,983 characters

3.84
/5
rDev
+4.9%
vibe: 4 | quality: 3.5 | service: 4.5 | selection: 3.5
Seems like the best spot in town to get a beverage. Outdoor patio, eclectically decorated interior. Great location, just off the main northbound road and just east of the central Plaza. A little odd to get to, as the driveway is off the beaten path, but park in the Paseo lot at the corner of the 64 and Kit Carson and you'll see it.
They had five beers on tap during my visit, all their own brews. Of the two I sampled, one was pretty good and the other rather poor. Both had noticeable brewing salts flavors, telling me that this is a low volume brewing - the good news is that there's room for improvement. They've definitely hit a good location, as there is no competition until Santa Fe, but lots of tourists who are an hour from S.F. (Lots of wineries though)
The waitress was very attentive, bearing in mind that she had only three tables at the time. She did a good job, giving us descriptions and recommendations that made sense. They appear to know at least the rudiments of the business up at Eske's and I'm sure that they will only improve in the future. Gotta hit this place up in Taos - it's the only game in town.
1,131 characters

3.88
/5
rDev
+6%
vibe: 4 | quality: 4 | service: 4 | selection: 3.5 | food: 4
Very hot day in September and the shaded courtyard is the best spot to have a beer and eat in Taos. Off the main tourist area but only 10 minutes away by foot this is a funky place that has a good mellow vibe. If it is warm sit outside at the picnic tables and order a Chile beer as it is a good take on the style and uses those excellent green chillies from Hatch New Mexico. I suggest ordering a taster set as they seem to have a lot of changing seasonals and it is hard to figure out what is good. The Scottish and Rye beer were good though not really true to the style. Food was good with lots of New Mexican dishes. The server was friendly and relaxed in that small town way. Prices seemed OK but then being Canadian not much seems expensive.
747 characters
4.06
/5
rDev
+10.9%
vibe: 4.5 | quality: 4 | service: 4 | selection: 4
I came here when my g/f during our trip to New Mexico in late September. We stayed at the nearby Taos Inn, so were able to walk to this place and give it a whirl.
The atmosphere here is great. A good amount of tables outside on the patio and some tables inside. We decided to stay inside since it was a little chilly outside. The inteior is very relaxed...no big TVs and no loud music....just a good place to enjoy a beer and talk to people. I had the Harvest IPA and the Scottish Ale. My g/f had the Hefeweizzen. The Scottish was my favorite.
The beer tasted fresh...and not watered down like you get at some brewpubs.
The selection of homebrews was pretty good. I think they had 6 on tap. They also had a few guest taps (all good stuff).
I didn't try any of the food...but it did look good.
Overall, if you're stopping through Taos, this is a definite good place to stop.
878 characters
3.73
/5
rDev
+1.9%
vibe: 4.5 | quality: 3.5 | service: 4 | selection: 3.5 | food: 3.5
IT has been several years since A and I visited, so my memory is a bit fuzzy. I did get a T-shirt so I must have liked the place. I do remember it feeling
homey and comfortable. If I lived in Taos this would be a place I would frequent.
The beer was average, nothing outta site, but quite drinkable. The food was
goos, again nothing spectacular, but good. The price was bit high, but so
are many things in Taos, so its probably average for the area. Taos is a nice
town, but it could use some traffic aclming. There is a busy road that goes
right through town. This may be one of the reasons I liked Eske's, it
seemd a good refuge from the onslought of autos.
672 characters

3
/5
rDev
-18%
vibe: 3 | quality: 3 | service: 3 | selection: 3
Stopped in during last ski season. This is a really small place. I'm not really sure how many tables there are because the "main" room was full and we were stuck in the back room....where interestingly enough they were doing food prep right out in the dining area. On top of that...two guys doing some work outside came and hand picked food off of the top of the storage container while we were sitting there. Can you say health code violations ??? The service was friendly but very inconsistent. With all of that , I only stayed long enough to try one beer, the 10,000 ft stout which was actually quite good, and had more of a kick than I was expecting. Rather than stick around I bought a few bottles to take home & try later. One of which was the Seco Stout, which was also quite tasty. So, my recommendation would be....beware of the food...and get your beer to go.
869 characters
3.88
/5
rDev
+6%
vibe: 3.5 | quality: 4 | service: 4 | selection: 3.5 | food: 4.5
We decided to stop in for dinner on a recent trip to Taos. Place is really small with maybe 10-12 tables. Cozy and quiet for as small as it is.
They had about 6 or 7 of their beers on tap and another 3-4 beers available. the scotch ale was wonderful while the golden ale was a little bit of a letdown (flat and warm). Their green chile beer is a local favorite though.
Not a huge selection of food items but what they do serve was fantastic. I had the fish and chips and my wife had a club sandwich that had the bread dipped in a beer batter and fried...wonderful! And the fries were really a hit too!
607 characters

3.95
/5
rDev
+7.9%
vibe: 4 | quality: 4 | service: 4 | selection: 4 | food: 3.5
This hard to locate, stone walled ranch style pub is incredibly homey. It fits right in with all the little shops and galleries that cover the Taos town landscape. Well it makes sense, it was once an actual home at one point early in its existance. Now converted into a brewpub/eatery with the usual southwest decor inside and out, local artwork displayed on the walls with pride and with pricey price tags.
As was the food, pricey, and somewhat small servings for those prices as well. Not a good deal in that regards. Very limited menu choices as the kitchen area is tiny. The bathrooms are bigger then the kitchen?
Dining area is small with just a few tables and picnic style boothes and the bar area is about the same. A definate homey atmosphere, if the wait staff weren't wearing aprons, you'd swear they were just friends serving you beer and food. As our service was incredibly helpful and very friendly. Knew the beer menu well enough but when I questioned the style she hadn't a clue on a couple of them.
Seven tapped beers with some offered indirectly in bottles that may not be in rotation as they mix and match a few seasonals. You can get free 4oz samples of any one of the taps and from there they offer 10oz, 12oz, and 16oz servings at reasonable prices. I tried 100z'ers of nearly all they had and was too impressed overall. The Artist Ale(a bitter) was by far their best offering and really hit the spot and the Irish Red was pretty good as well, but the rest were not so good. The 2 different pales I had were flat and boring. I was hoping for something like the many i tried and purchased while in Utah the days before, but nope, they were disappointing to say the least.
Overall, this is a fairly average, overly priced, tourist trap feel, as the whole town(city really) is immensely diverse in its people, culture, art, and tastes. This was truly one of the weirdest places I've every come across. The town is mostly know for its some 90 art galleries and its plaza style shopping. Very popular and well reknowned artists live and work in the area and some have their own galleries. Most places have amazingly high priced artwork. I saw a 4 by 6 inch pastel original for $450? Where as when you enter the city you see broken down trailer homes where actual poverty stricken indigenous people live to where you reach closer into down town and surrounding flats and hills there are both million dollar architectural wonder homes and recycled-energy efficient solar-hydro powered "earthships" (homes partially made into the ground fitting into the natural surroundings). A bizarre visit, even for this would-be artist and traveler.
I'd go for a couple beers after having a bite esle where as there's a ton of eateries, cafes, and restaurants you could eat at instead. But Eske's seemed to be the only place to really sit down and enjoy some craft brews, so its worth the search. It's kinda behind a parking lot alley-like thing which is actually right off the main street in town close to the plaza. Its just that every building looks the same so you really have to look for its signage, which I did see next to the parking lot thing. And its also listed in the locally made cartoon map, so It shouldn't be to bad to locate. We just went the wrong way origianlly, and just had to back track a few blocks before we found it.
3,351 characters
Eske's Brew Pub & Eatery in Taos, NM
Brewery rating:
3.71
out of
5
with
65
ratings