Rocky Mountain Genuine Lager
| Fernie Brewing Co.
BA SCORE
77
okay
12
Reviews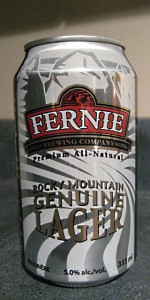 BEER INFO
Brewed by:
Fernie Brewing Co.
British Columbia
,
Canada
ferniebrewing.com
Style:
Euro Pale Lager
Alcohol by volume (ABV):
5.00%
Availability:
Year-round
Notes / Commercial Description:
FBC's Rocky Mountain Genuine Lager is a continental style lager brewed from the finest European hops & malts. With peaks of flavour built in a longer aging process, this golden lager starts and finishes with high mountain clarity and smoothness.
Added by IronDjinn on 03-25-2008
Reviews: 12 | Ratings: 15
3.38
/5
rDev
+12.7%
look: 4 | smell: 3.5 | taste: 3 | feel: 4 | overall: 3.5
355ml can.
This beer pours a hazy, glassy medium golden yellow colour, with two fingers of foamy, rocky eggshell white head, which settles evenly, rendering some chunky ringed lace around the glass. It smells of moderately sweet grainy malt, a bit of floral citrus, and muted grassy hops. The taste is pale, grainy malt, a light aged lemon fruitiness, some mineral/metallic character, and floral/earthy hops. The carbonation is on the soft side of average, the body medium weight, and smooth - nothing else to tell, as much as I was expecting to otherwise. It finishes fairly sweet, the graininess becoming bready, the hops making less of an impact.
There aren't a lot of good 'all-natural' lagers made in Western Canada, so while that means the bar is low, Fernie does an admirable job of producing a Genuine Lager that at least tries. No epiphany here, just an easy-drinking real lager, one that would make a decent before/during/after ski-hill choice, Kokanee be damned...
977 characters

2.4
/5
rDev
-20%
look: 3 | smell: 3 | taste: 2 | feel: 3 | overall: 2
355ml can poured into pint glass oct31 2010
A clear straw yellow and it looks a little flat but has a decent thumbs width of head that quickly falls to a thin film that leaves no lace
S sweet malts with a very slight floral aspect
T sour candied corn and a metallic flavors that's a little nasty, aftertaste has a chemical thing working against it
M feels like a lager, a little thin with more bubbles then I could see
D not the best tasting beer so that's never good, somethings just a little off here not something I'll be returning to soon
slightly flawed so you may want too pass on this one
602 characters
2.8
/5
rDev
-6.7%
look: 3 | smell: 3 | taste: 2.5 | feel: 3 | overall: 3
355 ml can poured in a pint glass. Came from a sampler pack. Thanks to my buddy Scott for the beer!
Straw yellow and a little hazy. Off white head is 3/4 inch on the pour and recedes to a thin cap. Spots of lacing grab ahold of the sides here and there.
Aroma is weak, grainy and pretty plain. Standard macro lager aroma.
Clean and crisp flavour. Grainy with a hint of cooked veggies in the finish. Touch of astringent, formaldyhe.
Thin and weak in the body. Moderate amount of carbonation. Fairly standard for the style.
Nothing to write home about, but not bad either. Worth a try.
589 characters
3.35
/5
rDev
+11.7%
look: 3.5 | smell: 3.5 | taste: 3.5 | feel: 3 | overall: 3
Was passing through fernie and took the opportunity to try this on tap.
A pale gold with a one finger white head. The head diminishes to a thin layer. Thin lacing.
Malty smells. Taste is malt up front with a very light hop finish. Something undefinable going on in the middle.
Light body, medium carbonation. Drinkability is good as expected for the style. There are no real flaws here, just nothing special.
411 characters
3.35
/5
rDev
+11.7%
look: 3 | smell: 3 | taste: 3.5 | feel: 3.5 | overall: 3.5
A - mostly clear light golden, one finger of white head didn't retain the best, some lacing
S - grainy malt smell, some light grassy hops, and a hint of banana along with a metallic hint
T - a wheaty grainy malt taste is the backbone, there is a yeasty banana flavour almost like a heffe, grassy hops are very sublte, but there is a slightly tinny taste on the finish that I could do without
M - fairly low carbonation, thin smooth with a little bit of dry at the end
D - very easy drinking in the physical sense, there is more flavour than the typical generic Canadian lagers, nothing outstanding but still an enjoyable beer
625 characters

3
/5
rDev 0%
look: 3 | smell: 3 | taste: 3 | feel: 3 | overall: 3
CANned beer from CANada in support of the CANQuest (TM)! It CAN't get any better than this, CAN it?
From the CAN: "In the Rocky Mountain town of Fernie BC, our passion for brewing finds expression in small batch beers. We push the edge of flavour with our distinctive handcrafted ales and lagers. Drop in and join the adventure. A continental style lager from the finest European hops and malts. With peaks of flavour built in a longer aging process, this golden lager starts and finishes with high mountain clarity and smoothness."
My pour produced a finger of bone-white head that fell about as quickly as it could. Color was a sunshine-yellow with NE-quality clarity. Nose was lager-sweet, seemingly adjunct free. I CAN dig it! Mouthfeel was medium with a lager sweetness on the tongue and definitely unencumbered by adjuncts. Hallelujah! Finish was crisp, slightly dry, refreshing on this wiltingly hot, humid day. I liked it, sure, especially in contrast to some of the CANned beers that I have consumed recently, but at the end of the day, it was still simply a lager. I CAN't recommend going out of your way to get this beer, but if it is handy in the cooler or elsewhere, don't pass it up either.
1,206 characters
2.78
/5
rDev
-7.3%
look: 3 | smell: 2.5 | taste: 3 | feel: 3 | overall: 2.5
I just shotgunned this beer and it worked well. Exceptional shotgun-ability. Didn't really get to see the appearance but I assume it was average. Hard to smell it as well but from what I picked up on, not too unpleasant. Tasted like middle-of-the-run lager. For what brief time it was in my mouth, the mouthfeel was alright. I would shotgun this beer again if the beer was free like this one.
392 characters

3.22
/5
rDev
+7.3%
look: 2.5 | smell: 3 | taste: 3.5 | feel: 2.5 | overall: 3.5
American Pale Lager...hmmm...puzzled me for a sec. I guess I'm comparing this to moosehead sooo...
Very pale straw yellow, hazy, with a weak fizzy head, very little lacing.
Sort of a metallic maltiness and a touch of souness. Bit of lemon bitterness in there as well.
Malt sweetness, sorta of bready. Nice spicy bitterness in there toward the middle and finishes quite wet, but not overly sweet.
Carbonation doesn't hold up. Found it became quite flat when poured in a glass.
Gonna try this one in Fernie on tap this summer and compare. I thought is was decent, not spectacular.
584 characters
3.18
/5
rDev
+6%
look: 3 | smell: 2.5 | taste: 3 | feel: 4 | overall: 4
Poured a 355-ml can into a draught glass.
Appearance - very thin white head that dissipates very quickly. Moderate carbonation and a very pale yellow colour.
Smell - faint hop and light malt scents that are initially hard to detect. Light tones of alcohol also noticeable.
Taste - very smooth, with a taste of sweet malt and adjunct-like crispness. I realize this is a real malt but it's a pretty neutral product.
Mouthfeel - smooth, as mentioned. Refreshing overall especially with the crispness.
Drinkability - more of a summer beer in my opinion. Could do a dozen of these on a hot sunny day.
600 characters
3.05
/5
rDev
+1.7%
look: 3 | smell: 3 | taste: 3 | feel: 3.5 | overall: 3
Pale gold and slightly hazy, thin white head with some retention. Looks about average.
Aroma of sweetened lemon and dry grain. Almost reminiscent of a lemon flavoured cough candy, without the medicinal lean. Not a bad aroma, but not really what one expects.
Semi sweet and grainy up front. Not as crisp to finish as one hopes for a lager. Lingering spiciness from hops. Again not bad.
Slightly fuller bodied than a macro generally is, with the same high carbonation.
An altogether middle of the road lager, though I wouldn't call it average, as it isn't quite what I'd expect.
580 characters

2.9
/5
rDev
-3.3%
look: 3 | smell: 3 | taste: 3 | feel: 3 | overall: 2.5
355ml can "brewed in small batches", lists ingredients as Water, Malt, Hops, Yeast.
Pours a yellow gold color, big white foamy head. Little retention or lace. Smell of some grain and grass, not much but not bad. Slightly malty grainy flavor, finish is a bit sour and metallic. No real hop taste. Mouthfeel and body is average and as expected. I would take it to support a smaller brewer, rather than giving more money to the big boys.
434 characters

2.55
/5
rDev
-15%
look: 2.5 | smell: 2.5 | taste: 2.5 | feel: 3 | overall: 2.5
Pours out a slightly hazed medium gold hue, lots of head frothing out as the can is popped, but barely any retention once it is poured into a glass.
I smell corn and husky grains up front, a bit of peppery spice, while the hops are a wet grass with a hint of veggies.
The flavour stays fairly consistent with the aroma. Clean grain malt up front, the middle is all but non-existent, however a bit of a whammy is delivered in the finish with some sour corn and veggies, along with those wet grassy hops. Peppery spice lingers on in the aftertaste, which is a bit of an interesting surprise.
Mouthfeel is average for the style, a decent body to it all in all, however that seems to be the highlight overall.
A tough call between this and choosing a macro, the price here in Alberta is pretty much the same, and the only perks are a peppery aftertaste and a decent mouthfeel when all is said and done.
903 characters
Rocky Mountain Genuine Lager from Fernie Brewing Co.
3
out of
5
based on
15
ratings.